Engineering
Major
Dual-Degree
Mathematics, Physics & Computer Studies Department
The integrated dual-degree Engineering program provides a broad knowledge of the liberal arts and sciences with opportunities to develop professional experience in a selected field of engineering.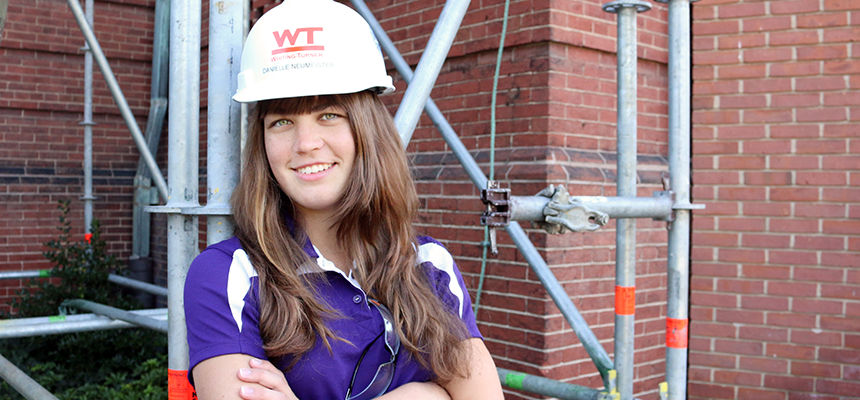 Program Locations
Available Majors
Dual Degree Chemistry and Chemical or Materials Science & Engineering
Dual Degree Physics and Mechanical, Civil, Electrical, and Environmental
You will spend 3-4 years at Notre Dame fulfilling general education requirements and completing advanced work in a major for the Bachelor of Arts degree, such as chemistry, computer science, mathematics, or physics. Interested students should contact the program coordinator to discuss their particular interests and determine the most appropriate degrees.
Then, you will continue your education for 2-3 years to complete the requirements of a Bachelor of Science degree at either:
Note: Admission to engineering schools is competitive and is not guaranteed.
Available Programs
Columbia University
Applied Mathematics or Physics
Biomedical Engineering
Chemical Engineering
Civil Engineering
Computer Engineering
Computer Science
Earth and Environmental Engineering
Electrical Engineering
Engineering Mechanics
IEOR: Industrial Engineering, Management Systems, or Operations Research
Materials Science and Engineering
Mechanical Engineering
Johns Hopkins University
Chemical and Biomolecular Engineering
Civil Engineering
Computer Engineering
Electrical Engineering
Environmental Engineering
Materials Science & Engineering
Engineering Mechanics
Mechanical Engineering
Five-Year Plan
Sample program of study for the dual-degree physics/engineering major. Students should select courses with the assistance of a faculty advisor.
See course descriptions for a list of required courses and description of course and program options.
Fall
Spring

First Year

PHY-101 General Physics I + Lab
4
PHY-102 General Physics II + Lab
4
MAT-211 Calculus I + Lab
4
MAT-212 Calculus II + Lab
4
General Education/Elective
3
MAT-243 Linear Algebra
3
ENG-101 College Writing
3
CST-171 Programming Concepts
3
NDMU-100 Perspectives in Education
4
General Education/Program Elective
3
[18 credits]
[17 credits]

Second Year

PHY-201 Modern Physics
3
PH 316L Classical Mechanics*
3
General Education/Elective
3
MAT-315 Differential Equations or elective
3
MAT-213 Calculus III
3
MAT-214 Calculus of Vector Fields
3
CHM-110 General Chemistry I
4
General Education
8
ECO-212 Principles of Microeconomics
3
[18 credits]
[17 credits]

Third Year

PH 314 Quantum Mechanics I*
3
Program Elective*
3
PH 315 Electricity and Magnetism
3
General Chemistry II
3
General Education/Program Electives
12
General Education/Program Electives
9
[18 credits]
Inv in Physics
1 - 3
[17 - 19 credits]
Fourth and Fifth Year: Engineering School
Courses to be determined by program and school chosen
Notes
Students interested in specific engineering fields should consult with program coordinator for course suggestions when choosing physics, mathematics, computer science or engineering courses at the 300/400-level.
Courses with a designation of "L" are taught at Loyola. Notre Dame students take the courses through the cooperative program. For more information, contact the program coordinator.
Winterim sessions should be reserved for general education courses or possibly an internship.
See individual program sections for course descriptions.
What to Expect Studying at Notre Dame of Maryland University
Small classes, lectures and seminars explore current trends and provide a climate for individualized learning.
Research & Internship Opportunities
Examples of internship or employment opportunities include:
Engineering Careers
Aerospace Engineer
Biomedical Engineer
Chemical Engineer
Civil Engineer
Computer Hardware Engineer
Electrical Engineer
Environmental Engineer
Industrial Engineer
Mechanical Engineer
Nuclear Engineer