February 22, 2019
Educating Women in Science, Technology and Math
STEM education has always played an important role at Notre Dame. From the very beginning, the founding SSNDs recognized the need to educate women in science. To this day, there are significant programs in place that are designed to to meet the needs of professionals in these fields and to close the gap of under-represented populations.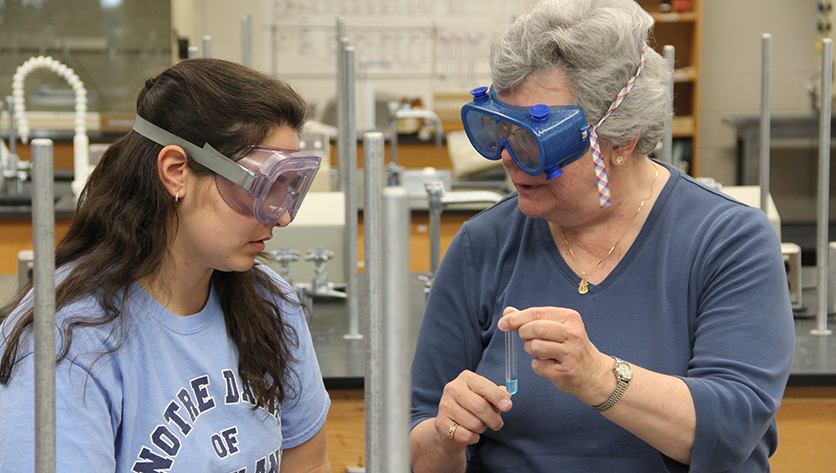 STEM initiatives have been in the news for the past decade, with significant programs designed to meet the need for professionals in these fields and also to close the gaps of under-represented populations, including women and minorities.
While women make up 47 percent of the workforce, they are only in about 24 percent of STEM jobs, according to the U.S. Department of Commerce (2017). About 14 percent of engineers are female (U.S. Department of Labor, 2015).
Although some efforts in encouraging STEM education, especially for women and girls, are relatively recent, that is not the case at Notre Dame of Maryland University (NDMU).
According to Dr. Debra Franklin, dean of the college of arts, sciences and business, "We can say with confidence that our interest in women in the sciences or women in STEM goes back to the founding of the college."
Students and visitors need look no further than the Knott Science Center entranceway, where the science department founders are honored—all women, and all School Sisters of Notre Dame. Under each portrait is a plaque highlighting each scholar's significant accomplishments.
Sister M. Cordial Karl, SSND, Ph.D. was one of the earliest women to earn her Ph.D. at the Johns Hopkins University. She chaired Notre Dame's math department.
Sister M. Denise Dooley, SSND, Ph.D., was known for her research on the kinetics of decomposition reactions. She was academic dean for a time, but is most remembered as chair of the department of chemistry.
Sister M. Alma McNicholas, SSND, Ph.D., was a beloved professor, researcher and chair of the chemistry department. She inspired today's Sister Alma Women in Science program.
Sister M. Trinitas Bochini, SSND, Ph.D. came to Notre Dame to teach physics and founded that program at Notre Dame. She went on to earn her Ph.D. in clinical psychology at Hopkins in order to launch the psychology department at Notre Dame.
Many alumnae remember some of these inspiring professors, many of whom served as mentors at a time when women had few professionals in STEM fields to guide them.
They, along with Joseph Di Rienzi, Alfred D'Agostino, Angela Sherman, Bernadine Esposito (CS), Barbara Mento (CS), Kyongil Yoon, Margaret Sullivan, Peter Hoffman, Janice Bonner, Paul Weldon, Cynthia Wang and others, have guided women into STEM careers for more than a century.
Nancy Kreiter, Ph.D. for whom the annual student research day is named, was an associate professor who advocated for undergraduate student research. Students showcase their findings in a yearly program that has extended from science into humanities and business majors as well, in true liberal arts style. President Marylou Yam pointed out that Research Day "establishes a campus culture honoring researchers and allows students to celebrate the success of their peers."
And while celebrating individual successes is important, Dr. Debra Franklin, dean of the college of arts, sciences and business says working together is key.
"We try to help [students] learn how to prove themselves through collaboration rather than competition" said Dean Franklin.
Dr. Brian Christy, chair of the physics department, has seen that female students are more comfortable working collaboratively in class. They are "comfortable in sharing and distributing the work," he said.
In fact, it's a big part of what Notre Dame believes helps women to persevere in the STEM majors and careers. In many cases, professors serve as mentors, but professional women are ideal.
That's why, according to Dr. Christy, the science and math departments are partnering with the office of alumnae and alumni relations to connect students with working graduates of the University. They hosted a networking breakfast on campus and encouraged alums to consider connecting with students. Studies indicate that true success for women in STEM goes beyond the practical and experiential learning in their field.
Dr. Franklin notes that Notre Dame programs help students to "achieve academic goals while also having real world experiences that will help them succeed both professionally and personally."
Part of that comes from exposure to the liberal arts and the "can do" culture of Notre Dame. Dr. Franklin added that "we also know that there is a professional culture out there in STEM fields where women have to prove themselves."
To prepare women not only to prepare but to persist in STEM fields, Notre Dame has been granted funds from the National Science Foundation (NSF).
NSF Scholarships in STEM or (S-STEM) have a specific focus on supporting students with limited financial means, as well as to provide expanded opportunities for students from underrepresented communities. The S-STEM program's activities have included career and student success workshops, both in group and individual settings, as well as an array of academic trips and research opportunities. Students traveled to academic conferences and participated in tours of NASA/Goddard Space Flight Center and the National Cryptologic Museum. Scholars regularly met with mentors for guidance in academics and career planning. In the final year of the program, scholars completed a research project on a STEM topic of their choice.
NSF awards are highly-competitive and to be awarded one shows a superior level of confidence in Notre Dame's ability to successfully propel women into these challenging and in-demand fields.
Dr. Franklin said this kind of affirmation underscores the impact of Notre Dame. "We believe that we can make a difference at a time when the attrition in the engineering field is still significant for women." This involves helping students find mentors, and professors helping students to prepare for the rigors of the field in a supportive environment.
Dr. Yam emphasizes how valuable Notre Dame alumnae can be to help current students succeed. "I cannot speak strongly enough about engaging successful graduates in mentoring roles."
Chevonne Bowen '20 agrees, "I really do feel it's good for young girls to have mentors."
And, it is not just NDMU's alumnae, or professors taking on the role of mentor. Undergraduates like Bowen and Sarah Hasnain '19 are becoming positive role models for younger students.
Hasnain established a campus chapter of the Society of Women Engineers in her first semester at Notre Dame. She described her goal to "foster a support system and serve as a bridge between academia and industry for students pursuing careers in STEM fields."
She serves as president and Bowen is vice president. The group already has about 10 campus members and access to conferences and networking opportunitiesthat they never had previously.
They follow the tradition of the venerable SSNDs honored in the lobby of the Knott Science Building, who never second guessed their ability to be scientists, and to help and inspire other women to follow in their footsteps.