Message from the Alumnae and Alumni Engagement Team
Greetings Alumnae and Alumni,
Happy New Year! A new year brings the promises of hope and opportunity. While the campus may be quiet as we wait for students to return, Noyes House is bubbling with excitement at possibilities for the coming year. We are taking this time to focus on planning new volunteer engagement opportunities, recruiting reunion committee members from classes ending in a 3 or an 8, and crafting exciting social, professional, and student-focused events for the upcoming semester. Keep up with everything our office is doing by following us on social media.
One of our main goals this year is finding new and exciting ways to connect with you and providing alumni with access to one another. The more updates, stories, and ideas you share with us, the more we can do together! We want to share more stories about what our remarkable alumni are doing in their lives, personally and professionally. We are creating new volunteer opportunities for both local alumni and those located across the country to engage with their alma mater. If you would like to get involved, please reach out to us at ndmalum@ndm.edu.
Our Student Alumni Leadership Council (SALC) is constantly growing and developing fun events to bring current students and alumni together to educate our students on what it means to be an alum and what incredible resources our alumni community has to offer. These students have already learned so much from you all, and they can't wait to meet more of you this spring! 
Notre Dame of Maryland University has many elements to be proud of, but our shining star is you! You bring us more pride and joy than any other accomplishment. Thank you for being part of our alumni family. Blessings to you and your family for the new year!
Warmly,
Alex & Rose
Your Alumni Engagement Team
---
Interview with Rachel Dodge '97
Rachel Barnes Dodge '97 is a former student-athlete who currently works as a pediatrician at Dundalk Pediatrics Associates. Rachel graduated from Notre Dame with a bachelor's degree in Biology. She went on to receive her medical degree from the University of Maryland School of Medicine in 2002, and she completed her pediatric residency program in Cleveland, Ohio in 2005. She then completed the General Pediatric Academic Development Fellowship at the Johns Hopkins School of Medicine and earned a Master of Public Health degree from the Johns Hopkins Bloomberg School of Public Health in 2008.
Before becoming a pediatrician and partner at Dundalk Pediatrics Associates, Rachel worked in Baltimore City in Public Health for eight years with the Making All The Children Healthy (MATCH) Program.
What is your favorite memory of Notre Dame from when you were a student?
There are so many great memories. I met my best friends at Notre Dame and we're still best friends. Some of the really fun things were just from dorm living - living with your friends in that small environment, getting to be so close and bonded with your friends and just silly goofy things that we did. We were there when one of the big snowstorms hit, and I remember getting trays from the cafeteria and sliding down the hill back towards the library, which I think is something that's a memory to a lot of people. 
What was it like being a student athlete at Notre Dame?
I loved playing sports. I loved being part of the team and having that camaraderie and support from the student body. You know what was really impressive to me? That you were a student first and an athlete second. There was never an issue if lab was going to run over into practice. School was always the priority, and I think that was really the key to being a successful student athlete.
I was very involved in many things on campus when I was a student, which I'm sure made my experience great. I was a senator in the Student Senate and I was Student Senate President my senior year. All of those experiences and opportunities really taught me a lot and were great experiences. The fact that I was able to do that as well as play two sports was something that not everyone could always balance. But it was definitely doable for me and made time management easier for me. 
What has your experience been with Notre Dame since graduating?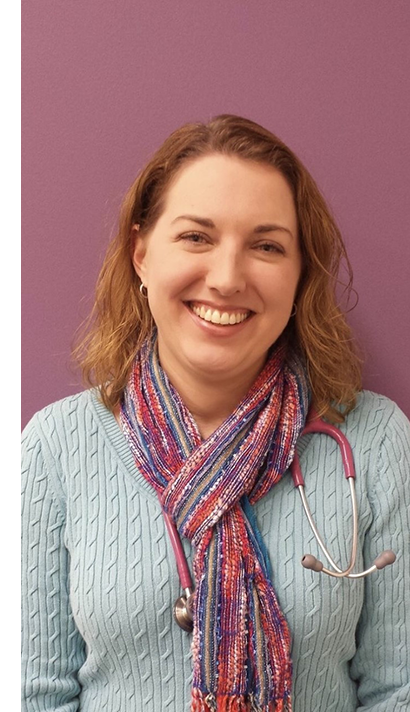 I left Baltimore for a little while, and then I came back, so I've tried to go to things when I can. I've been to several of the Athletic Hall of Fame ceremonies, and I've attended some athletic events. This past year when Melissa Fallon, who was my field hockey and lacrosse coach, retired, I came to the event and brought my daughter when they did a presentation for her. I've been back for several reunions at Alumnae and Alumni Weekend, and I always wish more of us could come back to attend.
I know at one point I came back and talked to the biology students and that was really nice. I love talking with the students and doing things with them. Most recently I had a student rotating with me in my clinic and doing some shadowing because she's interested in going to medical school.
Why is it important to you to give back financially to your alma mater? 
I wish I would have been more consistent in my giving than I probably was. I think that nowadays it's easier than taking the time to write and mail in a check. Notre Dame was very important to me in shaping my career and helping me become who I am today. Knowing that and wanting that to survive on is important, and financial support is important to continue that legacy. 
I know I've often given back specifically to athletics just because being a student athlete was such a significant part of my experience there. Also, I think that historically being an all women's college, funds and support for athletics is often lacking. So I just felt like that was an important place for me to give back to.
What personal or professional achievements are you most proud of since graduating?
From a personal achievement standpoint, I'm the mother of three wonderful children who are all doing great things. I've also coached field hockey, soccer, and lacrosse for the past 25 years since graduating college. So I've been coaching and actually helped start a lacrosse program in the area. It's been really fun, because there are people that I coached when they were kids who are now having kids because they're in their thirties. They're bringing their kids to see me as their pediatrician and I sometimes get called Doctor Coach Rachel, which is kind of funny. 
Professionally, I'm an Assistant Professor of Pediatrics at Johns Hopkins University School of Medicine. I also serve as the chair of the Child Maltreatment/Foster Care Committee as part of the Maryland Chapter of the American Academy of Pediatrics (MDAAP). It has been an accomplishment to help advocate for policies and consultations at the state level, and I feel like I'm respected in that field. I'm also the Vice President and President-elect for the Maryland Chapter of the American Academy of Pediatrics. Being a partner of the practice that I'm at right now has also been a nice achievement to have.
Are you interested in being interviewed for an upcoming edition of Tower Talk? Sign up by clicking the button below!