Table of Contents
A Message from President Yam
Reunion 2018
Busta Lecture
Upcoming Events
Volunteer Oppotunities
Spotlight
Class Notes
Giving
In Memoriam
SSND News
Stay Connected to NDMU
---
A Message from President Yam
September 18, 2018
Dear Alumnae and Alumni,
These are exciting times for your alma mater, Notre Dame of Maryland University and the community we serve. For the second consecutive year, we welcomed a record-breaking amount of new students in the Women's College. Last year we hit enrollment numbers that haven't been seen since 2004 and this year, we crashed through the ceiling breaking all-time institutional records.
This fall, we welcomed 225 first-years and have a total of 250 new students on campus. This incoming class of students also helped elevate the Women's College total enrollment to record-levels. With 540 women enrolled, this is the highest number of students in the Women's College since 2006! Historic times? Yes and quite fitting as we begin our 124th academic year and looking forward to the milestone 125th anniversary next year.
As we celebrate our enrollment achievements, please accept my thanks for all that you continue to do to promote Notre Dame in your local community. Your support makes the difference for a prospective student. Thanks to you, Notre Dame thrives.
The excitement for the new year, as always is fueled by our students but we also have some other great news to share from the last academic year:
81.7% student retention rate (higher than the national average)
Successful continuing accreditation of NDMU's nursing programs
Launched new academic programs including Maryland's only undergraduate and graduate degree in art therapy, an online RN to BSN, and an undergraduate program in Leadership in Hospitality and Event Management
Signed an articulation agreement with the University of Baltimore School of Law to create a clear path for our students who are pursing a law degree
Re-imagined and opened the Women's Leadership Institute of Baltimore
Added a ninth sport to our NCAA athletics' roster: Track
27 athletes in Fall 2017 and 22 in Winter/Spring named to CSAC All-Academic Team
Welcomed Dina Kawar, Jordanian Ambassador to the U.S. to campus last year as part of the Joan Develin Coley Visiting Ambassador Program
Celebrated WOW Festival-Baltimore and brought #MeToo founder Tarana Burke to campus
Increased our campus land-stamp and purchased the of Knights of Columbus property that is connected to our property
Established a partnership with the York Road Education & Service Program, connecting our students and community to more valuable service opportunities in Baltimore, including a University-wide partnership with Govans Elementary School and Tunbridge Charter School on York Road
In addition, I was recently appointed by Maryland Governor Larry Hogan to the Commission on the Commemoration of the 100th Anniversary of the Passage of the 19th Amendment to the U.S. Constitution. I hope to represent NDMU and our community as we highlight and celebrate this historic move toward equity in our nation.
This year will be a year to remember, for sure. Recently you received a postcard noting five major events this fall. I hope you will attend and share in our electric campus spirit starting with Reunion Weekend, October 5-7. The Reunion Luncheon, President's Town Hall, and the Behind-the-Scenes Walking Tour are highlights I am looking forward to. Questions about Reunion Weekend may be directed to the Office of Alumnae and Alumni Relations at ndmalum@ndm.edu or 410-532-5201.
With heartfelt thanks and cheers to a prosperous semester,
Marylou Yam
President
---
Reunion 2018: October 5-7
Reunion is almost here--and more than 175 alums and guests are signed up to join in the festivities! Register by 11:59 p.m. on Thursday, September 27 to take advantage of the early-bird deadline; a savings of $40. There's always something to do, someone to meet, and something to learn at Reunion. Check out the complete schedule and FAQ page for more information.
Questions? Contact the Office of Alumnae and Alumni Relations at 410-532-5201 or ndmalum@ndm.edu.

---

Charles J. Busta III Lecture in Business: October 30 at 8 p.m.
Growth. Connections. Access. It's what we're all looking for and what we each need to succeed. Join us for a moderated panel as we learn from four outstanding women in various phases of their personal and professional lives.
Panelists include:
India Gary-Martin, CEO of Leadership for Life
Kate Bowers, Vice President of Public Relations Client Services at Weinberg Harris & Associates
Janese Murray, Vice President of Diversity and Inclusion, Exelon Corporation (Ret.)
Linda Singh, Major General of the Maryland Army National Guard
We hope to see you on Tuesday, October 30 at 8 p.m. in LeClerc Auditorium for this excellent panel. Let us know you'll be there.
---
Upcoming Events
Reunion 2018: Friday-Sunday, October 5-7
Cocktails with President Marylou Yam: Tuesday, October 16, 6:00-7:30 p.m. at The Penn Club of New York
Reunion 2019 Planning Kick Off Meeting: Saturday, October 27, 9:00 a.m.-1:00 p.m. See Volunteer Opportunities below.
Charles J. Busta III Lecture in Business: Tuesday, October 30, 8:00 p.m. in LeClerc Auditorium
Common Read Author Presentation: Wednesday, November 7, 7:00 p.m. in LeClerc Auditorium. Learn more about the Campus Common Read Program.
Early-Bird Networking for Chemistry Alums & Students: Thursday, November 8, 7:30-9:00 a.m. in Noyes Alumnae House
Holiday Happy Hour: Tuesday, December 11, 5:30-7:00 p.m. in Noyes Alumnae House
Christmas Eve Mass: Monday, December 24, 4:00-5:30 p.m. in Marikle Chapel
And don't miss out on these ongoing opportunities to stay in touch with Notre Dame!
Gator Athletic Events
Weekly Mass: Monday - Thursday 12:05 p.m., Friday at 8:00 a.m., and Sunday at 8:00 a.m. Mass is celebrated in Marikle Chapel on the second floor of Gibbons.
See full calendar of NDMU events.
---
Volunteer Opportunities
First Impressions Mock Interviews
Students in First Impressions are learning tip, tricks, and best practices to prepare for their future careers. A key piece of the program is a mock interview. Alumnae and alumni are needed to help lead mock interviews on Thursday, October 18 at 5:30 p.m. Please contact ndmalum@ndm.edu to volunteer.
Reunion 2019 Planning Commitee
Reunion 2019 will be held September 6-8. We are looking for volunteers from all classes, especially those in years ending in 4 and 9 to help us plan next year's celebration. If you are interested in raising the bar for Reunion success, this committee welcomes you! We seek volunteers to collaborate on program planning, fundraising, class participation, and attendance outreach. Contact Aliza Ross, Director of Alumnae and Alumni Relations, for more information: aross@ndm.edu. Committee meetings for Reunion 2019 begin in October.
The Reunion 2019 Committee will gather for a kick-off meeting on Saturday, October 27 from 9:00 a.m. to 1:00 p.m. on campus. Group size will determine the exact location--stay tuned!
NDMU in the Community: Volunteer or Work for Adelante Latina!
Adelante Latina! is the first after-school, college-bound program for Latina girls in Baltimore. They are in need of volunteer tutors.
Volunteer Tutor Information
Where: Esperanza Center, 430 S. Broadway (corner of Eastern Ave).
When: Once a week on Tuesdays or Thursdays from 4:15-6:15 p.m. Starting in mid-September and continuing until early June 2019, with City Public School vacation breaks and snow days.
Goal: To improve English composition, reading comprehension and writing skills of high performing, low-income Baltimore City high school sophomores, juniors and seniors. Adelante Latina! is a 3-year, college prep program. Tutoring is one-on-one, preferably with the same student throughout the year and, hopefully, for all three years.
Tutor Qualifications: Excellent English language skills, tutoring skills, and the ability to get along with teenage girls. No knowledge of Spanish is required. Tutoring sessions are one-on-one or, at most, two students per tutor. Three of our 28 students have only been in this country for 2-3 years and would require a tutor with ESL teaching experience.
Time Commitments: Once a week, on Tuesdays or Thursdays, from 4:15-6:15 p.m.
Visit the website to learn more, or contact Leonor Blum, Professor Emerita, Notre Dame of Maryland University, at 410-591-0547, blumle@aol.com or lblum@ndm.edu.
---
Spotlight
Through this section we aim to connect you to recent additions or familiar campus faces in a new way! In this issue we are pleased to highlight alumna Donna L. Schissler '00 M'03, Academic Education Advisor.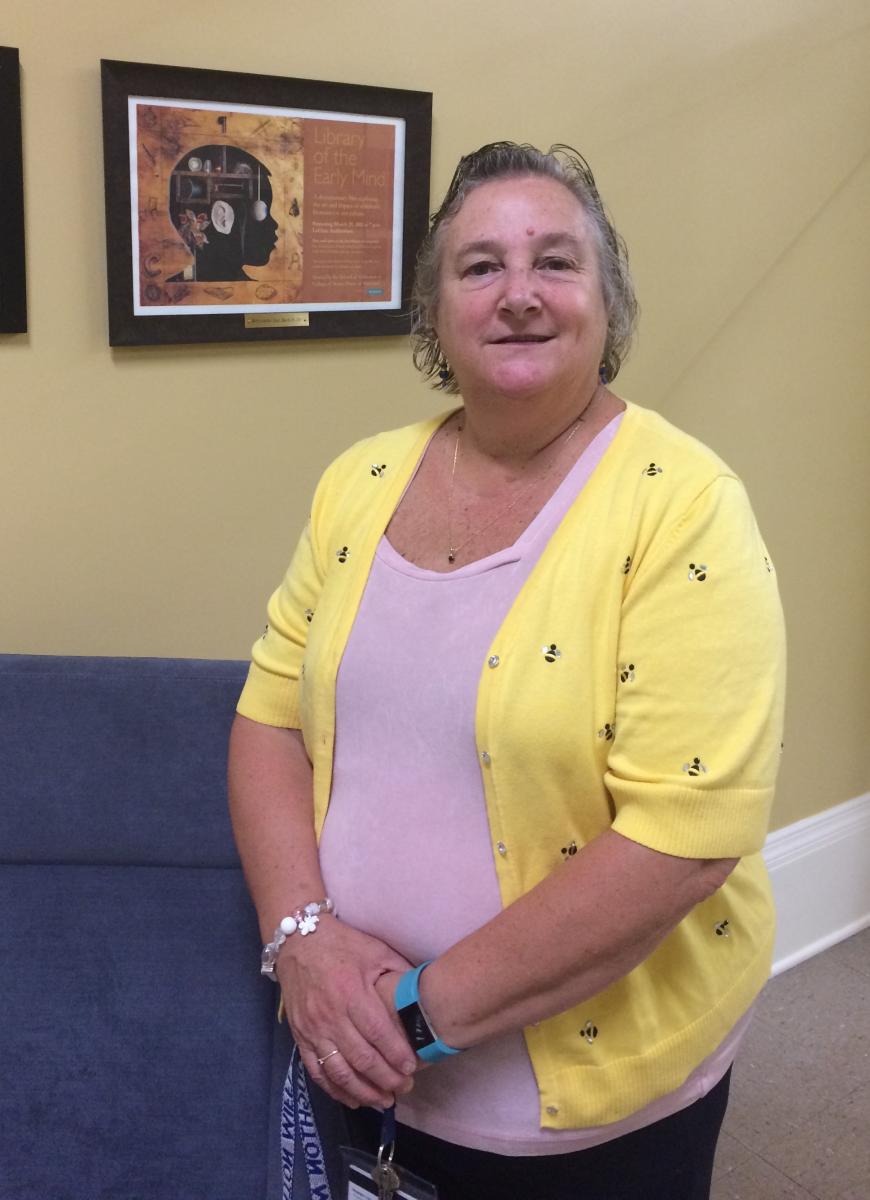 Notre Dame has been a part of your life for a while now. What motivates you about your work here?
I enjoy being an Academic Education Advisor for the School of Education because I worked so hard to earn my degrees and received such a sense of accomplishment when I did, that I want to help others achieve their academic goals. Working with individual students and helping them map out a plan to complete their degree around responsibilities of work, family and life is very fulfilling. It is also rewarding to get positive feedback from them acknowledging that I am helping them achieve their goals. I work hard to let my advisees know that I truly care about them as individuals. At Notre Dame the student has always been an individual, not [a] number. As an advisor I work hard to help my advisees meet their life goals. I send birthday emails each month. When they complete their degree I send a congratulations email with information about our continuing programs letting them know that if, in the future, they want to continue their education, we are here for them and want them to remain a part of the NDMU family.
What do you like to do in your time outside of work?
When I am not at work I spend many hours with my grandson who is going to be 10. Ever since he was born I have picked him up when I leave work, either from day care or school, and spend several hours with him until my daughter or her husband get home. This daily interaction has formed a special bond between us, which I love. My husband, who is very supportive of my endeavors, is very good about pitching in if my schedule changes.
I also volunteer with Heartland Hospice as a visitor and vigil sitter. This volunteering allows me to continue to utilize the training I have from being an Administrator of Retirement Residences for 10 years. I also love to continue my education and having a license as an Assisted Living Manager and an Administrator requires that I continually keep current on the ever changing issues in the aging field. I take classes at Johns Hopkins Bayview through their Healthy Living Community Partnership Program as well as other places that offer classes of interest.
My other love is crafting. I scrapbook, crochet and try any other craft idea that I come across that sparks my interest. I love HGTV and get great ideas from the many shows featured. Within my family – across 4 generations- we have a group that gets together every couple of months to try new crafts, have teas, or go out to eat to keep in touch and share generationally – new ideas.
What would you like your fellow alums to know about the Education Department?
I would like my fellow alums to know that the Education Department works hard to meet the needs of each of our students and those who are inquiring to become students. We treat each student as an individual and will work tirelessly to help them meet their education goals. As family members ourselves, we know that life sometimes interferes with our plans. Our programs are continually revamped to help better meet the needs of those we hope to entice into our community of students. If you wish to continue your education as a teacher, we will do everything in our power to help you meet your goals.
Is there anything else you would like the community to know about you or your work?
I enjoy the community setting of Notre Dame. Having worked here twice now--once from December 1997 until August 2006 and now from July 2016 until the present--I was happy to see that the camaraderie among workers still exists. There have been many changes made but the people that choose to work at NDMU have a deep caring for what they do and the students they serve. The bottom line is that I feel that we are here to do a service to our students. Without them choosing our University we would not be here. I am happy I made the choice to once again come and help each individual student that crosses my path achieve their life goal.
---
Class Notes
Marianne Amoss '04 and her husband, Josh Kohn, were thrilled to welcome their first child, Golda Amoss Kohn, on August 5. Marianne graduated from Johns Hopkins University in May with a master of arts degree in science writing, and works at Johns Hopkins Bloomberg School of Public Health as a communication manager for the Bill & Melinda Gates Institute for Population and Reproductive Health.
Have a life-update to share? Want to announce a promotion or job change? Write a class note! Class notes are brief, 1-3 sentence updates shared with the larger NDMU community. Send your note to ndmalum@ndm.edu.
---
Giving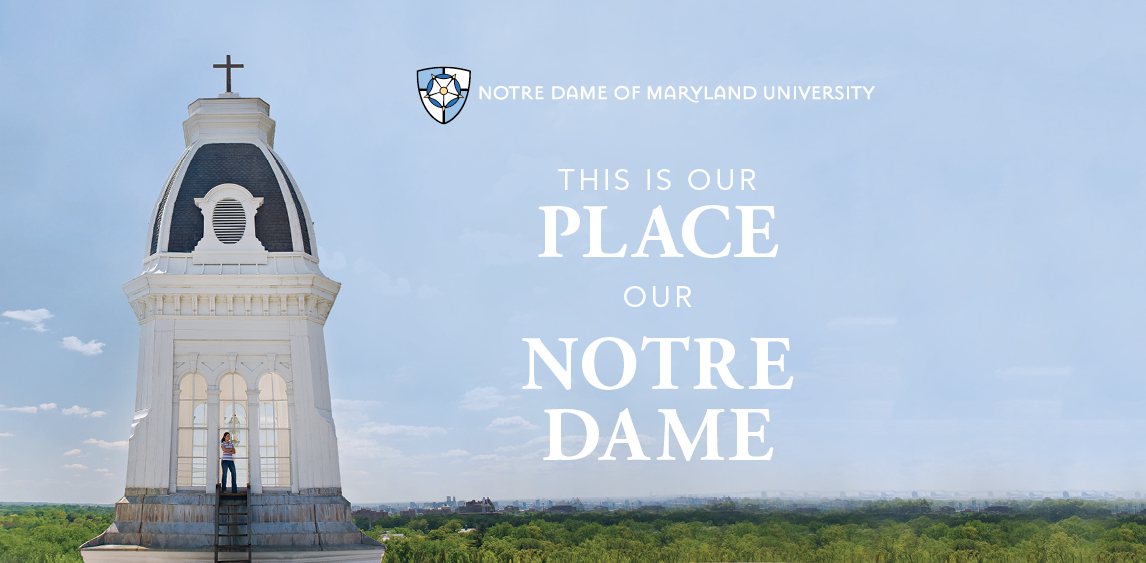 Make a gift and support the place that for 124 years has been helping students to discover their passions, grow their strengths, and transform the world around them. Take your place among countless other alumnae, alumni, parents, and friends who have made a financial contribution in support of great faculty, top-notch academic and professional programs, and an educational experience in the SSND tradition.
If you are celebrating a milestone reunion year, please consider a contribution to your class gift. Gifts made before the Reunion Luncheon on October 6 will count toward your class total!
---
In Memoriam
Carolyn Welsh Bodo '55
Beverly Canby, RN '83
Arlene Cree, SSND '80
Joyce Barnhill Forbes '84
Rosalie Gaither '94
Eugene Marie Geiger, SSND '41
Maureen Sullivan-Moreau '68
Margaret "Meg" Brennan Muse '72
Kathleen Kresslein O'Neill '45
Christina Smith O'Neill '93
Claire Schumann Smith '53
---
SSND News
The SSNDs are celebrating their 185th anniversary this year! To mark the occasion, the SSNDs of the Atlantic-Midwest Province have initiated a 185th anniversary/185 stories effort. All NDMU alums are invited to contribute stories about their favorite professor or provide a reflection on their NDMU/SSND education. Stories, reflections, and questions may be directed to Sheila Welton at 410-377-7774 or swelton@amssnd.org.
All SSNDs are encouraged to register and attend the annual SSND Family Chapter Breakfast during Reunion Weekend on Sunday, October 7, 2018.
---
How to stay connected to NDMU
Did you move? Change your email address? Just want to check to see if we have accurate information? We periodically send email and/or print mailings your way and the best way to make sure they land is to verify an address. We have updated to a new system and no longer use MyNDM. To share an update, please contact the Office of Alumnae and Alumni Relations at 410-532-5201 or ndmalum@ndm.edu.
NDMU also has an active presence on Facebook, Instagram, and Twitter. It's a way to share information instantly and connect with fellow alumnae and alumni. Like and follow the pages for the most immediate updates!
Facebook
Instagram
Twitter
---
Tower Talk 2018-2019
This publication has moved to a bimonthly schedule. This issue covers news for September and October. The next issue will cover November and December and will be available close to the start of December 2018.