Digital Media Arts
Major/Minor
Communication Arts Department
The interdisciplinary Digital Media Arts program provides a solid foundation in technology, a rich creative background in the arts, and the communication skills necessary to convey ideas in the digital realm. As media and business environments are increasingly dependent on digital communication competencies, our curriculum offers training for exciting careers in today's high-tech digital workplace.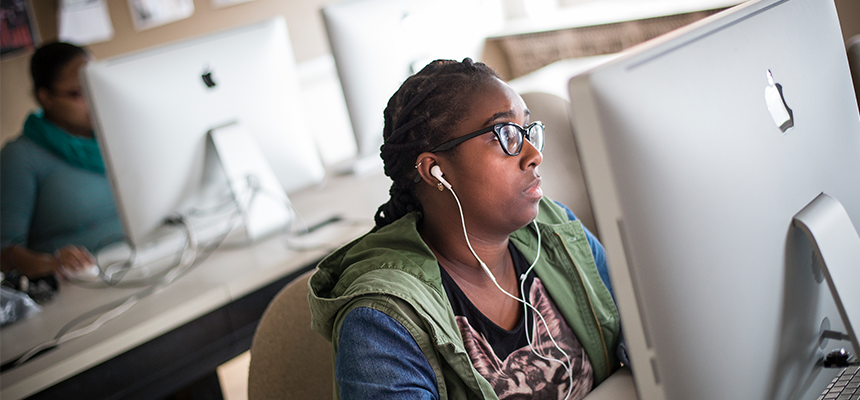 Program Locations
Available Majors
Through a series of electives, you can also choose to declare an emphasis in graphic design.
Available Minors
Faculty
Four-Year Plan
Fall

Spring

First Year

NDMU-100 Perspectives in Education

4

Foreign Language

3

ENG-101

3

Literature

3

Foreign Language

3

COM-101 Oral Communication

3

ART-101 Drawing 1

3

ART-102 Color and Design

3

DMA-101 Graphic Design I

3

History

3

[15 credits]

[15 credits]

Second Year

Foreign Language

3

PHL-200-level

3

MAT-110 Discrete Mathematics

3

Social Science

3

RST-201 Intro to Biblical Studies

3

COM-310 Media Literacy

3

ART-162 Digital Photography

3

CST-260 Web Animation

3

DMA-201 Time-Based Media

3

DMA-253 GD Theory

3

[15 credits]

[15 credits]

Third Year

PHL-300/400-level

3

Religious Studies 300/400

3

Natural Science

4

General Electives/Minor

3

DMA-351 Graphic Design II

3

DMA-375 Typography

3

COM-210 Social Media

3

Major Elective

3

CST-261 Web Page Design

3

DMA-360 Motion Graphics

3

[16 credits]

[15 credits]

Fourth Year

Physical Education

1

4 General Electives/Minor

9

4 General Electives/Minor

12

DMA-461 Practicum

3

[13 credits]

[12 credits]
What to Expect Studying at Notre Dame of Maryland University
Small class sizes offer personal attention while challenging, yet flexible, assignments using a wide variety of hardware and software tools enhance the student experience. An emphasis on collaboration rather than competition creates a supportive environment for peer critiques.
Student Outcomes
After completing the program, you will be able to:
Create effective visual communications strategies that could assist individuals and businesses;
Use technology to address visual communication challenges;
Analyze the historical impact design and visual communications have had on our culture;
Evaluate the moral and ethical issues related to visual media, art, and technology;
Apply formal design principles to solve visual communication problems; and
Work effectively as an individual and as a member of a creative team.
Toggle between the photo and the story
The Right Combination
Alum, NDMU Class of 2017
Art, Digital Media Arts
Read story
Research & Internship Opportunities
A capstone practicum course includes a semester-long professional internship, which greatly increases employability.
Digital Media Arts Careers
The digital media arts major prepares students for wide range of careers involving creative applications of computer technology.
Graphic Design
Publication Layout
Web Design
Animation
Video Production
Post-Production