The Renaissance Institute is an active group of men and women over the age of 50 engaged in lifelong learning and intellectual growth.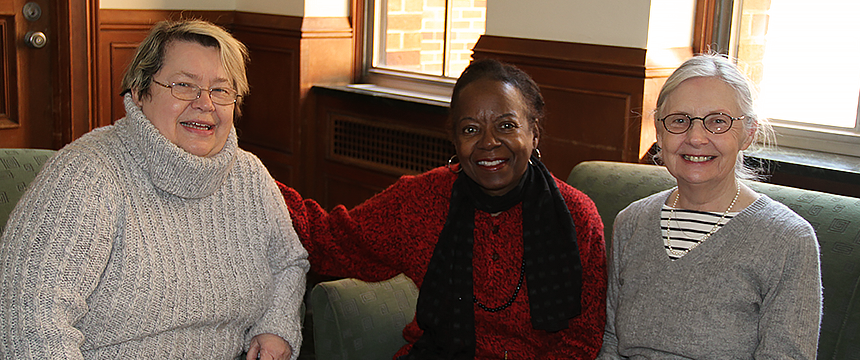 The Renaissance Institute – a lifelong learning cooperative for adults 50 and over - offers members a unique voyage of discovery on the Notre Dame of Maryland University campus. Opportunities abound for thought-provoking pursuits, a chance to express your creativity, or enhancement of physical and mental health.
Courses have explored a wide range of interests: acting, art, history, literature, music, philosophy, politics, public affairs, science, acting, computers, creative writing, drawing and painting, film, languages, t'ai chi, and yoga. Working with a campus-based director, the members plan, lead and enroll in a series of courses held on Tuesdays and Thursdays each spring and fall semester. The Institute offers two 13-week semesters. Some courses run for only six or seven weeks, providing flexibility for members' schedules.
Membership is a valuable and rewarding experience. It offers a wide variety of activities and gatherings beyond classes, which foster the sense of collegiality that is central to the program. The opportunity for social engagement between semesters and in the summer forges new friendships and enhances the life of the classroom.
NOTE: For the safety of all participants, all Renaissance courses and activities will be delivered remotely using the Zoom platform for the Fall 2020 semester beginning September 8.
Membership Opportunities
Enrollment in as many Renaissance courses as you wish every fall and spring (no tests or required papers)
Forge new friendships among the 300+ members through special interest events and activities
Participate in the "Winter in the City" and "Summer in the City" social and cultural trips and activities
Audit one course per academic year at NDMU for a fee of only $185.
Enjoy full student privileges at the NDMU/Loyola library
Receive a copy of Reflections, the literary arts journal created and published by Renaissance members
Register for Classes
The Institute encourages applications from individuals of diverse ethnic and racial backgrounds and is open to people from all education backgrounds with a keen interest in intellectual and creative pursuits.

Fall courses begin on September 8, 2020. You will need a laptop or similar device with a camera and microphone to participate in our Zoom remote delivery classes. Online registration begins August 7, 2020. Fall membership is $200.
View the course catalog to browse the courses offered. You can use the courses at a glance to keep track of the classes that interest you. Then, register for courses online.
Share the catalog with a friend and remember to "like" Renaissance Institute on Facebook!
Renaissance Institute in the time of COVID-19
Contact Us
Shirley Bigley LaMotte
Program Director
sbigley1@ndm.edu
410-532-3162
Emma M. Meade
Renaissance Institute Program Coordinator
emeade@ndm.edu
410-532-5351
Amazon Affiliate Program
Visit Amazon.com and help raise money for the Renaissance Institute. For every purchase you make after clicking the link to Amazon, Renaissance Institute will earn money back.