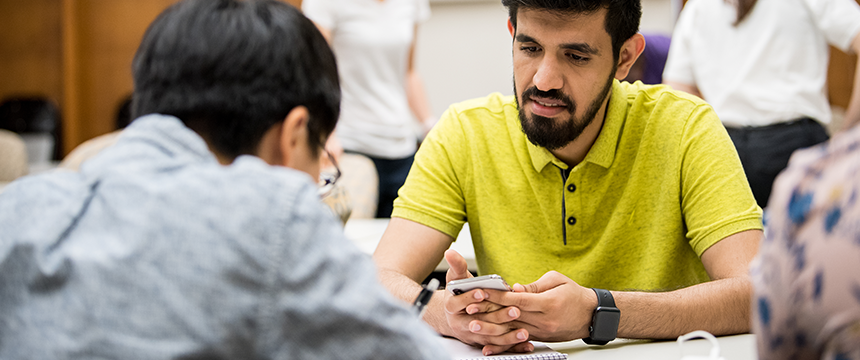 Welcome to the ELI
Welcome to the English Language Institute! Our Institute began in 1983 with 17 students and now hosts over 100 students annually from more than 20 countries. The ELI is part of Notre Dame of Maryland University, which celebrates its 125th year in 2020. Although our bachelor's degree program is for women only, the ELI, the College of Adult Undergraduate Studies and the Graduate Studies programs are co-educational, meaning they are for women and men.
Full-time students are in class Monday through Thursday. After class, students often work on homework and projects with classmates before returning to their homes. Fridays are reserved for field trips, conversation partner activities, student advising, and other campus events.
International Community
The ELI is a unique global learning community. In any given semester we have students from about 15 different countries that come together to live, learn, and experience American culture.
In addition to meeting classmates from all over the world, students have many opportunities to connect with American students on campus through our Conversation Partner Program and student groups such as the Student Government Association, Model UN Club, Muslim Student Association, and more.
Field Trips & Social Events
The ELI understands that learning a new language happens as much outside the classroom as it does inside the classroom. That's why we provide our students with opportunities to use their English in a variety of social events and field trips.
Each semester, the ELI organizes at least two field trips to "local" destinations such as Washington DC, New York City, Philadelphia, or Annapolis, among others.
Additionally, the ELI organizes activities/events for students to engage with others and learn about American culture. Past events have included Holiday Celebrations, visiting local museums, attending sporting events, and visiting local businesses.
To see for yourself what kind of adventures our students have, visit our social media sites:
Program Description
Each skill level (for example, Conversation 001 or Grammar 003) takes two 16-week semesters, or one 32-week academic year, to complete. 003 classes take one 16-week semester. If a student starts at the 001 level and stays at the ELI as a full-time student until completing the 003 level, then it will take 2.5 to years to finish the program. The maximum amount of time a student can study full-time in the program is 3 years.
Some students also study part-time. Depending on the number of classes a student takes, completion of the program as a part-time student will change. The ELI lets a part-time student stay in the program for a maximum of 4.5 years, taking a maximum of four courses per semester.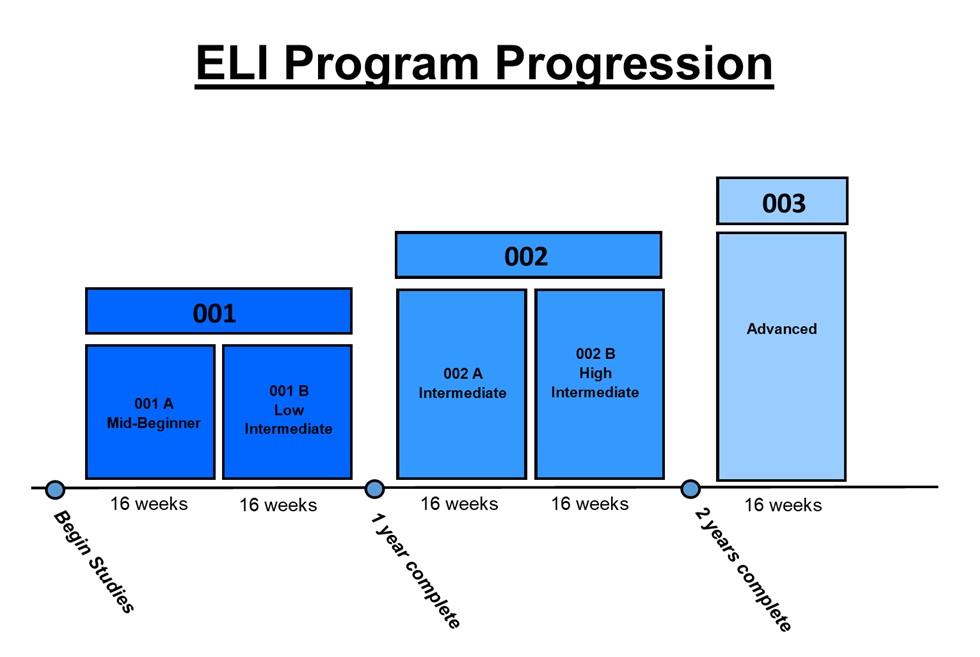 Program Dates and Deadlines
| Session | Session Dates | International Deadline | Orientation |
| --- | --- | --- | --- |
| Fall 2020 | August 24 - October 15, 2020 | July 10, 2020 | August 17, 2020 |
| | October 19 - December 10, 2020 | September 4, 2020 | October 12, 2020 |
| Spring 2021 | January 19 - March 12, 2021 | December 4, 2020 | January 11, 2021 |
| | March 22 - May 14, 2021 | February 5, 2021 | March 15, 2021 |
| Summer 2021 | June 7 - July 30, 2021 | April 23, 2021 | June 1, 2021 |
| Fall 2021 | August 23 - October 14, 2021 | July 12, 2021 | August 16, 2021 |
| | October 18 - December 9, 2021 | September 16, 2021 | October 11, 2021 |
* International Application Deadline dates only required for new F-1 Visa applicant.
Course Descriptions
Writing
Students learn the fundamentals of English structure with focus on practical application in writing at the sentence, paragraph, and essay level. Through the various levels, students learn to write following Western academic styles. A focus on editing and self-correction is emphasized at the higher Writing levels.
Grammar
Students learn the sentence- and word-level structures of English grammar, from the basic fundamentals necessary for everyday survival to the advanced constructs more commonly used in the academic and professional worlds. Grammar is taught in context at all levels, with an emphasis on communicative practice and real-world application.
Reading & Discussion
Students learn skills and strategies to build vocabulary and improve accuracy and speed in reading comprehension. Readings come from fiction and non-fiction sources such as magazines, newspapers, essays, short stories, and novels. Authentic materials as well as materials designed for ESL (English as a Second Language) are used. Discussions and written assignments are used to assess and respond to reading assignments.
Listening & Speaking
Students build confidence in speaking as they focus on being able to communicate clearly and effectively. Listening skills are developed as a means of improving communication. Discussions range around a variety of high-interest topics, and both formal and informal speech is emphasized. In addition, idiomatic language is taught as a key component to understanding native speech.
Vocabulary
Students build vocabulary with a focus on using words in context both in writing and speaking. Higher-level classes focus on learning the structures of English vocabulary and teach skills necessary to decode and learn new words independently.
Pronunciation
Students become more intelligible to other English speakers by focusing on specific sounds and patterns of Standard American English. Assignments in the Language Learning Center are included in this course as a means of enhancing what is learned in the classroom.
TOEFL
This intensive preparation course prepares advanced non-native speakers of English in the skills tested on the Internet based Test of English as a Foreign Language. The instructional hours focus on planning and writing responses and independent compositions, planning and practicing oral responses, and utilizing correct grammar. Weekly homework assignments will focus on textbook exercises to strengthen reading and listening skills. Topics include familiarity with the test format, test-taking strategies and integrated tasks.
Campus Facilities
Students of the ELI are considered students of the University. You will receive a student ID card, which gives you access to all the academic and recreateional facilities available on campus. Some of the campus resources below.
Living on Campus
For many students, one of the best parts of studying in the USA is the opportunity to live on campus and become an active part of the university's community. NDMU's campus is a short drive from downtown Baltimore, and there are plenty of parks and restaurants within walking distance as well.
Why not take a look for yourself? Explore the virtual tour below, and then click on the other links for more information about dining, living in the dormitories, and getting involved on campus with Student Life.
Virtual Campus Tour
Dining Services and Pricing
Get Involved with Student Life
Resident Life Information
Living in Baltimore
Welcome to Charm City!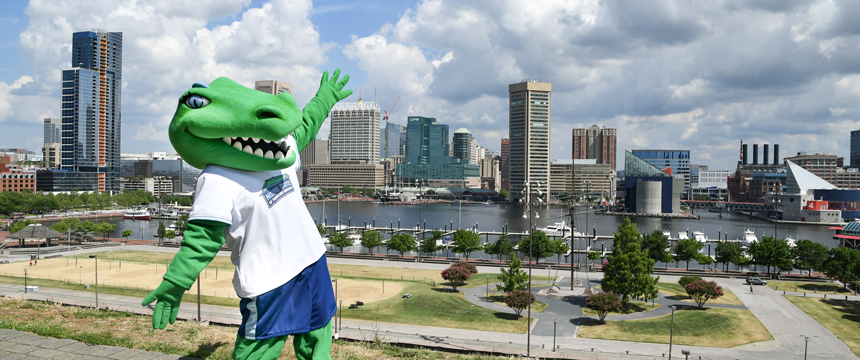 We are home to more than 120,000 college students, pink-haired hons, famous crab cakes, our beloved Ravens and O's—and we have an outstanding star-spangled history!
Between studying and hanging out on campus there's always plenty to do around town! You'll never be bored in Bmore.
Entertainment
Remember those 120,000 college students?! Check out Baltimore Collegetown Network
Check Baltimore's Inner Harbor, Harbor East and Little Italy for great food, and people watching!
Cross Street Market in Federal Hill is a great place to get great seafood and watch the game!
Got Crabs? Get ready to dig in for one of Maryland's delicacies- steamed crabs at these famous crab houses: Obrycki's, Phillips Seafood, Nick's and Bo Brooks!
Huge shopping at Towson Town Center
Take in a variety of concerts/broadway shows at the Hippodrome Theater, Ram's Head Live!
Check out the restaurants on East Cold Spring Lane—a hangout for all the local students in the area!
See if you can spot any of those pink haired hons at Cafe Hon in Hampden, a neighborhood close to the campus!
Culture
Baltimore has world class museums (over 30 in the area but some of our favorites are: Walter's Art Museum, The Baltimore Museum of Art—down the street from campus, Maryland Historical Society, Ft. McHenry (Hello! Oh Say Can You See!), Baltimore Museum of Industry and the American Visionary Arts Museum)
Go see the dolphin show, sharks and all kind of sea-life at the National Aquarium in Baltimore
Check out the Baltimore Zoo
Science Geek? We have a perfect solution—The Maryland Science Center, which also has an IMAX theater
Getting Around
Get around Baltimore using the FREE Collegetown Shuttle. The Shuttle stops at six Baltimore campuses, as well as shopping destinations in Towson, and Penn Station. Transfer to the FREE Charm City Circulator at Penn Station to explore downtown Baltimore. Students can track the Collegetown Shuttle in real time using Next Bus.
For all things Baltimore check out baltimore.org.
Student Health Services
Before You Travel
It is important to consider your health when coming to study in the United States. Simple differences such as food, climate and even lifestyle can affect one's health.
We highly recommend visiting a doctor before you travel to the U.S.
Tuberculosis (TB) Testing
Tuberculosis is a bacterial disease of the lungs. The U.S. requires all students to be tested for this disease.
You must bring a certified document in English from a physician showing negative test results in order to live on campus. This is very important.
Meningococcal Disease (Meningitis)
Meningitis is a rare, but dangerous disease. Consider getting a vaccine before you come to the United States. It is not required, but is recommended.
If you wish to live on campus, you must complete the TB/Meningitis Form (PDF).
Health Insurance Options
While not mandatory, students are strongly encouraged to have health insurance for their stay in the United States. Students have three options:
Purchase health insurance in their home country before travel.
Purchase Insurance from NDMU
Purchase health insurance from another company in the USA
Find an Insurance Company
You can buy your own health insurance from a health insurance provider of your choice (either from your home country or from the U.S.).
If you purchase your own insurance, be sure to:
Know what your insurance pays for
Know how to file claims from the U.S.
Cover your spouse and your dependents
Purchase Insurance from the ELI
If you do not have insurance that covers you in the United States, you must purchase the ELI's insurance. The insurance offers basic accident and sickness coverage.
View Tuition & Fees for current rates.
For more information or to log into your account, visit firststudent.com.