The English Language Institute is an intensive English program (IEP) for women and men from around the world. After studying in the ELI, students move on to undergraduate studies, graduate studies and careers.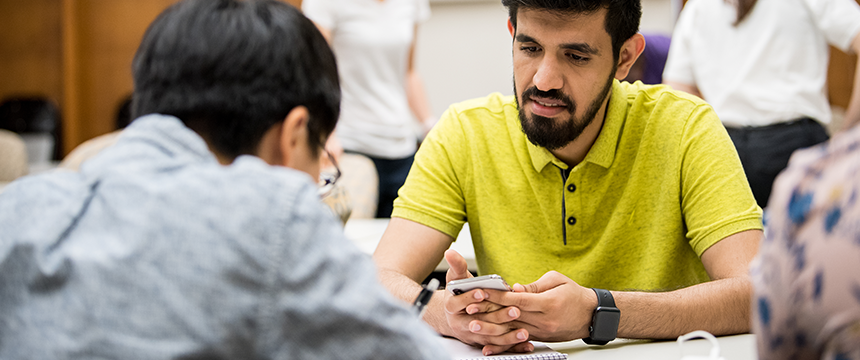 Program Details
In eight-week sessions, students from "high beginner" to "advanced" study writing, grammar, reading, listening and speaking, pronunciation and vocabulary.
The average class size is 8 - 14 students and English is used in the classroom at all times.
Placement Levels
Students are placed in the appropriate level based on placement test scores obtained at the beginning of the session.
Study Options
Full-time students at ELI are in class 20 hours a week. Part-time students may take up to 3 courses depending on their visa type. U.S. residents may study full or part-time.
Weekly Schedule
Day/Time
Course Name

Monday and Wednesday

9:00 a.m. - 11:00 a.m.
Writing
11:15 a.m. - 12:15 p.m.
Pronunciation
1:15 p.m. - 3:15 p.m.
Listening & Speaking

Tuesday and Thursday

9:00 a.m. - 10:30 a.m.
Grammar
10:45 a.m. - 12:15 a.m.
Vocabulary
1:15 p.m. - 3:15 p.m.
Reading & Discussion

Friday

9:00 a.m. – 2:30 p.m. TOEFL iBT Preparation Course (Offered in Fall II and Spring II sessions only)
Fridays are also for field trips, student advising appointments and other optional activities.
Course Descriptions
Writing
Students learn the fundamentals of English structure with focus on practical application in writing at the sentence, paragraph, and essay level. Through the various levels, students learn to write following Western academic styles. A focus on editing and self-correction is emphasized at the higher Writing levels.
Reading & Discussion
Students learn skills and strategies to build vocabulary and improve accuracy and speed in reading comprehension. Readings come from fiction and non-fiction sources such as magazines, newspapers, essays, short stories, and novels. Authentic materials as well as materials designed for ESL (English as a Second Language) are used. Discussions and written assignments are used to assess and respond to reading assignments.
Listening & Speaking
Students build confidence in speaking as they focus on being able to communicate clearly and effectively. Listening skills are developed as a means of improving communication. Discussions range around a variety of high-interest topics, and both formal and informal speech is emphasized. In addition, idiomatic language is taught as a key component to understanding native speech.
Vocabulary
Students build vocabulary with a focus on using words in context both in writing and speaking. Higher-level classes focus on learning the structures of English vocabulary and teach skills necessary to decode and learn new words independently.
Pronunciation
Students become more intelligible to other English speakers by focusing on specific sounds and patterns of Standard American English. Assignments in the Language Learning Center are included in this course as a means of enhancing what is learned in the classroom.
TOEFL
This intensive preparation course prepares advanced non-native speakers of English in the skills tested on the Internet based Test of English as a Foreign Language. The instructional hours focus on planning and writing responses and independent compositions, planning and practicing oral responses, and utilizing correct grammar. Weekly homework assignments will focus on textbook exercises to strengthen reading and listening skills. Topics include familiarity with the test format, test-taking strategies and integrated tasks.
Resources & Materials
ELI students may use all of the resources of Notre Dame of Maryland University, both academic and recreational.
Resources
Life at the ELI
Full-time students are in class Monday through Thursday. After class, students often work on homework and projects with classmates before returning to their homes. Fridays are reserved for field trips, conversation partner activities, student advising, and other campus events.
International Community
The ELI is a unique community of students from 20-25 different countries speaking different languages that come together to live and learn. No matter what you do after ELI, you will have lifelong friends from around the world.
I not only studied English, but I made international friends. - Ikuko Iwabuchi, Japan
Field Trips & Social Events
We value learning inside and outside of the classroom. The ELI sponsors field trips, events, and outings to help students learn about American life and culture.
Activity Examples
Holiday Parties
Local Museums
Theatres
Businesses
Sports Events
Each session, the ELI organizes a trip to a nearby city such as Washington, D.C., Philadelphia, Annapolis, New York City and others.
In addition to these activities, students have full access to the University's facilities including the Language Learning Center, the computer lab, the Library, and the fitness center.
Support
The ELI staff is here to help with adjusting to life in the U.S. Our supportive environment makes each student's stay a memorable learning experience.
I will never forget the special atmosphere, the close friendships, and the feeling of belonging." -Isabelle Pince, Belgium