Welcome to Charm City!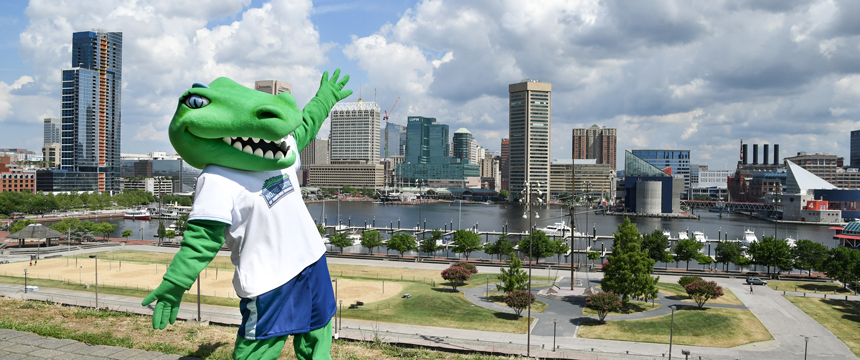 We are home to more than 120,000 college students, pink-haired hons, famous crab cakes, our beloved Ravens and O's—and we have an outstanding star-spangled history!
Between studying and hanging out on campus there's always plenty to do around town! You'll never be bored in Bmore.
Entertainment
Remember those 120,000 college students?! Check out Baltimore Collegetown Network
Check Baltimore's Inner Harbor, Harbor East and Little Italy for great food, and people watching!
Cross Street Market in Federal Hill is a great place to get great seafood and watch the game!
Got Crabs? Get ready to dig in for one of Maryland's delicacies- steamed crabs at these famous crab houses: Obrycki's, Phillips Seafood, Nick's and Bo Brooks!
Huge shopping at Towson Town Center
Take in a variety of concerts/broadway shows at the Hippodrome Theater, Ram's Head Live!
Check out the restaurants on East Cold Spring Lane—a hangout for all the local students in the area!
See if you can spot any of those pink haired hons at Cafe Hon in Hampden, a neighborhood close to the campus!
Culture
Baltimore has world class museums (over 30 in the area but some of our favorites are: Walter's Art Museum, The Baltimore Museum of Art—down the street from campus, Maryland Historical Society, Ft. McHenry (Hello! Oh Say Can You See!), Baltimore Museum of Industry and the American Visionary Arts Museum)
Go see the dolphin show, sharks and all kind of sea-life at the National Aquarium in Baltimore
Check out the Baltimore Zoo
Science Geek? We have a perfect solution—The Maryland Science Center, which also has an IMAX theater
Getting Around
Get around Baltimore using the FREE Collegetown Shuttle. The Shuttle stops at six Baltimore campuses, as well as shopping destinations in Towson, and Penn Station. Transfer to the FREE Charm City Circulator at Penn Station to explore downtown Baltimore. Students can track the Collegetown Shuttle in real time using Next Bus.
For all things Baltimore check out baltimore.org.