Move-In Dates for Fall 2021
For additional information, please follow housing updates in the NDMU Together campus return section.
First-Year Students/Transfer Students: Coming Soon!
Returning Students: Coming Soon!
School of Pharmacy:Coming Soon!
Suggested Packing List
Kitchen Supplies
Utensils
Bowls, Plates, Cups, Mugs
Tupperware
Dish Towels
Microwavable Cookware
Chip Clips
Desk Supplies
Pens, Pencils, Highlighter
Notepad, Paper, Post-its
Folders, Index Cards
Paper Clips, Stapler
Tape, Glue
Calendar
Calculator, Flash Drive
Bedroom/Bathroom
Shower Caddy
Shower Shoes
Toiletries
Towels, Wash Cloths
Pillows, Twin XL Sheets
Comforter
Decorations
Cleaning Supplies
Laundry Bag/Basket
Laundry Soap
Stain Remover
Paper Towels
Sponge, Dish Soap
Trash Bin, Trash Bags
Vacuum
Sewing Kit
Miscellaneous
Masks
Athletic Equipment
Medicine, First Aid Kit
Blue Painter's Tape
Backpack
TV
Study Lamp
Surge Protectors
Mini Fridge/Mirco Fridge Rental
Prohibited Item List
Prohibited Items
Included but not limited to: ​
Illegal drugs, Drug-related paraphernalia (e.g. bong, pipe, hookah)
Beer pong tables, funnels and tubing, common source containers (e.g. kegs), and other alcohol paraphernalia
Firearms, fireworks, explosives, weapons
Hot plates
Appliances with exposed heat elements like toasters, grills, slow cookers, rice cookers, etc.
Halogen lamps or medusa lamps
Electric Blankets
Wireless printers and personal routers
Hover boards
Toaster ovens
Microwaves unless as part of a rented micro-fridge unit through the school sponsored vendor
Grills
Space heaters
Cinder blocks
Electrical appliances with an exposed heating element (e.g. slow cookers, toasters, rice cookers, hot plates)
Incense, candles, oil-lamps (lit or unlit)
Wall mounted televisions
Refrigerators greater than 118 volts, 60 Hz, and do not draw more than 1.5 amps or 180 watts
Dangerous chemicals
Non-University supplied lofts
Portable air conditioners or non-University issued window air conditioning units
Personal mattress
Pets (other than small, non-carnivorous fish)
Immunization FAQ's
Do I need to submit proof of immunizations?
Yes, immunization forms are required.
Do I need the Meningitis vaccine?
Yes, Maryland law requires dormitory residents to have received the meningitis shot. Proof of this vaccine must be noted by your physician on the immunization form.
What happens if I arrive on move-in day without having received the Meningitis vaccine?
Students are NOT permitted to move-in without proof of having received the Meningitis vaccine.
Do I need Health Insurance?
Yes, all full-time students are REQUIRED to submit proof of health insurance to waive or students must enroll in the University-sponsored health insurance plan.
What do I need to do to waive or enroll in the Health Insurance plan?
All full-time students must take action. Students will receive multiple emails and information with explicit directions on how to submit proof of insurance in order to waive or to enroll in the health insurance plan. Please follow the directions outlined by July 30, 2021.
What if I fail to take action on University Health Insurance?
If students do not take action by July 30th, 2021, you will be charged for health insurance on your tuition statement. At this point you will have until August 31st, 2021 to have your account adjusted.
After August 31st, 2021, all charges will be final and no adjustments will be allowed.
Preferred Bed Adjustment
Make your living space your own!
Part of the fun of moving into any new place is the opportunity to give it an identity.sssssf
Posters, pictures, bedspreads, lamps, and other accessories all serve to add a personal touch to your room.
Please Note
All decorations must be removed at the end of the school year. Decorations which would make permanent changes in a room are not permitted and may result in damage charges.
---
Bed Options
Option 1 - Beds Bunked
Talk with your roommate about bed preference prior to submitting the form. Only one submission per room is needed if both occupants wish to have their beds bunked.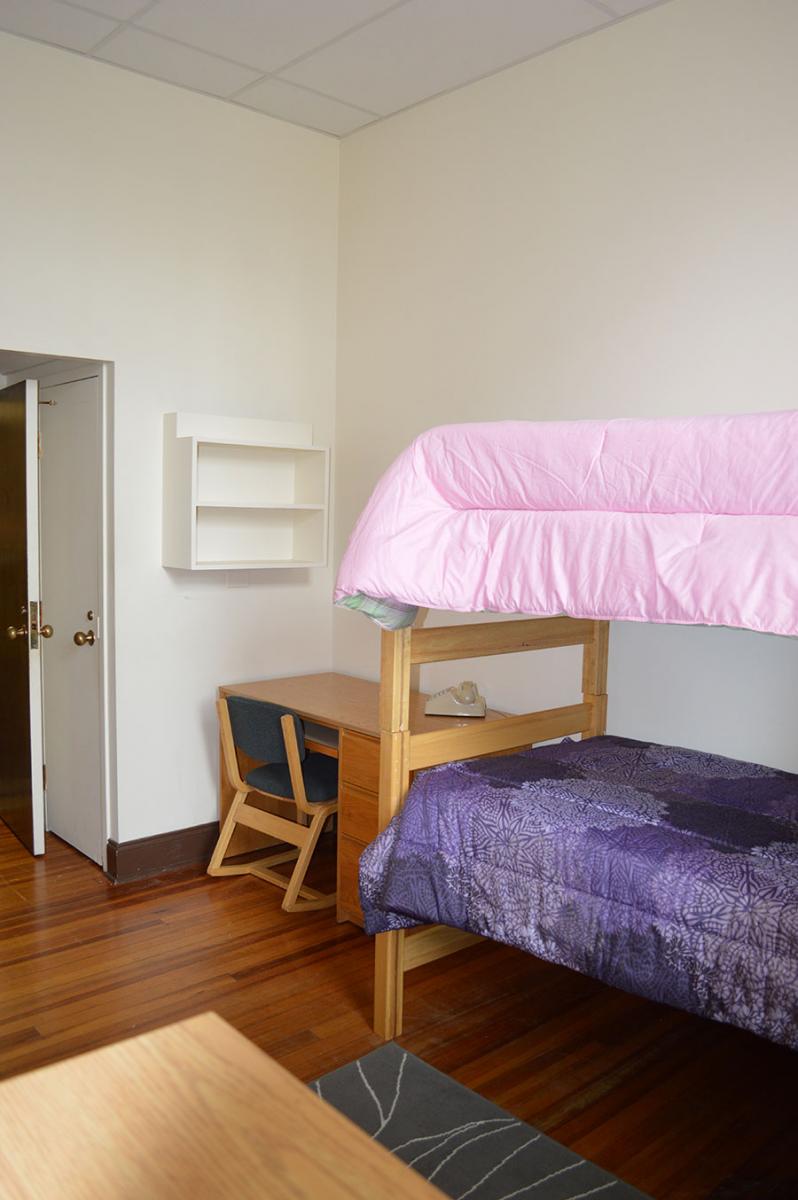 ---
Option 2 - Bed Lofted
Limited lofts are available for the academic year. If you would prefer lofting your bed, submit the Bed Preference Request Form beginning August 1st.
Lofts are provided in the order that requests are received. Non-university provided lofts are not permitted.

---
Option 3 - Bed Raised
Raising the bed height allows additional space to store belongings under it and greater flexibility in the layout of the room. Keep in mind your level of comfort in how high the bed can be raised.