The Office of Health Services offers basic first aid and emergency care, health and wellness education, and local resources to help promote your optimal health and wellbeing.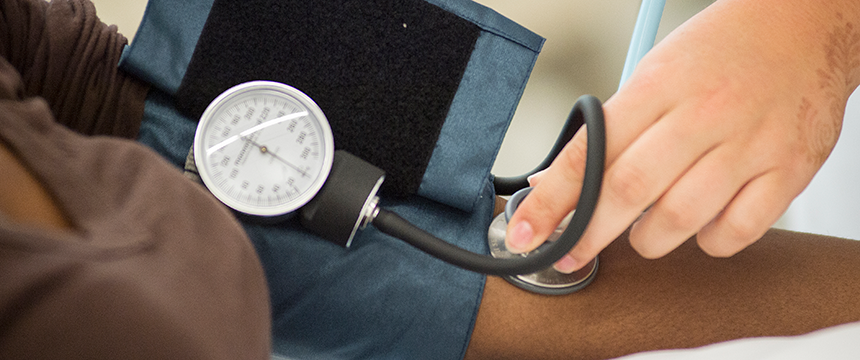 Our campus Registered Nurse can meet with you via Zoom or schedule an in-person meeting if needed. Walk-in appointments are currently unavailable due to COVID-19. In most cases, we can provide a same or next-day appointment.
Location: Feely International Center (FIC) Room 013 & 014
Phone: 410-532-5403
Office Hours
12:30-4:30 pm Monday-Friday when classes are in session (appointments available by request outside normal office hours)
Eligibility for Health Services
You are eligible for health services if you're enrolled in credit-bearing, degree-seeking courses at Notre Dame of Maryland University, regardless of the type of insurance you carry. You must also be registered for the current semester.
Last Day for Health Services
December Graduates: Last day the University is open before Winter Break
May Graduates: July 31
Emergency & After Hours Care
In the event of an emergency please call 911 or contact the public safety office (410-435-0100 or extension 5360 from a University phone). They can provide 24/7 assistance with obtaining emergency care and direct emergency services to your location.
Nearest 24-hr Emergency Facility
MedStar Union Memorial Hospital
201 E. University Parkway
Baltimore MD 21218
410-554-2000
If you have a non-life-threatening medical problem that cannot wait until the Student Health Services Center is open, you can either go to an urgent care center or pursue a telehealth option.
Partnership with MedStar Health Urgent Care in Towson
All full-time NDMU students are eligible to receive free transportation to MedStar Health Urgent Care in Towson.
Hours: 8:00 a.m. to 8:00 p.m. daily
The University has partnered with Lyft service and will cover only any metered rates to and from MedStar Urgent Care on York Road in Towson and the University for full-time NDMU students. You may choose to drive yourself, however, the University will not reimburse travel expenses.
Arrange Transportation
Call Public Safety (410-435-0100 or extension 5360 from a University phone) and ask for transportation to the MedStar Health Urgent Care in Towson. You will receive a phone number to call for return transportation to campus.
Note: If your health insurance doesn't cover MedStar Urgent Care locations, adjustments can be made to provide transportation to an accepted provider.
Services Provided
Illness care (flu, allergies, bronchitis, infections, pneumonia, strep throat, pink eye, sinus infection treatment, cold symptom treatment, UTI treatment (urinary tract infection), yeast infection treatment, and more)
Injury care (stitches, concussion evaluations, sprains, lacerations, broken bones, burn treatment and more)
Sports physicals
Pre-surgery physicals
Flu shots
Vaccinations for international travel
X-ray and on-site laboratory
StarPass medical discount program
What costs are associated with a visit to MedStar Urgent Care?
You are required to pay any co-payments at the time of service. It is also your responsibility to pay for any additional fees for referrals, testing, laboratory fees, and/or prescriptions.
Telehealth Options
Telehealth offers opportunities to speak with a medical professional through video chats, phone calls, and related technology.
University-Sponsored Health Plan Telehealth Resources
If you are enrolled in the University sponsored health plan, you can access a telehealth provider 24/7 via your CIGNA login as well as the resources below.
Other Telehealth Resources
If you have other health insurance, you can try Teladoc for 27/7 telehealth. Create an account and enter your insurance information to see the cost of a visit. There is also an option for those without health insurance.
NDMU Food Pantry
Thanks to one of our former NDMU students we have a food pantry on campus. It is in the process of transitioning to Theresa Hall room 14 which has a refrigerator with perishable goods, and non-perishable goods in the cabinets. Contact Security to open this space should you need any items.
Currently the food pantry also has a closet of shelf-stable goods next to the free table located in the basement of Theresa Hall (under the steps closest to Gibbons hall).