Notre Dame's full-service post office provides U.S. Postal Service for mail and United Parcel Service for shipping.
The NDMU Mailroom is now offering electronic mail delivery service. Please sign up using the form above.
Mail Services
Incoming and Outgoing Mail
Incoming and Outgoing Express
Packages
Incoming and Outgoing 3rd Party Couriers
Stamps and Envelopes Available for Purchase
All incoming mail, express and courier packages will be sorted in the mailroom. All parties will be notified via e-mail that a package has arrived.
The mailroom sells stamps, books of stamps, aerograms and postcards. A U.S. postal box for stamped mail is located off the Doyle Hall lobby.
NDMU Branded Masks for Sale
Stop by the Mailroom in Gibbons Hall, Lower Level, to purchase a mask, or place your order online.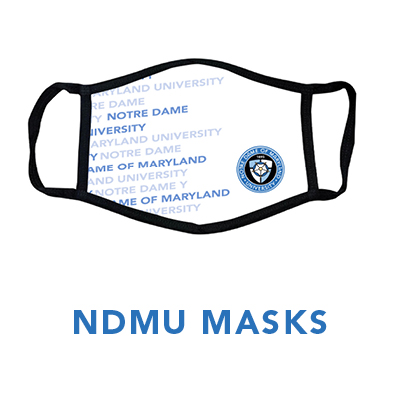 Student Mail
Located in Doyle Hall lobby, student mailboxes are used for intra-campus communications and should be emptied daily. Communication placed in these boxes should be signed by an individual or approved by the office of campus activities. These mailboxes may not be used by individuals outside the College community.
Individual pieces of mail may be placed in the intra-campus student mailboxes or in the mail slot marked "Student Mail" at Postal Operations in Gibbons Hall. Monday through Friday after the mail is sorted, student mail is transported to Doyle Hall and placed in the boxes.
Bulk mail, including such things as fliers, posters, brochures and pamphlets, should continue to be placed in student mailboxes by the originating office or organization. Postal operations will not distribute mass mailings to student mailboxes.
Residents
Residents are assigned a federal-locked mailbox each year. Locked mailboxes are behind the reception desk in Doyle Hall and are generally reserved for first-class mail and special intra-campus mail of an official nature, such as paychecks.
Commuters
Commuter mailboxes are identified with a star. Students pick up and sign for incoming packages larger than their assigned locked mailboxes at the mailroom.
Mail Vendors
USPS - 1-800-ASK-USPS
UPS - 1-800-742-5877
FedEx - 1-800-GOFEDEX
Amazon Prime Same Day Delivery: Please have all packages delivered to the mailroom during normal business hours, Monday – Friday, 8:30 a.m. – 5:00 p.m. We cannot insure secure delivery if your package is not sent to us during those times.
Contact Us
Post Office
Location: Gibbons Hall, Lower Level
Phone: 410-532-5359
Hours: 8:30 am-5pm, Monday-Friday
documentcenter@ndm.edu