November 1, 2018
Two Gentlemen of Verona Takes the Stage in Copeland Theatre
NDMU is teaming up with the Baltimore Shakespeare Factory to bring its adaption of William Shakespeare's "Two Gentlemen of Verona" to life in the Copeland Theatre.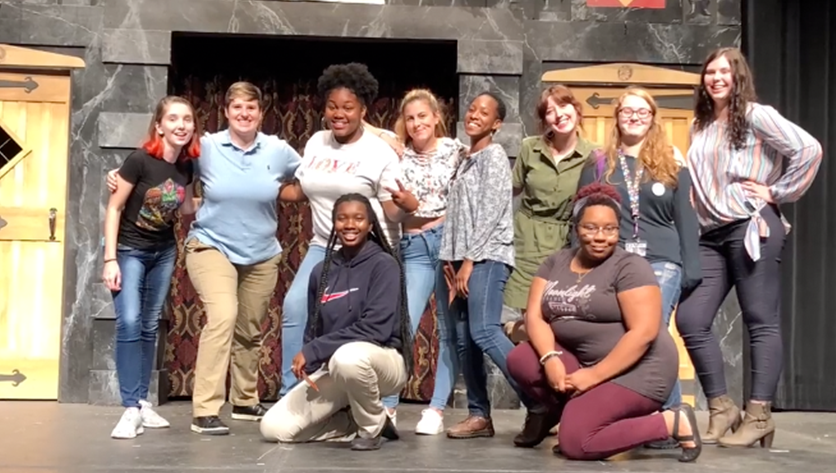 What do a disguise, a dog named Crab and a band of thieves all have in common? They will all be featured in Notre Dame of Maryland University's (NDMU) adaption of William Shakespeare's Two Gentlemen of Verona.
As one of the playwright's earliest plays, Shakespeare writes about two friends venturing off from their proper lives while falling in love in a series of wild events. This year, NDMU students had the honor of working with members of the Baltimore Shakespeare Factory (BSF) to help prepare them for the complex roles and bring Shakespeare into modern times.
Director Ann Turiano and NDMU Assistant Professor and Drama Chair Kathleen Bossert answer some questions about the upcoming production which opens on November 2.
Q: Why Two Gentlemen of Verona?
Bossert: I liked the juxtaposition of staging Two Gentleman at a Women's College. I think it speaks to the kind of opportunities that we seek to provide for our students, e.g., cross-gender casting practices that allow them to play roles that may not be available to them otherwise, as well as doing plays themselves (like Two Gentlemen) that aren't as frequently produced.
Q: How does the play connect to Notre Dame?
Bossert: We wanted to do a comedy this semester—and this play is certainly a very funny one with lots of laugh out loud moments! That being said, it also has its very serious moments—moments that raise challenging questions about the sexual treatment of women, for example. In this way, we thought the play would be an excellent vehicle for engaging meaningfully with current public discourse, while also dovetailing broadly with our campus discussions about [Rachel Lloyd's "Girls Like Us," this year's] Common Read.
Q: How is this play different from years past?
Bossert: In the Drama program, we try to offer students regular opportunities to perform a range of drama--from the classical to the contemporary. Just in the past three semesters, we've staged a wide variety of pieces: a 17th century English Restoration comedy (The Rover by Aprha Behn), a modern retelling of Greek tragedy (Iphigenia and Other Daughters by Ellen McLaughlin), and a contemporary drama about World War II (Decision Height by Meredith Dayna Levy). We actually hadn't staged a Shakespeare since Macbeth in Fall 2015 so it was definitely time.
Q: What has been the most challenging part about performing a play by Shakespeare?
Turiano: The best/worst part about Shakespeare is the language. Performing Shakespeare is unlike acting any other script, because he was such a talented wordsmith. All of the clues are in there for the actor to find--the pace, the rhythm, the pauses, where he wants you to breathe--but you have to know what you're looking for. It can be intimidating at first, because it is early-modern English with a lot of unfamiliar sounding words plus it is written in poetry. Our first full week of rehearsal was text work, where the cast worked with BSF's Artistic Director.
Q: What has the partnership between NDMU and BSF been like?
Bossert: Having the opportunity to collaborate in this way-- having access to mentors to guide and encourage, and teach--has made this a truly immersive experience and has raised the bar for what we could achieve. Audiences are definitely in for a treat!
Turiano: NDMU STUDENTS ARE FABULOUS. They are open-minded, patient, and so supportive of one another! I love directing here because the student performers work hard and bring a lot of passion to the process. Our cast has a range of experience with Shakespeare, but they have all committed to the text work and the style we are using to stage the show. I like to think we are creating the next generation of Shakespeare nerds. Once you learn the Bard's secrets, you feel like you're in a club, and you'll never in your life see plays or poetry the same way again. We have two adult BSF actors in the show, and the NDMU performers are giving them a run for their money.
Q: Do you see a relationship with BSF and Notre Dame in the future?
Turiano: I would love to continue the relationship between BSF and NDMU. The English department here has been so lovely and supportive. They see the value in the text work as well as the performance, which matches up very well to BSF's mission.
Q: Are there any surprises we should anticipate during the show?
Turiano: I'm partial, but the canine actor playing Crab is pretty charming. Even if you hate Shakespeare, don't you want to come see the cool Elizabethan costumes and pet the cute dog?
Tickets are on sale now. Show times are Nov. 2, 3, 9 & 10 at 8 p.m. and Nov. 4 and 11 at 2 p.m. General admission is $15, $9 students with code NDMUSTU and can be purchased online.