November 26, 2018
Student Athlete Credits Work Ethic Learned on the Cross Country Course With Helping her Succeed in Governor's Internship Program
Notre Dame of Maryland University's student athletes juggle class, homework/projects, practice and games, and even internships and jobs. It is no easy feat, but for many it is about discipline and multi-tasking. For junior cross country runner Tavia Williams, being an athlete at NDMU is what she says prepared her for the Governor's Summer Internship Program.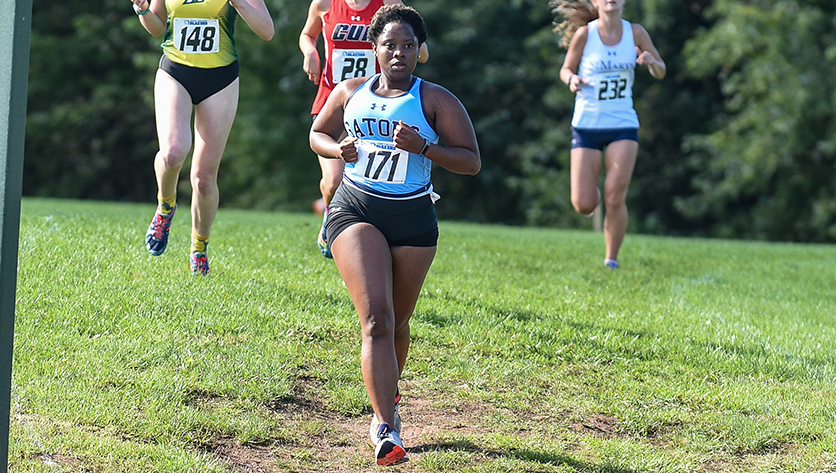 Athletes are known for their incredible work ethic. Notre Dame of Maryland University's (NDMU) student athletes are no different; they juggle going to class, completing homework/projects, attending practice and games, and in many instances, they have a job or an internship. It is no easy feat, but for many it is all about discipline and the ability to multi-task.
"I believe being an athlete has made me a better student," says Tavia Williams '20, a member of NDMU's cross country team who spent her summer participating in the Governor's Summer Internship Program (GSIP), one of the most prestigious and sought after internships within Maryland's Public Service Scholars fellowship program.
Internships are a way for students to use what they are learning in the classroom in a professional setting. Each year, hundreds of NDMU students take part in internships across the region and around the globe, gaining valuable experience that they will take with them to future positions and for Williams, athletics played a major role in her success.
"Being a student-athlete requires preparation and thinking ahead. The time management and organization skills I learned through the past two years of being an athlete made me ready to handle the rigors of working in a government building, working on multiple major projects and small projects simultaneously. I had to be able to adapt and overcome. That is something I [have] learned being a Gator."
Williams first found out about this opportunity through NDMU's Career Center, which helps students find both internships and employment. "We're here to help and guide students through the entire process – from job fairs on campus, to applying for a position and preparing for interviews, to finding internships and making a great first-impression – the career center, faculty and staff support our student's success," says Suzan Harkness, associate vice president for academic affairs.
Through her internship, Williams had the opportunity to work in a government building, visit the White House, meet Maryland Governor Larry Hogan multiple times and visit the State House in Annapolis. She worked for the New American Initiatives Office, a division of the Department of Labor, Licensing and Regulation. "My role was to bridge the gap between the immigrant community and the resources they need by making [information] available to the front-line staff around Maryland which deals with the population daily."
She helped createa resource guide to train state employees to work with immigrants who are knowledgeable in various desired trades, she assisted with an Employer Engagement resource flyer that gave tips on how to build relationships with the immigrant community and worked on another flyer that explained what Temporary Protected Status (TPS) is and what it means for immigrants who hold that status and their employers.
Williams credits NDMU for giving her the desire to serve others, "Being a Notre Dame student gave me a different perspective on how to look at the world and made me understand the need for public service and serving the communities around me…[Nearly] all of my classes at Notre Dame are taught with some form of focus on social justice, so I was already prepared to work and serve others."
Each year, hundreds of students apply for the GSIP. In all, 20 students were awarded the coveted internship for the summer of 2018. Before even being considered, candidates are required to submit several essays, a personal statement and letters of recommendations. As a political science and philosophy major, Williams plans to use this experience to continue helping and serving others in her community. She wants to attend graduate school and further her studies in international affairs and diplomacy when she graduates in May 2020.