January 24, 2019
School of Education is Awarded $300,000 Grant by the State of Maryland to Help Students with College Costs
More than two dozen NDMU School of Education students will soon be getting help with everything from tuition to the cost of books. It is all thanks to a newly awarded grant by the State of Maryland.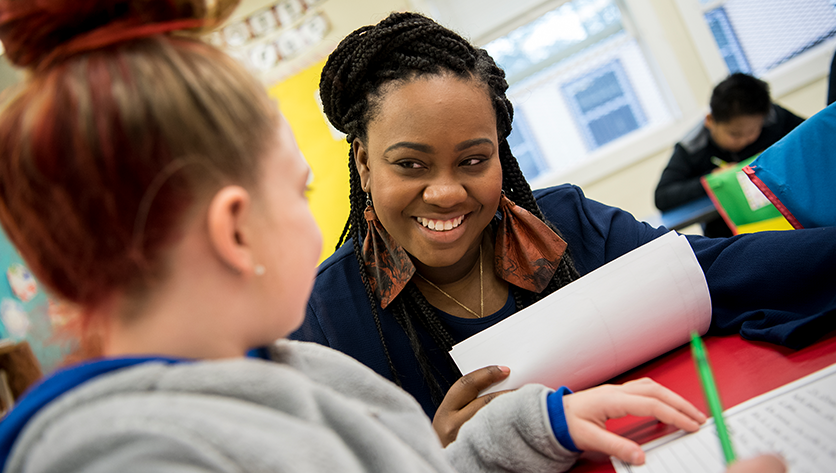 As part of a newly awarded grant by the State of Maryland, as many as 25 Notre Dame of Maryland University School of Education (SOE) students will be getting help with their college expenses – including everything from tuition to the cost of books.
The $312,922 award is part of the Maryland State Department of Education (MSDE) "Child Care Career and Professional Development Fund" (CCCPDF). This is Notre Dame's ninth year as a participant in the CCCPDF program and it's the largest award the University's SOE has ever received.
"NDMU is committed to making sure our students are prepared to enter the classroom and this grant is a testament to our education program and how Notre Dame plays a key role in the development of Maryland's teachers," says Sister Sharon Slear, NDMU Provost and Vice President of Academic Affairs.
The University is one of only 21 institutions across Maryland selected to participate in the CCCPDF program. For students to be eligible for support, they must be pursuing or completing the required coursework for a bachelor's degree in the liberal studies/elementary education or early childhood education.
As part of NDMU's program, many undergraduate education majors are required to spend two full semesters serving as student teachers in area schools. This is more than the State of Maryland requires, but an essential component of the NDMU experience.
"We are helping to set the standard for programs across the region," says Gary Thrift, Dean of the School of Education. "We are constantly looking ahead and identifying new concentration areas before they become demand areas. This grant money will help us provide education to dozens of students who will go on to serve in licensed child care facilities throughout the state."
NDMU ranks number one for private universities or colleges in the state and second among public or private universities or colleges in preparing certified teachers in Maryland.
The University offers the most certifications in areas of education where there is a high demand for specialization. Presently, NDMU ensures its students are prepared to teach in TESOL, STEM, special education and mathematics—all high demand areas. By providing programs in these much-needed areas, NDMU helps local school systems find new teachers. In return, our graduates experience high success rates in job placement. 95% of our graduates receive offers of employment before or upon graduation.
For more on NDMU's School of Education and how to apply visit the SOE website.