April 5, 2019
The Moors Takes the Stage in Copeland Theatre
From Shakespeare to historical fiction to flying through the theater as Peter Pan, NDMU's drama department does not shy away from a challenge. The latest production, The Moors, stays true to that tradition. It's from a new emerging female playwright and it has something for everyone - there's murder, power ballads and even a talking chicken.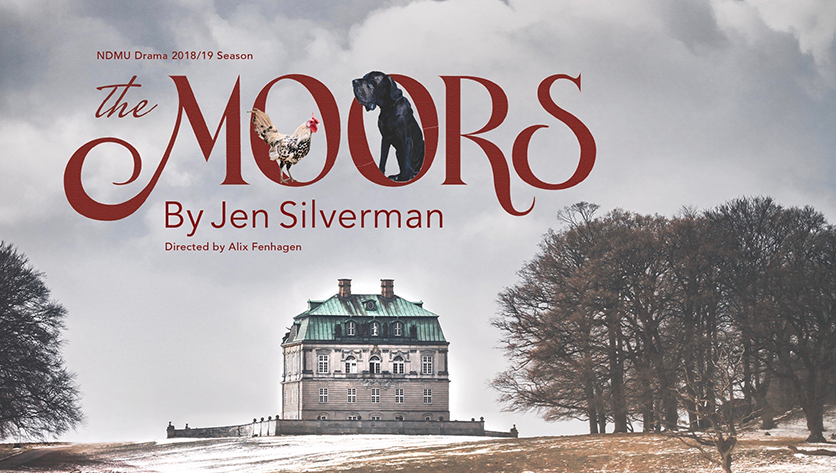 This spring, The Moors, takes the stage at Notre Dame of Maryland University's (NDMU) Copeland Theatre.
The play is fun and exciting and according to NDMU Assistant Professor and Drama Chair Kathleen Bossert, stage manager Alexandra Perry and actress Makeima Freeland there is something for everyone. There's murder, seduction, power ballads, a philosophical dog and best of all…a talking chicken!
Q: Why The Moors?
Bossert: This a brand-new play (2017) by an emerging woman playwright, and we obviously love to feature women's voices at NDMU. Plus, this show also provided a great season complement to this Fall's 'The Two Gentlemen of Verona,' interrogating related themes of love, loyalty, and power.
Q: What are your favorite scenes?
Freeland: I like the scene where I die! We do stage combat and I get beat on, choked, and kicked in my kidney. That is a really exciting and I'd be ready to die when it comes to that scene.
Q: How dark of a comedy is it?
Perry: Incredibly dark, the characters haven't kept their sanity or morals well in the bleakness of their surroundings. The comedy often comes from this, the addition of the new governess Emilie highlighting just how off this whole manor is.
Q: Were there any hard parts in the acting process?
Freeland: Yes, because there's a lot of thinking in the acting process. I have to get rid of all of my natural instincts and put myself into a completely different person's shoes. Things that I would normally do, like how I stand or speak, I have to do it differently. I'm constantly asking myself, "What would my character do in this situation? How would my character say this? What face would my character be making right now?".
Perry: There were some, mainly when it came to diving into why a character would say what they were saying, and how to play with their reasoning on stage. With this, it was fun to see what choices the actors' made for their own characters to flesh them out and make their individual past their lines in the script.
Q: What surprises can be expected?
Bossert: I'm hesitant to give away too many surprises! You'll just have to go and see the play and find out for yourself.
Tickets are on sale now. Show times are set for Apr. 11, 12, and 13 at 8 p.m., as well as 2 p.m. on April 13 and 14 in Copeland Theatre. Tickets can be purchased online. General admission is $15. Students are eligible for $9 tickets with code NDMUSTU.