February 26, 2018
First Lady Yumi Hogan to Help Launch Maryland's Only Art Therapy Degree Programs
NDMU kicks off celebration of new Art Therapy Degree with a Panel Discussion with Art Therapy Experts.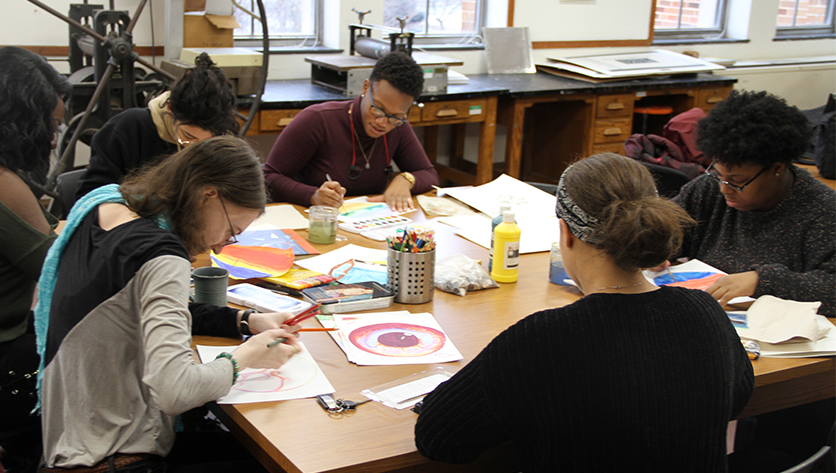 Maryland First Lady Yumi Hogan helps Notre Dame of Maryland University (NDMU) launch the state's only graduate and undergraduate degree program in art therapy. The launch includes a panel discussion focused on how art and the making of art can aid in healing during and after a time of trauma.​
NDMU is the only university that offers Art Therapy undergraduate and graduate degrees in Maryland. The profession of art therapy is growing in the United States and has quickly become one of the newest specialization within the helping profession.​
On March 7, NDMU will host a panel discussion on ways art has been used, and can be used as a coping mechanism. It will focus on the benefits of art therapy as a growing industry as well as the effect it has had on survivors of traumatic events. Consisting of experts in the fields of Holocaust studies, art therapy, and Holocaust artwork, the panel will discuss the logistics of art making within the Holocaust, along with the driving need to create art, and how it can inform contemporary art therapy and behavioral health practices.​
The panel of speakers includes Krya Schuster - curator of the United States Holocaust Memorial Museum in D.C., Claudia Cameron - a local art therapist whose mother and father escaped occupied Germany as young children, and Elizabeth Hlavek - a local art therapist and curator of NDMU's new exhibit, Meaning Making Through Art Making: From the Holocaust to Contemporary Art Therapy Practices on display in NDMU's Gormley Gallery.​
The discussion will take place on March 7, beginning at 6 p.m. in Fourier Hall 103, and will include a Q&A as well as a special viewing of the Gormley Gallery exhibit following the discussion.​
Kyra Schuster, Curator, United States Holocaust Memorial Museum
Kyra Schuster joined the staff of the United States Holocaust Memorial Museum in 1994, and is currently a Curator in the National Institute for Holocaust Documentation. Her primary role is identifying and acquiring new materials for the permanent collection, and she has also worked on several special exhibitions, Museum publications and contributed to the Museum's online Holocaust Encyclopedia. Representing both the Museum and the United States, Kyra has presented at multiple international conferences on Holocaust art, the proceedings of which were subsequently published. She appeared in the National Geographic Channel's Emmy nominated documentary about the 350 American POWs sent to the Berga concentration camp, and was one of the featured speakers during the Museum's 20th Anniversary Commemorative National Tour. Kyra has represented the Museum in media outlets throughout the United States and internationally, helped create the Museum's popular Curators Corner online video series and is the voice of the Museum's Curatorial staff on Twitter. This past summer, Kyra was the curatorial lead and face of the Museum's successful Kickstarter campaign "Save Their Stories." ​
Claudia Cameron, LCSW, Art Therapist, Artist (parents are survivors)
Claudia Cameron received master's degrees in Art Therapy and Clinical Social Work. She has practiced clinical social work and art therapy with children, families, and women for 40 years. She works in Towson in a private practice. Her lifelong passion for art shifted in the past 20 years from photography to painting. She has studied with various nationally known painters including Tamara Sigler and Ruth Pettus. Claudia Cameron paints with acrylics on canvas and paper. Her work has been exhibited in juried and non-juried shows, including The Waldorf School (2004), The Hoffberger Gallery (2007), The Myerberg Center (2007, 2010, 2014), The Gordon Center (2008), The Towson Arts Collective (2008), The Women's Artists' Forum (2010), the Lodge at Woodloch (2009, 2016) and Sascha's (2012), and the Yart Gallery (2018).​
Elizabeth Hlavek, Doctoral Candidate, ATR-BC, LCPAT
Elizabeth Hlavek, ATR-BC, LCPAT, is an art therapist in private practice in Annapolis, MD and a doctoral candidate in art therapy at Mount Mary University. Her research explores the artwork created by victims during the Holocaust, and its potential relevance to art therapy theory and practice. In her clinical practice, Liz works primarily with adolescents and adults struggling with eating disorders and body image concerns. She also is an adjunct professor in psychology at Anne Arundel community college. In 2012, Liz worked with state legislators to develop the first clinical art therapy license in MD and previously sat on the MD Board of Professional Counselors and Therapists. Liz received a BFA from Carnegie Mellon University and completed her Master's in Art Therapy at Pratt Institute.