Nursing - Leadership in Nursing Education
MSN
Grounded in caring science, the Master of Science in Nursing, Leadership in Nursing Education concentration examines the field of curriculum and pedagogy from a variety of research and curriculum perspectives—technical, interpretive/practical, and critical/emancipatory—through directed readings, critical reflective narrative, and a classroom context for scholarly discourse. Courses in assessment, professional issues, and technology offer opportunities for increased competency as nursing educators.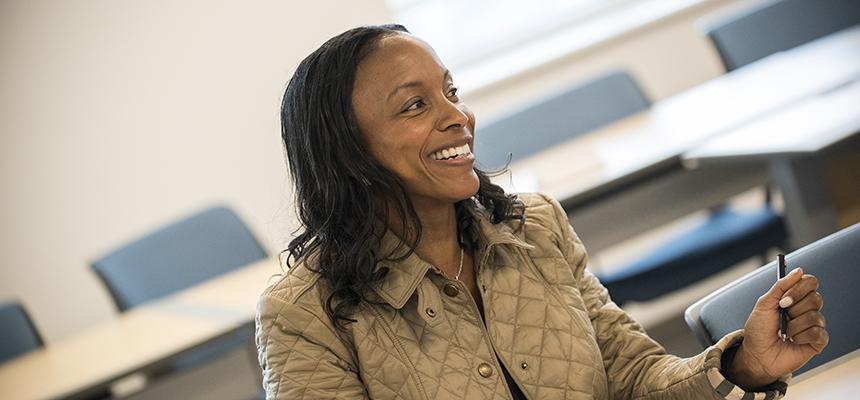 Program Locations
What Makes Our Program Unique
Support
Students are admitted to the graduate programs as members of a cohort, progressing together in a supportive environment.
Accelerated Format
Our accelerated format is designed for nurses in practice who choose part-time study.
Class Schedules
Classes are usually taken sequentially, one class at a time, on the same day of the week and during the same four-hour period throughout the program. Regular courses range from four to nine weeks in duration, while the required 90-hour education practica are offered for the entire semester.
MSN Student Learning Outcomes
The student learning outcomes are lived by graduates as:
Presence
Create a space for leaders in advanced roles for 'being-with' students, staff, and other health care colleagues that reveals authentic nursing presence.
Praxis
Demonstrate and cultivate excellence in leadership praxis through the synthesis of research, theory, and reflective practice.
Advocacy
Lead change by serving as an active voice for nurses and nursing with patients, families, communities, and organizations regarding health policy and social justice within an ethical framework.
Scholarship
Create an environment that promotes critical inquiry through multiple ways of knowing.
Self-Care
Nurture a place for healing, personal and professional growth, and a culture of caring for self and others.
Leadership
Foster an environment of excellence and courage for staff and student colleagues to interpret the evidence through the lens of multiple ways of knowing.
Curriculum
Concentration in Leadership in Nursing Education (36 Credits)
NUR 500 - Introduction to Scholarly Caring Inquiry (3)
NUR 501 - Theoretical Foundations of Nursing (3)
NUR 512 - Issues and Trends in Nursing Education (3)
NUR 542 - Advancing Caring Science through Scholarly Inquiry (3)
NUR 510 - Contemporary Leadership in Nursing (2)
NUR 537 - Advanced Pathophysiology and Pharmacology for Nurse Educators (3)
NUR 535 - Advanced Health Assessment for Nurse Educators (3)
NUR 503 - Assessment of Student Learning in Nursing Education (3)
NUR 502 - Technology in Nursing Education: A Caring Presence (3)
NUR 504 - Holistic Approaches to Direct Care (2)
NUR 513 - Curriculum Development and Evaluation in Nursing (4)
NUR 605 - Teaching in Nursing Education Seminar and Practicum (4)
What to Expect Studying at Notre Dame of Maryland University
Small class sizes, cohorts, and personal attention provide a supportive learning environment while practica and study abroad experiences provide opportunities for enacting leadership in teaching.
Toggle between the photo and the story
Maryland Board of Nursing Appointee
Student, NDMU Class of 2018
Nursing - Leadership in Nursing Education
Read story
Practicum & Service Opportunities
Practicum experiences are tailored to meet your professional goals. Placements are coordinated through our faculty.
Possible placement locations include:
Community Colleges
Universities
Clinical Education Settings
Medical Centers
Professional Nursing Organizations
Non-Profit Agencies
Government Agencies
Service Learning
Each cohort practices the art of advocacy and service as a professional leadership responsibility.
Examples of Supported Programs
Study Abroad Options
By working with faculty and the Office of International Programs, our students have studied health policy, leadership, and have even partially fulfilled education practicum requirements at locations around the world.
Previous Destinations