The philosophy of Residence Life is to provide students an opportunity to live and learn in a community which fosters personal and academic growth.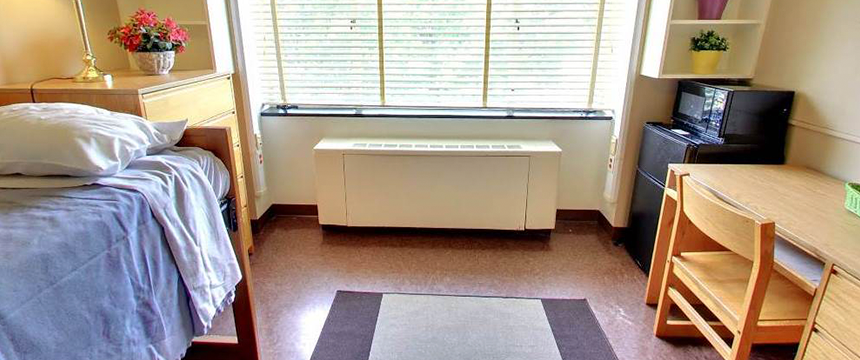 On campus housing is available for female and male student pharmacists.
Benefits of Living on Campus
Meet New Friends
Participate in Activities
Develop New Interests
Engage in a Diverse Community
Residence Halls
Residence Halls serve as the residence for student pharmacists who live on campus. It is equipped with lounges, kitchenettes, laundry facilities, telephone, computer, cable and Internet access.
Doyle Hall also houses the University's dining room, Gator Alley café, mailboxes for all residential students and a chapel.
New student pharmacists indicating an interest in living on-campus may submit the SOP Housing and Board Agreement online or to the Division of Student Life Office located in the MBK Sports Complex, Room 215.
Residence Life Staff
Residence Life staff includes eight Community Assistants, an office administrator, two Graduate Resident Coordinators, a full-time Residence Life Area Coordinator, and the Director of Residence Life and Student Rights & Responsibility.
The Residence Life staff is a campus resource for students that assist in developing community in the residence halls and at the university through programs and initiatives that support the development of students as fearless and faithful leaders.
Creating a community also includes encouraging residents to assume responsibilities for their actions and reinforce community standards with the assistance of residence hall staff. The Residential Student Handbook is available to all residents and outlines community expectations, policies and provides information about the residence facilities.
In addition, the staff also assists with responding to community emergencies and critical incidents 24/7 while the residence halls are open during the year and can be reached by contacting the Office of Public Safety at 410-532-6666.
Housing Selection
Rooms for student pharmacists are located on the 4th floor of Doyle Hall. Only graduate and student pharmacists live in this community. School of Pharmacy students all have single rooms to themselves.
All residential students are required to be on the University's board plan while living in the community. Students who require specific accommodations due to medical conditions should register with Disability Support Services.
Housing and Board Agreements
The Residence Life Housing and Board Agreement is a legally binding agreement. Any request to cancel the agreement must be made and submitted in writing to the Residence Life Office via a completed Agreement Cancellation Request Form with documentation to support the stated reason for the request.
Housing and Board Agreement cancellations are requests and are subject to review and approval by the Office of Residence Life.
Possible reasons for cancellations may include the following:
Change in status at the university
Change in marital or dependent status
Change in financial circumstances during the semester
A student must receive written approval of their requested cancellation before moving out of the residence hall.