Greetings and thank you for your interest in the NDMU School of Nursing.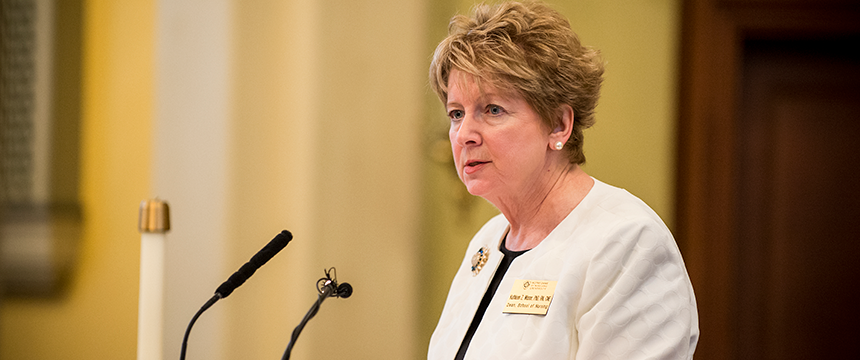 Because the roles for nurses in today's healthcare landscape are changing and growing rapidly, Notre Dame offers programs across the spectrum of nursing.
Our undergraduate (Entry-Level BSN and RN-to-BSN) and graduate (MSN) programs challenge students to:
Strive for intellectual and professional excellence
Build inclusive communities
Engage in service to others
Promote social responsibility
Our programs in nursing, nursing administration, and nursing education are known for their comprehensive education and preparation, and focus on sharing a caring, authentic presence with others. Advocacy, power-with rather than power-over persons, and building trusting relationships with persons and groups in diverse settings are cornerstones of our nursing program. Inspired by the longstanding commitment of the founding School Sisters of Notre Dame to the underserved, we also work to improve the health of the Baltimore metropolitan area's most vulnerable residents through outreach and service.
We maintain strong ties with a number of hospitals and healthcare facilities across the state, enabling us to offer an array of clinical experiences for our students. Our Center for Caring with Technology is the centerpiece of a 36,500 new square-foot building housing the School of Nursing that opened in August 2013. With three state-of-the-art simulation labs, the Center provides students with a safe environment to strengthen critical thinking, ethical decision-making, and psychomotor skills.
Nursing students here learn to create deep caring connections with patients, clients, fellow students, colleagues, and the discipline of nursing. Our faculty members, committed to caring science and the success of each student, create teaching and learning opportunities that are based on the unique perspective of nursing. Students experience ways in which the power of relationships can heal and transform not only the lives of their patients and clients, but their own as well.
I encourage you to join us to help transform the world through nursing. The impact you will have on the world in ways both big and small is greater than you could ever imagine.
Kathleen Z. Wisser, PhD, RN, CNE, CPHQ