As donors who give $1,000 or more to The Notre Dame Fund in a single fiscal year, Meletia Society members form the foundation for all philanthropy at Notre Dame.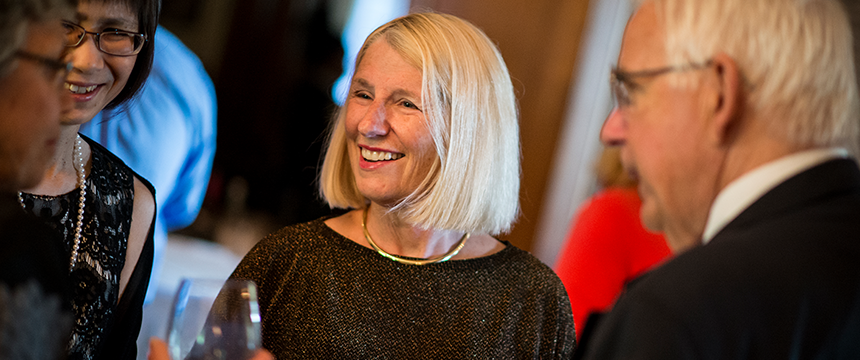 The Mary Meletia Society is made up of Notre Dame's most generous benefactors. This influential group is comprised of approximately 200 graduates, Trustees, parents, friends, faculty and staff.
Joining the Mary Meletia Society
Meletia Society membership is based on your cumulative current-needs giving in a single fiscal year totaling $1,000 or greater from July 1 through June 30. Many members choose to make a Meletia Society pledge, and complete payments throughout the fiscal year—an excellent option for donors that would like to maximize their ability to support Notre Dame. Don't forget, matching gifts are counted toward your annual gift total.
Have you considered monthly giving?
Joining the Meletia Society has never been easier!
Leadership giving at the Meletia Society level is a stretch for many people – which is why we are so honored when our alumni and donors go above and beyond to give in such a generous way. To make giving at the $1000 level accessible, affordable and easy for all those wishing to be part of our leadership society, we offer an automatic, recurring gift program.
If you would like to join this group of donors but cannot make an outright gift at the Meletia level, consider making your annual gift in smaller installments throughout our fiscal year. Recurring gifts are an easy way to make a big impact that works for your budget and schedule. You can choose to have monthly, quarterly, or semi-annual gifts come directly from your credit card.
Contact Us
Chelsea Gell, Development and Annual Giving Manager, can provide information on the many ways in which you can leverage your giving to support at the Meletia Society level.
Please contact her at 410-532-3197 or cgell@ndm.edu.
Benefits of Membership

As a member of the Mary Meletia Society you will have many unique opportunities to see your investment at work. Here are just a few of the special benefits offered exclusively to members of the Meletia Society:

• An opportunity to schedule a private campus tour
• Invitations to special events, such as the President's Dinner
• Recognition as a Meletia Society member at Notre Dame events
Annual Donor Listing
You will also be acknowledged as a member of the Mary Meletia Society in the University's annual donor listing. Please contact us If you would like to receive a hard copy of the most recent annual donor list.
The University is proud to recognize Meletia Society members as leaders among Notre Dame's annual donors.