The Institute for Global Leadership, as part of the Center for Social Entrepreneurship, will serve as the nexus of the University's efforts to create stronger partnerships within the global community and expand opportunities for students to engage in international organizations.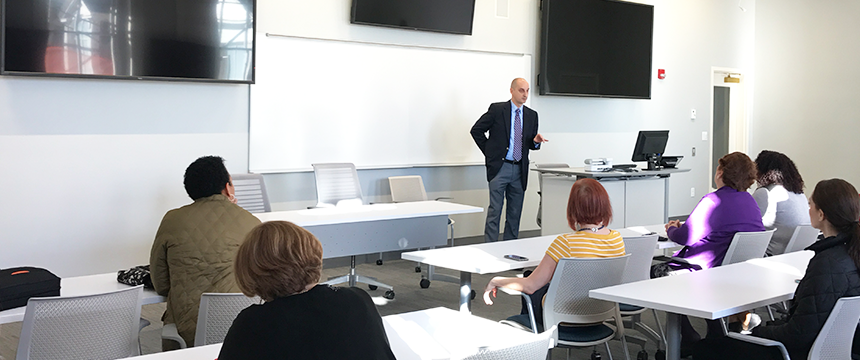 The Institute will house NDMU's United Nations Non-Governmental Organization (NGO) status initiatives in addition to bringing together:
Leadership opportunities;
Global perspectives;
Partnership-building; and
Forums for discussing international issues.
As an international hub on campus, the Institute for Global Leadership will focus on:
Teaching students about global issues and policy;
Creating global outreach opportunities for students and faculty; and
Leveraging NDMU's NGO status for student engagement and learning.
Visiting Ambassador Program Lecture Series
Each year, the Institute will invite a speaker to campus for discussions on politics, ethics, international affairs, women's rights, service abroad, and other topics related to global issues.
Inaugural Speaker
The speaker series launched in March 2015 with Ambassador Simona-Mirela Miculescu as the first speaker to visit campus.
Ambassador Simona-Mirela Miculescu is the Permanent Representative of Romania to the United Nations and is the first woman in Romania to reach the rank of ambassador. She urged listeners to get involved in the global campaign for gender equality because "empowering women is not only the right thing to do, it is the smart thing to do."