Year after year, the dedication and drive of our faculty define what makes Notre Dame such a respected center for learning.
The philosophy of Notre Dame of Maryland University's faculty may best be described by one of our own: Maura Eichner, SSND, a celebrated poet and professor of English for more than 50 years.
Continually think of those
who were truly great
who in their lives fought
for life, who wore
at their hearts, the fire's
center. Feel the meanings
the words hide.
Excerpt from "What My Teachers Taught Me, I Try to Teach My Students," by Sister Maura
Simply put, our faculty at Notre Dame are exceptional—as award-winning educators, innovators, professionals in their fields, and as people.
Publications & Presentations
Communication Arts
Schaub, Joseph
Schaub, J. (2010). Cultural crossover : John Waters and Baltimore. In J. Berra (Ed.), Directory of world cinema: American independent (pp. 24‐27). Chicago: Intellect.
Schaub, J. C. (2010). The Wire: Big brother is not watching you in Body‐more, Murdaland. Journal of Popular Film & Television, 38(3), 122‐132.
Schaub, J. C. (2010). Mecha‐topia: Imagining a posthuman paradise in Osamu Tezuka's Metropolis. Interdisciplinary Humanities , 27(2), 94‐110.
---
Education
Connor, Bridget M., G.N.S.H.
Connor, B. M., Farley, D. A., & Wise, G. A. (2010). School administrators and technology: Meeting the standards. Lanham, MD: University Press of America.
Farley, Danea A.
Connor, B. M., Farley, D. A., & Wise, G. A. (2010). School administrators and technology: Meeting the standards. Lanham, MD: University Press of America.
Murphy, Melissa M.
Murphy, M. M., & Mazzocco, M. M. M. (2009). The trajectory of mathematics skills and working memory thresholds in girls with fragile X syndrome. Cognitive Development, 24(4, Sp. Iss.), 430‐449.
---
English
Davis, William
Davis, W. (2010). Hardy and the law: Sexual relations and matrimonial divergence. In R. Morgan (Ed.), Ashgate research companion to Thomas Hardy, (pp. 101‐119). Burlington, VT:Ashgate.
De Vinne, Christine, O.S.U.
De Vinne, C. (2009). Live a new life: Innovation and intuition in the rhetoric of Angela Merici. Magistra: A Journal of Women's Spirituality in History, 15(2), 39‐60.
Puhak, Shelley
Puhak, S. (2010). Stalin in Aruba: [Poems]. New York: Black Lawrence Press.
Storey, Michael
Storey, M. (2009, Autumn). Fellows like yourself: Fathers in John McGahern's short stories. Journal of the Short Story in English, 53, 91‐107.
Storey, M. (2011). John McGahern. In B. W. Shaffer (Ed.), Encyclopedia of Twentieth‐Century Fiction (v. 1). Malden, MA : Wiley‐Blackwell.
Storey, M. (2011). Patrick McCabe. In B. W. Shaffer (Ed.), Encyclopedia of Twentieth‐Century Fiction (v. 1). Malden, MA : Wiley‐Blackwell.
Storey, M. (2011).Frank O'Connor. In B. W. Shaffer (Ed.), Encyclopedia of Twentieth‐Century Fiction (v. 1). Malden, MA : Wiley‐Blackwell.
Storey, M. (2011). William Trever. In B. W. Shaffer (Ed.), Encyclopedia of Twentieth‐Century Fiction (v. 1). Malden, MA : Wiley‐Blackwell.
---
History/Political Science
Dray‐Novey, Alison
Dray‐Novey, A. (2009). Police, 1800‐1949. In D. Pong (Ed.), Encyclopedia of Modern China (v. 3, pp. 139‐142). Farmington Hills, MI: Charles Scribner's Sons.
---
Mathematics, Physics and Computer Studies
Di Rienzi, Joseph
Di Rienzi, J. (2009). Uranus's satellites. In D. G. Fisher & R. R. Erickson (Eds.), The solar system (v. 3, pp. 901‐905). Pasadena, CA: Salem Press.
DiRienzi, J., & Drachman, R. J. (2010). Resonances in the dipositronium system: Rydberg states. Canadian Journal of Physics, 88(11), 877‐883.
---
Nursing
Balkam, Jane A. J.
Balkam, J. A., Cadwell, K., & Fein, S. B. (2010). Effect of components of a workplace lactation program on breastfeeding duration among employees of a public‐sector employer. Maternal Child Health Journal.
Balkam, J. A. (2010). Painful breast lumps in nursing mothers: Identifying and treating plugged ducts, mastitis, and abscess.. AJN, American Journal of Nursing, 110(12), 65‐67.
Diaconis, Linda K.
Diaconis, L. K. (2010). The labyrinth: A transformative path for RN to BSN education. International Journal for Human Caring, 14(3), 42‐47.
Friend, Barbara
Friend, B. (2009/2010). Nursing in a single payer health system. Maryland Nurse News and Journal, 11(1), 5.
O'Connor, Mary
O'Connor, M. (2009). Social networking and the role of technology in nursing education. Voice of Nursing Leadership, 7(6), 8‐9.
---
Pharmacy
Carvalho, Paulo B.
Jain, S., Abraham, I., Carvalho, P., Kuang, Y.‐H., Shaala, L. A., Youssef, D. T. A., et al. (2009). Sipholane triterpenoids: Chemistry, reversal of ABCB1/Pglycoprotein‐mediated multidrug resistance, and pharmacophore modeling. Journal of Natural Products, 72(7), 1291–1298.
Culhane, Nicole S.
Welch, A. C., Olenak, J. L., & Culhane, N. (2009). Instructional design and assessment: Incorporating an immunization certificate program into the pharmacy curriculum. American Journal of Pharmaceutical Education, 73(1), 1‐5.
Bailey, T. M., & Culhane, N. S. (2010). Premenstrual syndrome and premenstrual dysphoric disorder. In L. Borgelt, M. B. O'Connell, J. A. Smith, & K. A. Calis (Eds.), Women's health across the lifespan: A pharmacotherapeutic approach (pp. 195‐206). Bethesda, MD: American Society of Health‐System Pharmacists.
Culhane, N. S., & Ragucci, K. R. (2010). Hormone therapy in menopause. In M. Chisholm‐Burns, et. al. (Eds.). Pharmacotherapy principles & practice (2nd. Ed., pp. 869‐882). New York: McGraw‐Hill.
Fritsch, Michelle A.
O'Connell, M. B., & Fritsch, M. A. (2010). Musculoskeletal and connective tissue. In L. C. Hutchinson & R. B. Sleeper (Eds.), Fundamentals of geriatric pharmacotherapy (pp. 385‐418). Bethesda, MD: American Society of Health‐System Pharmacists.
Hogue, Valerie W.
Kelley, K. A., DeBisschop, M., Donaldson, A. R., Hogue, V. W., Joyner, P. U., Schwinghammer, T. L., & Riffee, W. H. (2009). Professional socialization of pharmacy students: Do we have the right ingredients and the right formula for success? Currents in Pharmacy Teaching and Learning, 1(2), 103‐109.
Lee, Insong J.
Lee, I. J., Hom, K., Bai, G., & Shapiro, M. (2009). NMR metabolomic analysis of caco‐2 cell differentiation. Journal of Proteome Research, 8(8), 4104‐4108. Upreti, V. V., Eddington, N. D., Moon, K.‐H. Song, B. J., & Lee, I. J. (2009). Drug interaction between ethanol and 3,4‐methylenedioxymethamphetamine ("ecstasy"). Toxicology Letters, 188(2), 167‐172.
Coles, L. D., Lee, I. J., Hassan, H. E., & Eddington, N. D. (2009). Distribution of saquinavir, methadone, and buprenorphine in maternal brain, placenta, and fetus during two different gestational stages of pregnancy in mice. Journal of Pharmaceutical Sciences, 98(8), 2832‐2846.
Coles, L. D., Lee, I. J., Voulalas, P. J., & Eddington, N. D. (2009). Estradiol and progesterone‐mediated regulation of P‐gp in P‐gp overexpressing cells (NCIADR‐RES) and placental cells (JAR). Molecular Pharmaceutics, 6(6), 1816‐1825.
Hassan, H. E., Myers, A., Lee, I., Chen, H., Coop, A., & Eddington, N. D. (2010). Regulation of gene expression in brain tissues of rats chronically treated by the highly abused opioid agonist, oxycodone: Microarray profiling and gene mapping analysis. Drug Metabolism and Disposition, 38(1):157‐167.
Song, B. J., Moon, K. H., Upreti, V. V., Eddington, N. D., & Lee, I. J. (2010). Mechanisms of MDMA (ecstasy)‐induced oxidative stress, mitochondrial dysfunction, and organ damage. Current Pharmaceutical Biotechnology, 11(5), 434‐443.
Upreti, V. V., Moon, K.‐H., Yu, L.‐R., Lee, I. J., Eddington, N. D., Ye, X., Veenstra, T. D., & Song, B.‐J. (2011). Increased oxidative‐modifications of cytosolic proteins in 3,4‐ methylenedioxymethamphetamine (MDMA, ecstasy)‐exposed rat liver. Proteomics, 11(2), 202‐211.
Williams, Stacey N.
Williams, S. N., & Undieh, A. S. (2010). Brain‐derived neurotrophic factor signaling modulates cocaine induction of reward‐associated ultrasonic vocalization in rats. Journal of Pharmacology and Experimental Therapeutics, 332(2), 463‐468.
---
Philosophy
Melton, Desirée H.
Melton, D. H. (2009). Making disposition matter in Iris Young's deliberative democracy. In M. Nagel & A. Ferguson (Eds.), Dancing with Iris: The philosophy of Iris Marion Young (pp. 173‐182). Oxford: Oxford University Press.
O'Donovan, Maeve M.
O'Donovan, M. M. (2010). Cognitive diversity in the global academy: Why the voices of persons with cognitive disabilities are vital to intellectual diversity. Journal of Academic Ethics, 8(3), 171‐185.
O'Donovan, M. M. (2010). Feminism, disability, and women with Attention Deficit Hyperactivity Disorder. Journal of Critical Studies in Business and Society, 1(1/2), pp.29‐54.
Vicchio, Stephen J.
Vicchio, S. J. (2009). The legend of the anti‐Christ: A history. Eugene, OR: Wipf & Stock Publishers.
---
Psychology
Mouratidis, Maria
French, L. M., Mouratidis, M., Dicianno, B., & Impink, B. (2009). Traumatic brain injury. In P. F. Pasquina & R. A. Cooper (Eds.), Care of the combat amputee (pp. 399‐414). Falls Church, VA: Office of the Surgeon General.
Helmick, K., & the members of Consensus Conference including Mouratidis, M. (2010). Cognitive rehabilitation for military personnel with mild traumatic brain injury and chronic post‐concussional disorder: Results of April 2009 consensus conference. NeuroRehabilitation, 26(3), 239‐255.
Sofuoglu, M., Mouratidis, M., & Mooney, M. (2011). Progesterone improves cognitive performance and attenuates smoking urges in abstinent smokers. Neuropsychoendocrinology, 36 (1), 123‐132.
---
Religious Studies
Eppig, Eileen, S.S.N.D.
Eppig, E. (2009). Learning from Muslim spirituality. Spiritual Life, 55(3): 110‐116.
Eppig, E. (2010). Images of God and self in women's slave narratives: Stories of faith and courage. Saarbrücken, Germany: Lambert Academic Publishing.
Wiley, Henrietta L.
Wiley, H. L. (2009). They save themselves alone: Faith and loss in the stories of Abraham and Job. Journal for the Study of the Old Testament, 34(2), 115‐129.
Mullan Distinguished Teacher Award
Representatives of students, faculty and administration annually select one faculty member to receive the Mullan Distinguished Teacher Award—a plaque and stipend given in public recognition of exceptional teaching ability.
Deborah Calhoun, Ph.D., 2014 Winner
Presented May 24, 2014 by President Joan Develin Coley, Ph.D.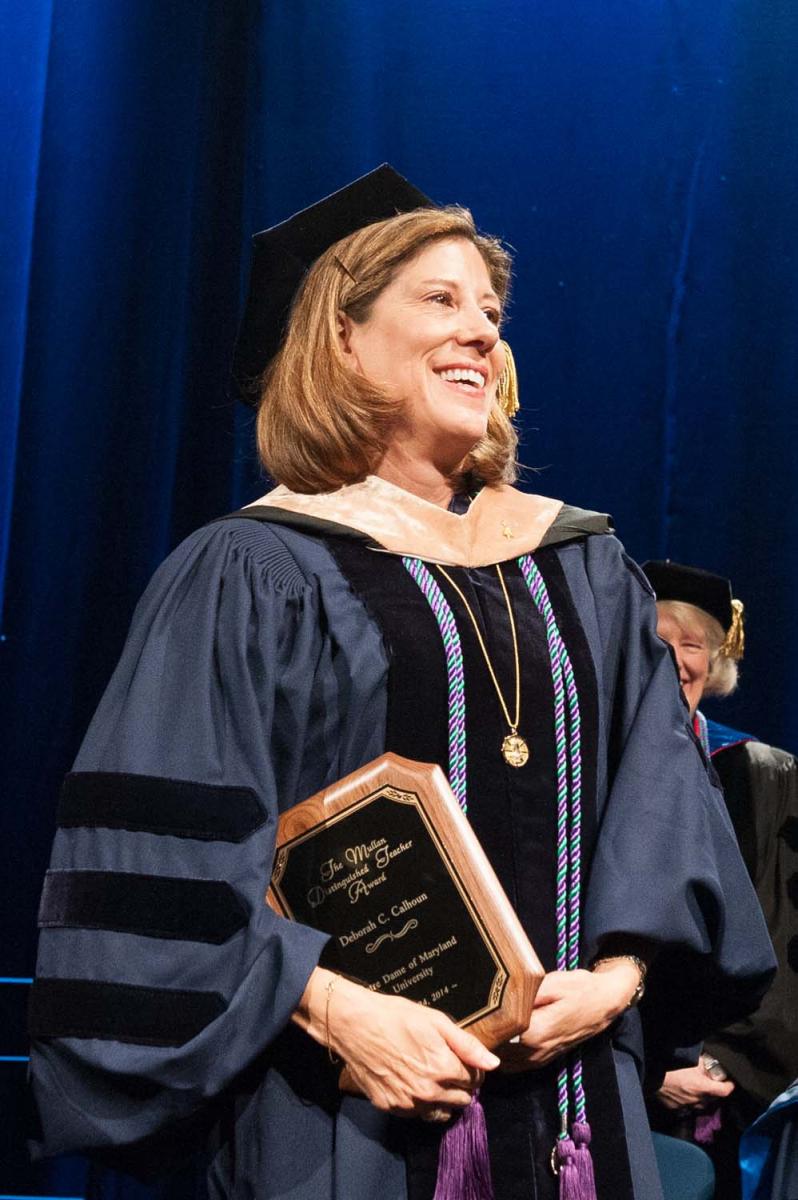 Every year since 1976, the University has selected one faculty colleague for the Mullan Distinguished Teaching Award.
Both students and colleagues may nominate faculty for this distinction, on the basis of their ability to foster students' intellectual development and relate course material to the real world, as well as their contributions to the University and the community at large. By tradition, the announcement of the winner is kept a surprise—even for the recipient.
This year's recipient well represents the purpose of the award. As a colleague who nominated her points out, she not only relates course material to the real world but has used research from the real world to develop a list of "best practices" that faculty can take to the classroom.
Since 1991, when she earned her first full-time appointment at Notre Dame with letters of recommendation from the Baltimore Sun and Westinghouse, this year's Mullan Award winner has been an advocate for every student's learning at both the undergraduate and the graduate level. Today, Deborah Calhoun teaches not only in the School of Arts, Sciences, and Business Business Department, which she chairs, but also in the School of Nursing and the School of Pharmacy.
Equally capable as educator and administrator, Professor Calhoun possesses a collaborative vision that has shaped the creation of the Weekend College, the First Impressions program and our new Coached Leadership program. She is an expert in the needs of adult learners and the team-learning model for the professional world.
Today Notre Dame is proud not only to proclaim her a distinguished teacher, but—minutes from now—a new Ph.D. with a dissertation titled Teaching Teamwork to College Students Through Cooperative Learning.
Congratulations, Doctor Calhoun.