Nursing - Leadership in Nursing Administration
MSN
Grounded in caring science, the Master of Science in Nursing, Leadership in Nursing Administration concentration encompasses analyzing research, policy, legal, and ethical problems, understanding the dynamics of finance, strategic planning, and marketing while implementing innovations to address quality and safe patient care, change management, decision making, and creating a healthy work environment.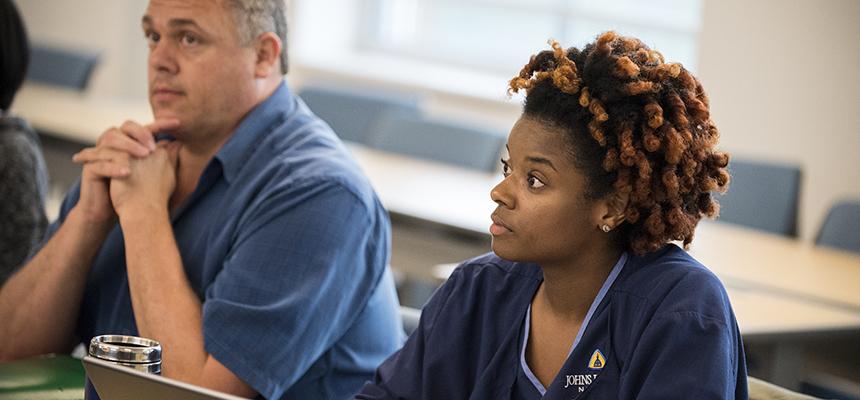 Program Locations
What Makes Our Program Unique
Support
Students are admitted to the graduate programs as members of a cohort, progressing together in a supportive environment.
Accelerated Format
Our accelerated format is designed to meet the needs nurses in practice who choose to complete their MSN in a collaborative and caring environment.
Class Schedules
Classes are usually taken sequentially, one class at a time, on the same day of the week and during the same four-hour period throughout the program.
MSN Student Learning Outcomes
The student learning outcomes are lived by graduates as:
Presence
Create a space for leaders in advanced roles for 'being-with' students, staff, and other health care colleagues that reveals authentic nursing presence.
Praxis
Demonstrate and cultivate excellence in leadership praxis through the synthesis of research, theory, and reflective practice.
Advocacy
Lead change by serving as an active voice for nurses and nursing with patients, families, communities, and organizations regarding health policy and social justice within an ethical framework.
Scholarship
Create an environment that promotes critical inquiry through multiple ways of knowing.
Self-Care
Nurture a place for healing, personal and professional growth, and a culture of caring for self and others.
Leadership
Foster an environment of excellence and courage for staff and student colleagues to interpret the evidence through the lens of multiple ways of knowing.
Curriculum
Concentration in Leadership in Nursing Administration (36 Credits)
NUR 500 - Introduction to Scholarly Caring Inquiry (3)
NUR 501 - Theoretical Foundations of Nursing (3)
NUR 510 - Contemporary Leadership in Nursing (2)
NUR 515 - Issues and Trends in Nursing Administration (3)
NUR 542 - Advancing Caring Science through Scholarly Inquiry (3)
NUR 518 - Health Policy (3)
BUS 521 - Healthcare Economics (3)
BUS 522 - Essentials of Healthcare Finance (3)
BUS 523 - The Business of Healthcare (3)
NUR 520 - Nursing Informatics (2)
NUR 516 - Nursing Administrative Theory and Practice (4)
NUR 620 - Leadership and Administration in Nursing Seminar and Practicum (4)
What to Expect Studying at Notre Dame of Maryland University
Small class sizes, cohorts, and personal attention provide a supportive learning environment while practica and study abroad experiences provide opportunities for enacting leadership in administration excellence.
Toggle between the photo and the story
A Holistic Learning Experience
Alum, NDMU Class of 2014
Nursing - Leadership in Nursing Administration
Read story
Practicum & Service Opportunities
Practicum experiences are tailored to meet your professional goals. Placements are coordinated through our faculty.
Recent Student Practicum Presentations & Publications
Ayd, B. (2016, June). Nursing Students Lived Experiences of Preceptor Caring: Toward Pedagogical Transformation. Paper presentation at the International Association for Human Caring Conference, Boston, MA.
Jimenez, A. (2016, June). Spirituality: The Essence of Caring in Teaching and Learning in Nursing. Podium presentation at the International Association for Human Caring Conference, Boston, MA.
Raborg, D. (2016). Stories from Haiti Told from the Heart: Creating a Curriculum of Caring. Poster presentation at the International Association for Human Caring Conference, Boston, MA.
Schnitzlein, M. (2016). Creating a Legacy of Pedagogy Through Keys of Knowledge. Poster presentation at the International Association for Human Caring Conference, Boston, MA.
Allen, J.W. (2016). Transitioning the RN to ambulatory care: An investment in orientation. Nursing administration quarterly, 40,(2),115-121.
Linnenkamp, R. and Drenkard, K. (2016). Coordinating care: Shifts in perspective. Nursing administration quarterly, 40,(2), 122-129.
DiMarino, T. J. (2011). Eliminating Lateral Violence in the Ambulatory Setting: One Center's Strategies, AORN Journal, May 2011.
Service Learning
Each cohort practices the art of advocacy and service as a professional leadership responsibility.
Examples of Supported Programs
Study Abroad Options
By working with faculty and the Office of International Programs, our students have studied health policy, leadership, and have even partially fulfilled administration practicum requirements at locations around the world.
Previous Destinations
Ireland
Haiti
China
South Africa
Tanzania
Rwanda
Australia