Leadership in Teaching: Spanish
MA
The Master of Arts in Leadership in Teaching: Spanish program offers a foundation at the graduate level in Hispanic linguistics and literature while deepening the classroom teacher's understanding of the interrelated nature of the Spanish language and Hispanic culture within today's global society.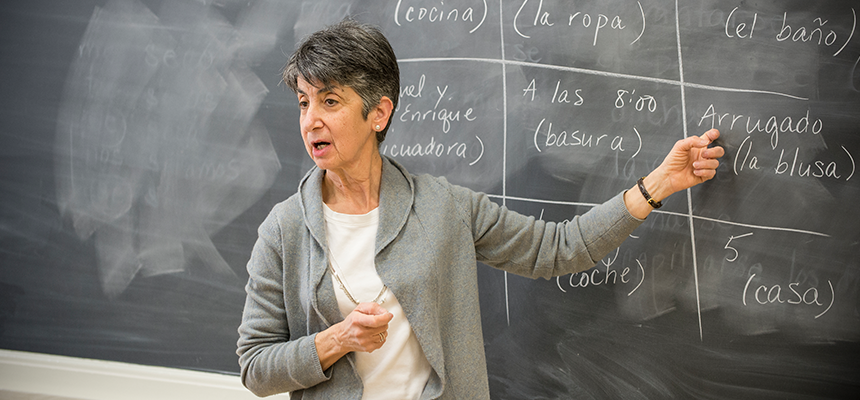 Program Locations
Prerequisite: The prerequisite for all graduate Spanish courses is an undergraduate major in Spanish or four upper level Spanish courses.
Faculty
Assistant Professor

Associate Professor

Associate Professor
Curriculum
Required Courses
EDU 557 - Leadership Seminar I (3)
EDU 567 - Learning Theory and Practice (3)
EDU 543 - Reading, Analyzing and Interpreting Educational Research (3)
EDU 544 - Educational Assessment (3)
EDU 676 - Educational Applications of Multimedia (3)
LSP 560 - Advanced Oral Communication in Spanish (3)
LSP 528 - Spanish Linguistics (3)
LSP 530 - Perspectives on Spanish as a World Language (3)
LSP 559 - Contemporary Hispanic World (3)
LSP 501 - Advanced Methods of Teaching Spanish (3)
Electives
LSP 501 - Topics in Spanish: Magical Realism (3)
LSP 510 - Survey of Masterpieces of Latin American Literature (3)
LSP 542 - Mexico, Central America and the Caribbean: Literature and the Arts (3)
LSP 522 - Survey of masterpieces in Peninsular Literature (3)
LSP 524 - Survey of the Spanish Novel (3)
LSP 532 - Contemporary Spain: Literature and the Arts (3)
LSP 501 - Topics in Spanish: Hispanic Women's Voices in Film and Literature (3)
LSP 526 - Hispanic Women Writers (3)
What to Expect Studying at Notre Dame of Maryland University
With award-winning teacher certification programs nationally recognized by the National Council for Accreditation of Teacher Education, you can expect to benefit from small class sizes, expert faculty, and practical field experiences.
Flexible Class Schedules
Work with an advisor to develop a personalized program plan:
Courses offered in the evenings at times convenient for working adults.
Occasional courses available on Saturdays or online.
Education Careers
Notre Dame is one of the state's largest and most significant private providers of teacher education.