Leadership in Teaching
MA
The Master of Arts in Leadership in Teaching program develops leadership skills in team building, decision making, problem solving, communicating effectively, and planning and managing change through a combination of theory and practice. The curriculum explores computer tools available for planning and instruction, instruments for assessment and evaluation, and approaches to curriculum design and course planning. Social, cultural and global dimensions of learning are also emphasized.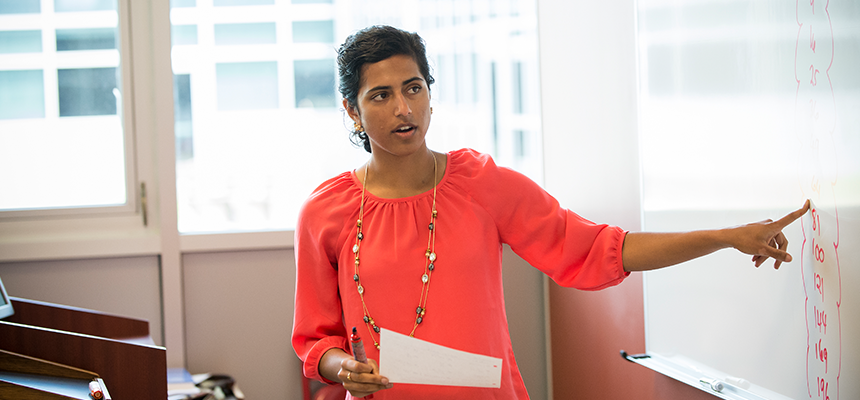 Program Locations
Areas of Specialization
Additional Study Options
Faculty
Curriculum
Required Courses
EDU 543 - Reading, Analyzing and Interpreting Educational Research (3)
EDU 552 - Global Perspectives in Teaching (3)
EDU 556 - Technology for Instruction and Management (3)
EDU 557 - Leadership Seminar I (3)
EDU 559 - Leadership Seminar II (3)
EDU 567 - Learning Theory and Practice (3)
Electives
Choose six electives from the following areas:
Education (including technology and online courses)
English
History
Liberal Arts
Total Credits: 36
What to Expect Studying at Notre Dame of Maryland University
With award-winning teacher certification programs nationally recognized by the National Council for Accreditation of Teacher Education, you can expect to benefit from small class sizes, expert faculty, and practical field experiences.
Flexible Class Schedules
Work with an advisor to develop a personalized program plan:
Courses offered in the evenings at times convenient for working adults.
Occasional courses available on Saturdays or online.
Study in summer only and complete the program in four consecutive summers.
Choose to study at a satellite campus.
Education Careers
Graduates of NDMU are highly recruited for employment; we partner with local school systems to help our students navigate the hiring process.