On March 20, 2014, the Board of Trustees of Notre Dame of Maryland University announced the appointment of Marylou Yam, Ph.D., as president of the University.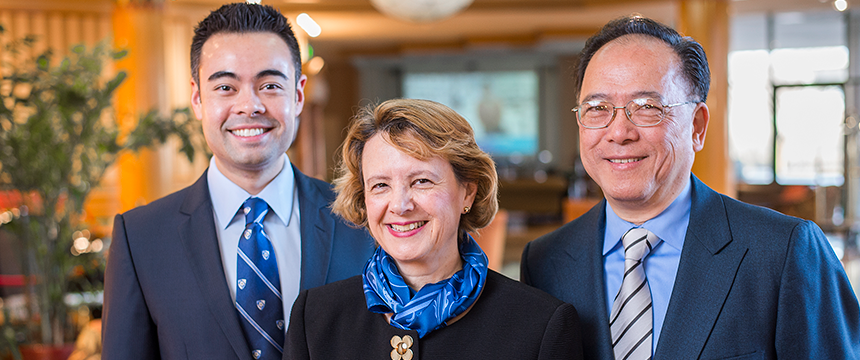 Presidential Announcement
Dr. Yam joined the Notre Dame community from Saint Peter's University, a Catholic Jesuit liberal arts institution in Jersey City, N.J., where she most recently served as Provost and Vice President for Academic Affairs. As the first woman in the history of Saint Peter's to serve as Dean of its College of Arts and Sciences and School of Business Administration, and as a nationally recognized researcher on victims of domestic abuse, Dr. Yam exemplifies Notre Dame's mission of preparing leaders to transform the world and its active and longstanding commitment to social responsibility.
"Dr. Yam's leadership experience in the development and delivery of leading-edge professional programs rooted in the liberal arts will serve Notre Dame well in the continued expansion of our four Schools—Arts and Sciences, Education, Nursing and Pharmacy. Dr. Yam's track record of innovation will further strengthen our leadership position as a renowned university that prepares fearless and faithful leaders who effect real change in their communities and beyond," said Board Chair Patricia J. Mitchell '69.
Dr. Yam is former Associate Dean of Nursing for Saint Peter's University and throughout her career has been a staunch and vocal advocate for the essential role of a liberal arts foundation in professional education.
"Dr. Yam is the ideal leader for the Notre Dame approach to education," said the Honorable Kathleen O'Ferrall Friedman '62, who chaired the search committee.
"A Notre Dame education is characterized by a solid foundation in the liberal arts and sciences that prepares students not only for a professional career, but also for a rewarding, fulfilling and productive life—a life in which service to others is paramount. And Dr. Yam's commitment to some of the most marginalized and misunderstood members of our society, especially victims of domestic abuse, is solidly aligned with Notre Dame's mission of serving the under-served," said Judge Friedman, who is a co-founder of the House of Ruth Maryland, a Baltimore center addressing intimate partner violence.
As a powerful testament to this mission of service, last year Notre Dame students contributed more than 100,000 hours of service and support to the under-served in the greater Baltimore community and beyond. Notre Dame's School of Pharmacy has been recognized for its AdvoCaring program, in which students partner with one of 12 community-based organizations for patient care experiences and experiential learning. In the program's first three years, students have performed more than 11,000 hours of service. Program organizers Drs. Nicole Culhane and Michelle Fritsch were named Healthcare Heroes by the Maryland Daily Record.
I am honored to be selected to serve an institution that truly lives its mission every day. Notre Dame is a visionary institution that has never wavered in its commitment to provide superior academic programs that are enriched by the proven value of a Catholic, liberal arts foundation. I look forward to joining the Notre Dame community and to continuing the institution's tradition of bold decision-making to reinforce its leadership position locally, regionally and nationally.

- Dr. Yam
Professional Experience
Dr. Yam joined Saint Peter's College in 1989 as an instructor in the Nursing department. In 1997, she became Director of the Master of Science in Nursing program and, in 2000, the Chairperson of the Nursing department. A year later, she was named Associate Dean of Nursing and was promoted to full professor in 2004. In 2006, she was appointed Academic Dean of the College of Arts and Sciences and School of Business Administration, the first woman to hold that position in the university's history.
Dr. Yam has been a leader in program development. She played a key role in the expansion of Saint Peter's from a college to a university and was instrumental in the establishment of its first two doctoral programs and its Schools of Nursing and Education. She created the university's Center for Global Learning and launched the English Language Learning and Culture Acquisition Center.
Sister Kathleen Cornell, SSND '69, Provincial Leader of the Atlantic-Midwest Province of the School Sisters of Notre Dame, the University's founding congregation, said, "In Dr. Yam, we have a leader with a longstanding commitment to Catholic liberal arts education and a proven record of achievement and leadership. She embraces and actively mirrors the SSND mission: to enable persons to reach the fullness of their potential as individuals created in God's image and assist them to direct their gifts toward building the earth."
Dr. Yam began her career as a nurse and a nursing educator and remains a licensed registered nurse. Dr. Yam's commitment to the education and preparation of health care professionals comes at particularly fortuitous moment in Notre Dame's history of preparing thousands of nurses and a growing number of pharmacists who serve regionally, nationally and internationally.
Said Board Chair Mitchell, "We look forward to the many contributions Dr. Yam is sure to bring to our programs and to the premier educational opportunities provided through the state-of-the-art labs and learning resources in the University's new Center for Caring with Technology. Her experience will be a tremendous asset to us as we continue to prepare compassionate health care professionals, educators and administrators who are truly transforming the heath sector." The Center for Caring with Technology is housed in Notre Dame's newest 36,000-square-foot academic building, which opened in fall 2013.
Education
Dr. Yam earned a B.S. in Nursing in 1981 from Mercy College and M.A. and Ed.M. degrees in Nursing Education from Teachers College, Columbia University. In 1993, she earned a Ph.D. from Adelphi University, writing her dissertation on a model of how nurses can best care for battered women in emergency room settings. In 2002, she was awarded a post-doctoral fellowship at The Johns Hopkins University, where her work focused on improving care to women who have experienced partner abuse.
Family
Dr. Yam is married to David Yam, who is the Cytology Manager at Beth Israel Medical Center in Newark, N.J. Their son, Michael, is a sports broadcast journalist and studio host with the Pac-12 Network, based in San Francisco.