Business
Major/Minor
5-year Program
The Business program prepares tomorrow's business leaders with the skills today's employers are actively seeking: team building, persuasive communication, active listening, conflict resolution, and constructive criticism; in addition to providing a strong foundation in economics, marketing, management, accounting and finance.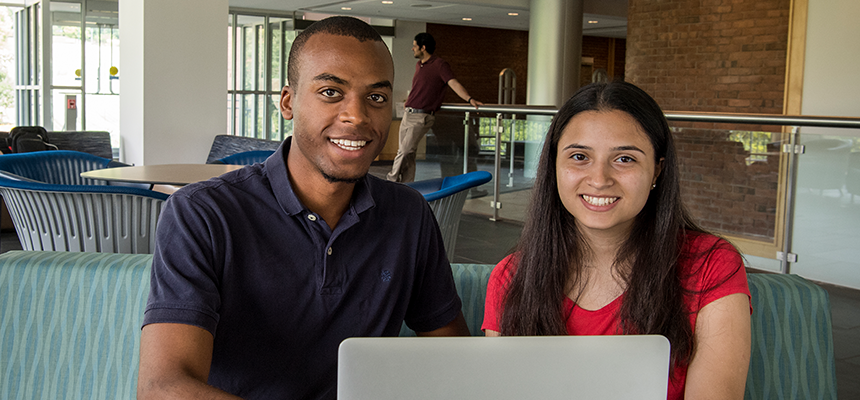 Program Locations
The Business Program at NDMU
Notre Dame offers three ways to pursue a Bachelor of Arts in Business:
Business Majors
Business Minors
Additional Study Options
Faculty
Professor

Assistant Professor

Professor

Associate Professor/Chair

Professor
Four-Year Plan (Women's College only)
Below is a sample program of study for the business major. Students should select courses with the assistance of a faculty advisor. See course description for prerequisites and corequisites.
Fall
Spring
First Year
NDMU-100 Perspectives in Education
4
BUS-334 Teamwork and Negotiation
3
ECO-212 Microeconomics
3
ECO-211 Macroeconomics
3
ENG-101 College Writing
3
Foreign Language (if required)
3
BUS-105 Create Your Future: Introduction to Business and Entrepreneurship
3
General Education/Electives
6
Foreign Language
3
Computer Competency Completed
[15 credits]
[15 credits]
Second Year
BUS-253 Financial Accounting I
3
BUS-254 Managerial Accounting II
3
BUS-303 Principles of Marketing
3
BUS-310 Professional Communication
3
BUS-302 Principles of Management
3
BUS-225 Data Analysis for Business Decisions
3
General Education/Electives
6
General Education/Electives
6
[15 credits]
[15 credits]
Third Year
BUS-321 Corporate Financial Management
3
BUS-350 International Business
3
BUS-304 Legal Environment of Business I
3
BUS-400 Leadership
3
Gen. Ed./Electives and/or Accounting concentration and/or Business electives
9
Gen. Ed./Electives and/or Accounting concentration and/or Business electives
9
[15 credits]
[15 credits]
Fourth Year
ECO-402 Money and Banking
3
BUS-432 Advanced Business Policy
3
BUS-360 Business Research
3
BUS-461 Business Practicum
4
Business Elective or Accounting Concentration
3
Business Elective or Accounting Concentration
3
General Education/Electives
6
General Education/Electives
6
[15 credits]
[16 credits]
Note: Business electives in management, marketing, finance, international business or human resources management may be taken in junior year if prerequisites are completed.
Five-Year Accounting Dual Degree
The Dual-Degree Accounting program is an accelerated pathway for qualified students to earn both a Bachelor of Arts in Business from NDMU and a Master of Accounting from Loyola University Maryland in just five years.
Eligible Notre Dame students can apply for Loyola's Master of Accounting (MAcc) program at the end of the third year, using a fast-tracked admissions process that requires only an online application, resume, and transcripts. It also saves time and money by waiving the application fee, GMAT/GRE scores, essays, and recommendation letters that would otherwise be required.
First Three Years
Complete core Business major courses, including Financial Accounting and Managerial Accounting
Complete all required courses within the accounting emphasis, including Intermediate Accounting I and II
Complete electives, including either Tax Accounting or Corporate Tax Accounting and Auditing
Maintain a 3.0 overall GPA and a 3.0 GPA in all accounting courses
At end of year three, apply to Loyola's MAcc program
Year Four
Complete all requirements of the BA at NDMU Year Five
Begin MAcc program in summer or fall
Complete all program requirements for a General MAcc or a focus on Tax or Data Analytics
Student Learning Outcomes
After completing the program, you will be able to:​
Integrate quantitative and qualitative skills to solve problems and support decision making;

Use economic, mathematical, statistical and probability concepts to analyze solve business problems.
Demonstrate critical thinking ability in identifying, analyzing and solving problems and in formulating and evaluating solutions.
Craft sustainable solutions to business problems using multiple frames of reference.

Demonstrate effective leadership skills in a team environment;

Display effective, ethical leader or member of a team and group interactions.
Exhibit skill in communication, cooperation, group process, conflict resolution, giving feedback, and negotiation to contribute to team effectiveness and efficiency in achieving organizational goals.

Communicate effectively in all business environments with different types of media;

Demonstrate professional, persuasive, analytical, logical, and effective oral communications.
Demonstrate professional, persuasive, analytical, logical, and effective written communications.

Use technology to enhance business productivity and the quality of decision making.

Conduct effective primary and secondary research to support decision making.
Gather, analyze, use, and present information to make better business decisions.
What to Expect Studying at Notre Dame of Maryland University
Small classes, lectures and seminars provide a climate for individualized learning while consulting assignments, internships, simulations, and the case method offer opportunities to experience actual business situations.
Toggle between the photo and the story
Support for My Success
Alum, NDMU Class of 2017
Business
Read story
Research & Internships
Examples of internship and employment opportunities include:
Business Careers
Accounting
Banking
Marketing Research
Project and Product Management
Human Resource Management
Health Care Administration
Nonprofit Management
Information Systems
Marketing
Portfolio Management
Investments
Law
Entrepreneurship