Leadership in Teaching: Digital Technology Leadership
MA
Designed to develop technology leaders who are equipped to meet the digital needs of their schools or school system, the Master of Arts in Leadership in Teaching: Digital Technology Leadership specialization provides opportunities to build practical skills as well as theoretical perspectives on administering an effective and safe technology infrastructure, as well as planning for technology integration and guiding implementation.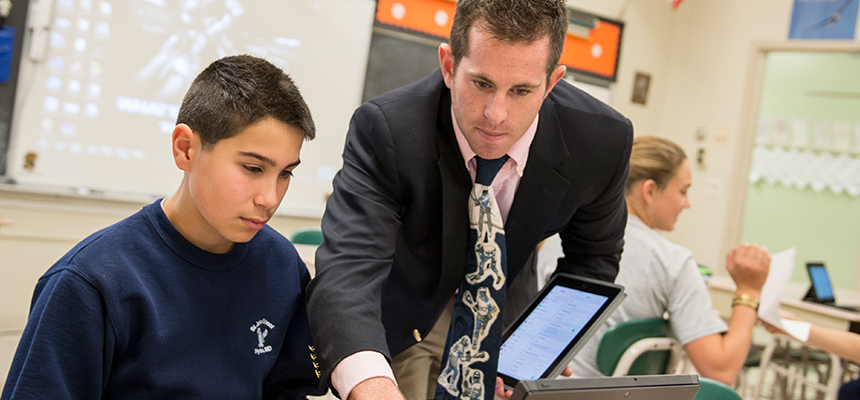 Program Locations
Faculty
Assistant Professor

Associate Professor

Associate Dean for Southern Maryland Higher Education Center

Associate Professor

Assistant Professor
Curriculum
Curriculum (36 Credits)
Leadership Core
EDU-557 Leadership Seminar I (3)
EDU-560 Legal Issues for Teachers and Administrators (3)
EDU-563 Curriculum Development (3)
EDU-569 Supervision: Empowring Teachers (3)
Technology Core
EDU-XXX Educational Leadership and Technology: Preparing School Administrators for the Digital Age (3)
EDU-665 Digital Game-Based Learning and Design (3)
EDU-543 Reading, Analyzing, and Interpreting Educational Research (3)
EDU-XXX Technology Systems in Schools (3)
EDU-XXX Instructional Tools for Digital Learning (3)
EDU-XXX Practicum in Educational Technology Integration (first and last class f2f) (3)
Electives (Select two)
EDU-XXX Teaching the Digital Generation in the Globalized Age (3)
EDU-XXX The Online Learning Environment: Design and Implementation (3)
EDU-577 The Internet in Teaching and Learning (3)
EDU-676 Educational Applications of Multimedia (3)
Outcomes
Student Outcomes
As a student in this program, you will be able to:
Create and implement a vision of technology integration in an educational setting
Integrate technology to support instruction.
Evaluate the effectiveness of technology resources for teaching and learning.
Evaluate various theories and models of instructional design and virtual learning.
Apply policies and procedures concerning acceptable use, security, and student data privacy for managing digital tools and services in a variety of instructional and administrative situations.
Align learning objectives with formative and summative assessments in order to evaluate educational effectiveness.
Program Outcomes
At the completion of the program, you will be able to:
Enhance career and professional development opportunities for employment pathways in the profession, e.g., classroom teachers, instructional leaders, technology officers, technology teachers, educational technology specialists, computer science teachers, principals, etc.
Document an ability to evaluate a thorough lesson plan that addresses the needs of all students and which provides for both formative and summative measurable student outcomes.
Design or adapt relevant learning experiences to incorporate digital and virtual tools and to facilitate such designs and adaptations.
Apply current research on teaching, learning, and assessment utilizing technology, adult learning principles and national and state standards for high-quality professional development when planning digital environments and experiences.
Apply evidence-based research to make informed decisions regarding specific technologies and systems.
What to Expect Studying at Notre Dame of Maryland University
With award-winning teacher certification programs nationally recognized by the National Council for Accreditation of Teacher Education, you can expect to benefit from small class sizes, expert faculty, and practical field experiences.
Careers
Coursework in the Digital Technology Leadership program will prepare you for careers in modern-day education, training, and the educational technology field.
Classroom Teacher
Instructional Leader
Technology Officer
Technology Teacher
Educational Technology Specialist
Computer Science Teacher
Principal