The Service to Society Award is presented to a graduate who best exemplifies the ideals of a Notre Dame education through the application of their education, initiative and humanity to socially useful ends in the community, nation or world.
In 1999, the Alumnae and Alumni Association established the Service to Society Award. All graduates are eligible.
2019 Award Winner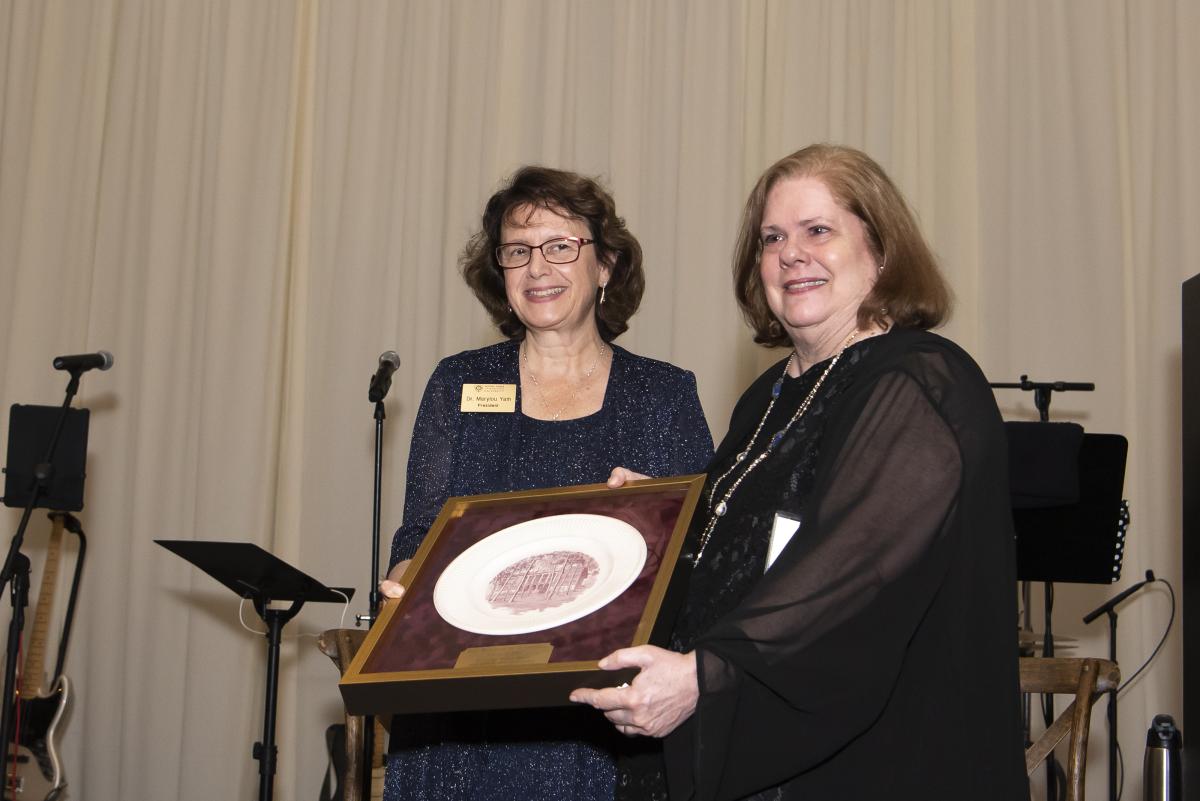 Sara Martinelli de la Guardia, Class of 1969, along with her mother and daughter, form a wonderful example of Notre Dame of Maryland University's legacy families. Her mother, Margarita Martinelli, graduated from the class of 1948. Alina, Sara's daughter, attended the English Language Institute at Notre Dame in the 1980's.
Sara studied biology, philosophy, and theology at Notre Dame and was an active member of Tri-Beta, the honor society for biology majors. After graduation, she returned to Panama where she and Rodrigo de la Guardia raised two children, Rodrigo Jr. and Alina de la Guardia.
During the 1980's, Bishop Emiliani requested help for the indigenous Embera-Wounaan people living in the Darién province of Panama and Sara compassionately responded. The Embera-Wounaan reservation is a poverty stricken and marginalized region. It lacks basic infrastructure such as roads, water and sanitation services, and is deficient of secondary schools. Sara visited and formulated a plan to request support for a series of projects.
Over the years Sara has worked unwaveringly to establish and raise funds through "Fundacion Tierra Nueva" a non-profit organization which promotes human development in the Darien province of Panama. The organization's objectives include the advancement of educational opportunities, teaching agro-production, generating sustainable income, and preserving the delicate ecosystem of the province. In 2005, the Tierra Nueva High School and dormitory officially opened to serve multi-ethnic youth who live in the most remote areas.
In Sara's words "at Notre Dame I met friends and professors that influenced my life. They made me aware of the importance of showing solidarity with the needs of others less fortunate and my responsibility to do my part in making the world a better place." Through service and humanity, and the application of her education, Sara's efforts have improved the lives of the Panamanian citizens.
Sara, we are inspired by your selfless dedication to others. Congratulations on this much-deserved award!
Past Winners
Year
Winner
1999
Patricia Fosarelli '73, M.D., Ph.D.
2000
Diana Mand '69
2001
Sue Ford Patrick '67
2002
Retta Blaney '78
2003
Diane Roberts McGlinchey '59
2004
Carole Artigiani '62
2005
Margaret M. Wintz '45
2006
Susan Mueller Aumann '83
2007
Mary Ellen Vanni '69
2008
Mary Ellen Dougherty, SSND '58
Kathleen Marie Engers, SSND '47
2009
Mary Gabriel Roeder, SSND '59
2010
Christopher L. Benzing, M'05
Virginia Bartlett Rugemer, C'91
2011
Susan Love, M.D. '70
2012
Judy Geilfuss Dobson '62
2013
Margaret O'Connor Markovic '82
2014
Andrea Bowden '69, Ph. D.
Betty Contino W'89
2015
Susan Gardiner Larkin '65 Ph.D.
2016
Sr. Patricia McLaughlin, SSND '66
2017
Mary Ellen McFadden '67, MSN '85
2018
Nancy Ruiz Lee '91