The Service to Society Award is presented to a graduate who best exemplifies the ideals of a Notre Dame education through the application of their education, initiative and humanity to socially useful ends in the community, nation or world.
In 1999, the Alumnae and Alumni Association established the Service to Society Award. All graduates are eligible.
2018 Award Winner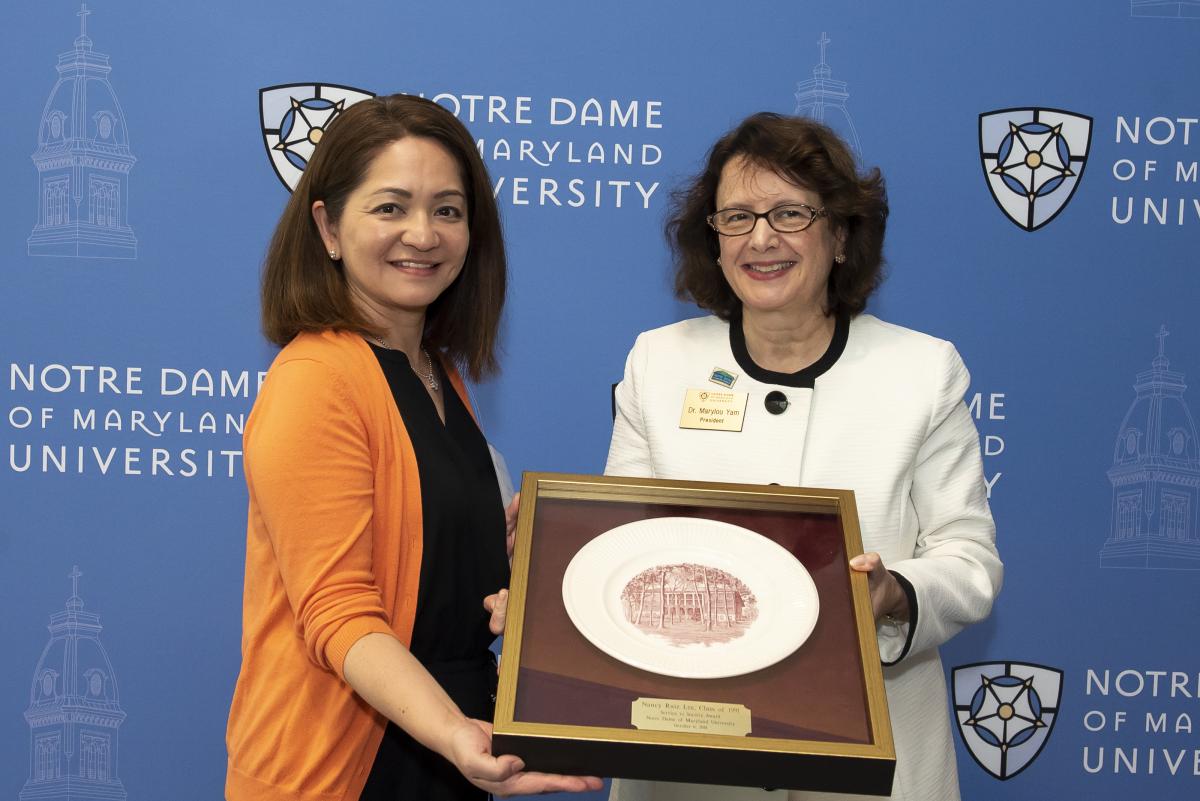 Nancy Ruiz Lee '91 (Pictured is Yukiko Lema '92, accepting the award on Nancy's behalf.)
Nancy graduated from Notre Dame in 1991 with a bachelor's in English and education. She promptly returned to Guatemala to put her new degree to use. Over the past twenty-seven years she has served her community in areas of greatest need. Nancy's nominator perfectly illustrated her dedication to her local community.
"Following her graduation from Notre Dame, Nancy returned home to Guatemala determined to bring hope to her war-torn country. Over the next twenty-seven years, Nancy has served her people as an educator at the elementary, secondary, and collegiate levels. Her duties have included teaching English, counseling students, operating a college residence hall where she was responsible for the safety and wellbeing of scores of students, and leading numerous service projects and cultural events. In 2013, for example, Nancy served as a trainer to more than forty rural teachers from the Guatemalan South Coast. In that capacity, she facilitated a Family Guidance diploma for teachers which imparted to them the skills to help vulnerable families change their views about life, education, human dignity, work, and marriage.
Nancy's current professional assignment may be her most exciting, and challenging, so far. In 2017, Nancy joined Catholic Relief Services as a Knowledge Management and Project Specialist in the 'Learning for Life' program. This United States Department of Agriculture funded project aims to provide a daily meal as a means to improve nutrition, attention, and therefore the reading level in students from 331 rural schools in Totonicapan, a department in the Guatemalan highlands. Nancy's current duties include communicating best practices identified through the data, writing case studies which highlight the successes of the program, and collaborating with the beneficiaries and other stakeholders to incorporate best practices throughout the program."
Outside of work, Nancy engages in a number of projects focused on the advancement of women and worthy of recognition. In 1996 she wrote and produced a drama, featuring an all-female cast, about Beatriz de la Cueva, the first female colonial governor of Guatemala. The play, which includes themes of love, loss, grief, and redemption, has garnered success and the net proceeds go to support grassroots educational projects for women.
Then in 2000, she designed a scholarship program to provide housing, food, tuition and fees, and medical insurance, to eight Guatemalan young women; each of them now successful professionals.
On the spiritual side, Nancy organizes and runs a weekend catechism program at a local parish and spearheading the construction of an oratory inside the Aralia Cultural Center, to serve as a sanctuary for visitors who seek spiritual direction, quiet prayer, and the sacraments.
Notre Dame educates leaders to transform the world. Nancy is an excellent role model for our students and for us. We thank her for her dedication to educating her local community about the important roles of women, for her commitment to raising a Catholic identity, and to her overall service to society.
Past Winners
Year
Winner
1999
Patricia Fosarelli '73, M.D., Ph.D.
2000
Diana Mand '69
2001
Sue Ford Patrick '67
2002
Retta Blaney '78
2003
Diane Roberts McGlinchey '59
2004
Carole Artigiani '62
2005
Margaret M. Wintz '45
2006
Susan Mueller Aumann '83
2007
Mary Ellen Vanni '69
2008
Mary Ellen Dougherty, SSND '58
Kathleen Marie Engers, SSND '47
2009
Mary Gabriel Roeder, SSND '59
2010
Christopher L. Benzing, M'05
Virginia Bartlett Rugemer, C'91
2011
Susan Love, M.D. '70
2012
Judy Geilfuss Dobson '62
2013
Margaret O'Connor Markovic '82
2014
Andrea Bowden '69, Ph. D.
Betty Contino W'89
2015
Susan Gardiner Larkin '65 Ph.D.
2016
Sr. Patricia McLaughlin, SSND '66
2017
Mary Ellen McFadden '67, MSN '85