In 2017, the Alumnae and Alumni Community established the Alumnae and Alumni Engagement Award. The award is presented to a graduate celebrating a milestone Reunion year who has achieved long-standing and consistent support for Notre Dame of Maryland University. Support is measured through the sharing of time, talent, and/or resources.
2018 Award Winner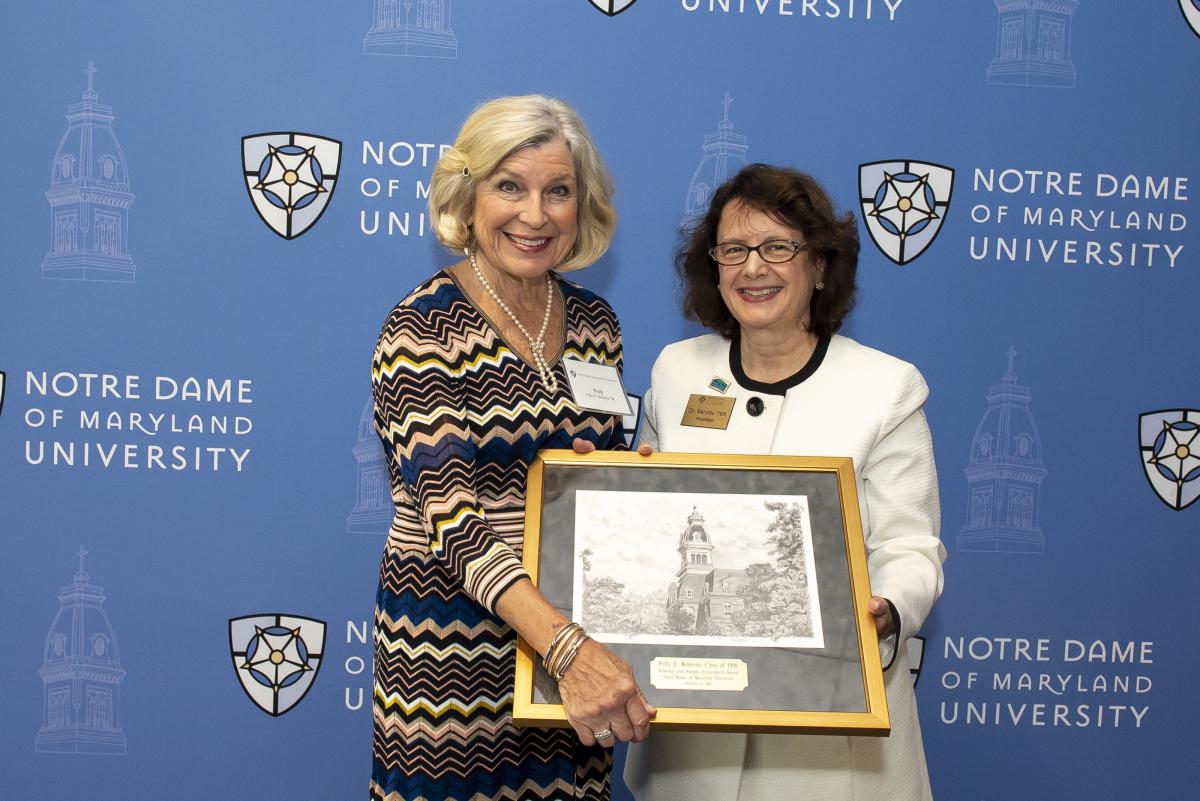 Polly Behrens '98
Polly is a leader in the Baltimore community and at Notre Dame. Organizations that have benefited from her support and engagement include Teach for America, the Junior League of Baltimore, Friends School of Baltimore, and the Baltimore Choral Arts Society, the Baltimore Museum of Art, the National Aquarium, Roland Park Country School, St. Mary's Seminary, as well as others.
Notre Dame is also fortunate to be the recipient of Polly's many gifts. The qualifications for this engagement award note that "support is measured through the sharing of time, talent, and/or resources." Polly is a shining example of these contributions, as she has continued to say "yes" when asked to assist Notre Dame in a variety of ways over many years.
As a graduate of the Continuing Education (CE) program in 1998, her level of engagement has extended from serving on the Continuing Education (CE) Alumnae Chapter, as well as being a hardworking member of the Legacy of Leadership Campaign committee. This year marks Polly's 21st year of consecutive giving to Notre Dame—she began contributing in her senior year of college, and her passion for the liberal arts was underscored through her generous support of the Sr. Maura Eichner Endowed Professorship in English, which continues to have significant, positive impact each year.
Given her passion and talent for gardening, Polly has graciously volunteered her time over the years to decorate Noyes Alumnae House during the Christmas season as part of the CE Chapter activity in the past, and we are grateful that many of our alumnae and friends benefit from the beauty her talents impart to the House during the holidays.
Polly embodies the mission of Notre Dame. She exudes kindness, integrity, humility, a commitment to education, and the advancement of women. When she speaks about Notre Dame, it is with a deep appreciation for her experience as a student and the way her own life was enriched by it.