The Elizabeth P. Hoisington '40 Distinguished Alumna Award is presented to a graduate who, through achievements in career and/or community service, embodies the principles of Notre Dame.
Winners, who have graduated no fewer than five years ago, have demonstrated loyalty to the University and achievements in career and or community.
History
After her death in 2007, the award was dedicated to Brig. Gen. Elizabeth P. Hoisington '40, who served our nation with leadership and vision—particularly as one of the first women to attain the rank of U.S. Army general. The 2008 award was the first given under the new name.
2019 Award Winners
This year's award is exceptional because it is being presented to a team. This group of five graduates from the class of 1969 collectively initiated an endowed scholarship—talk about paying it forward! The honorees are:
Victoria M. Genco Bell
Julie Courtney Ben-Susan
Andrea R. Bowden, Ph.D.
Cathryn Archibald Curia, CPCU
Mary Ellen Vanni
Each alumna has excelled in her career and in her service to others. Most importantly, each alumna embodies Brigadier General Hoisington's adherence to the Notre Dame principles of vision, leadership and service. We are extremely grateful for the service they have collectively given to Notre Dame, and more specifically, to our current students through raising more than $125,000 for current student aid. Individually, they are models for our community; individual acknowledgements continue below.
Victoria M. Genco Bell
With her Notre Dame of Maryland degree in Biology in hand along with her Master of Science in Occupational Therapy from Columbia University, College of Physicians and Surgeons, Vicki returned to Maryland to begin her occupational career first at the Prince Georges County Health Department, Maryland School for the Blind and and the Hospital for Sick Children in Washington, DC. Each one gave her a new type of experience and new roles: from short-term occupational therapy (OT) needs to chronic disabilities and longer term OT needs; from exclusively direct patient service role along with other therapy staff to beginning an OT department; and finally as the director of a small hospital OT department for children with prolonged therapy or medical management needs.
This gave Vicki a good foundation to continue her career as an occupational therapist at Montgomery County Public Schools (MCPS), a large suburban Washington, DC county in the various assignments she was to hold in the thirty years before her retirement. At that time, MCPS was beginning to implement the federal law requiring all public schools to provide appropriate education and any necessary supports, such as OT, for all children, no exceptions. Vicki participating in developing the many guidelines, standards and processes needed to be developed to align and integrate OT services with new or more specifically designed educational programs for the individual student with a disability.
Over time, her MCPS roles became exclusively related to supervisory and management roles. These included assigning caseloads to a fast-growing OT staff, providing them with administrative support and professional guidance as they collaborated with the educational staff and the parents of the children served many fast-developing new programs throughout the county, managing contracted OT service providers to supplement MCPS OT staff and attending team meetings when significant changes in a child's program or OT services were being considered.
With this broad experience, Vicki took these skills to the MCPS division charges with assuring an equitable education for students with disabilities in her role as a compliance specialist. Her duties included representing MCPS at meditations, gathering information from interviews and student records, and developing written replies to parental requests for reviews of their child's educational program and services.
Following her retirement, Vicki has been very active in the Ignatian Volunteer Corps (IVC) for the past eleven years, as a volunteer, a monthly team leader, as a member of the DC/Metro Maryland IVC Regional Council and as an active participant in the IVC's Ignite Capital Campaign. She has been active in her parish initiating monthly small group discussions, lecturing, developing presentations, and assisting in Ecumenical and Interfaith services.
Vicki was blessed to find a perfect soulmate… twice! Yes… that lucky. But also, widowed twice. She and Bill Bell were married for twenty years. Then came the single life for a number of years before she and Jim Carpenter married after for almost ten. She has enjoyed many travels to destinations that involved steam trains or the great outdoors and natures' creatures. At this time, Vicki is more involved with home project, such as gardening, renovating, decluttering and nurturing friendships.
Vicki has always kept strong ties to Notre Dame. She has long been a member of the Montrose and Mary Meletia Societies. In 2018 she established The Mary and Joan Genco First Generation Endowed Scholarship to honor her mother and sister. She describes them as women of God-given intelligence, strong in determination to overcome challenges, strong in generosity to me in in many ways, not the least of which was the support and encouragement to experience a Notre Dame of Maryland University education. The Women's College at NDMU was her gateway of expansion to a realization of the confidence, skills and foundations of character provided by her family, especially her mother, Mary and sister, Joan.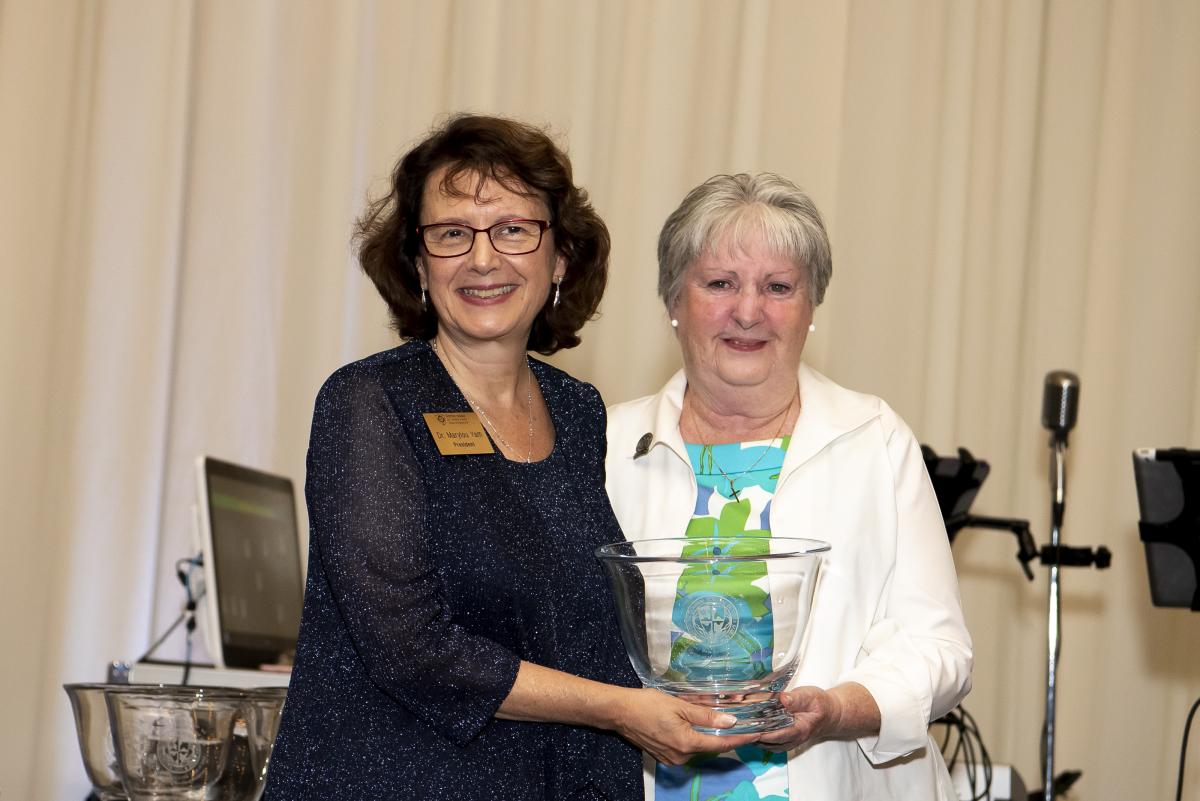 Julie Courtney Ben-Susan
Julie graduated with a degree in economics. Her New York City career led her to become vice president of Citigroup for 28 years and then general manager of Shelter Island Heights Property Owners Corporation until she retired in 2018.
As Julie progressed in her professional life, she always made time for community service. She has contributed her time and talent in many ways including as a board member at Gardiners Bay Country Club; treasurer of Snarks, a women's theatre group, and of Little Flowers, helping children with AIDS. In addition, Julie is a volunteer at the Shelter Island Educational Foundation and trustee at the Southwest Florida Community Foundation women's legacy fund.
Julie is forever loyal to Notre Dame and deeply cares about her classmates. You can count on Julie to always respond to requests with a resounding YES! Julie has hosted multiple alumnae events beginning in NYC and now in Florida. She led a fundraising effort in honor of Helen Passano '69 and currently serves on the legacy committee at Notre Dame.
As Julie says so wisely, "in this increasingly disconnected world, continuing and rebuilding long term friendships – by voice as well as email - is very important. The whole experience has been tremendously rewarding."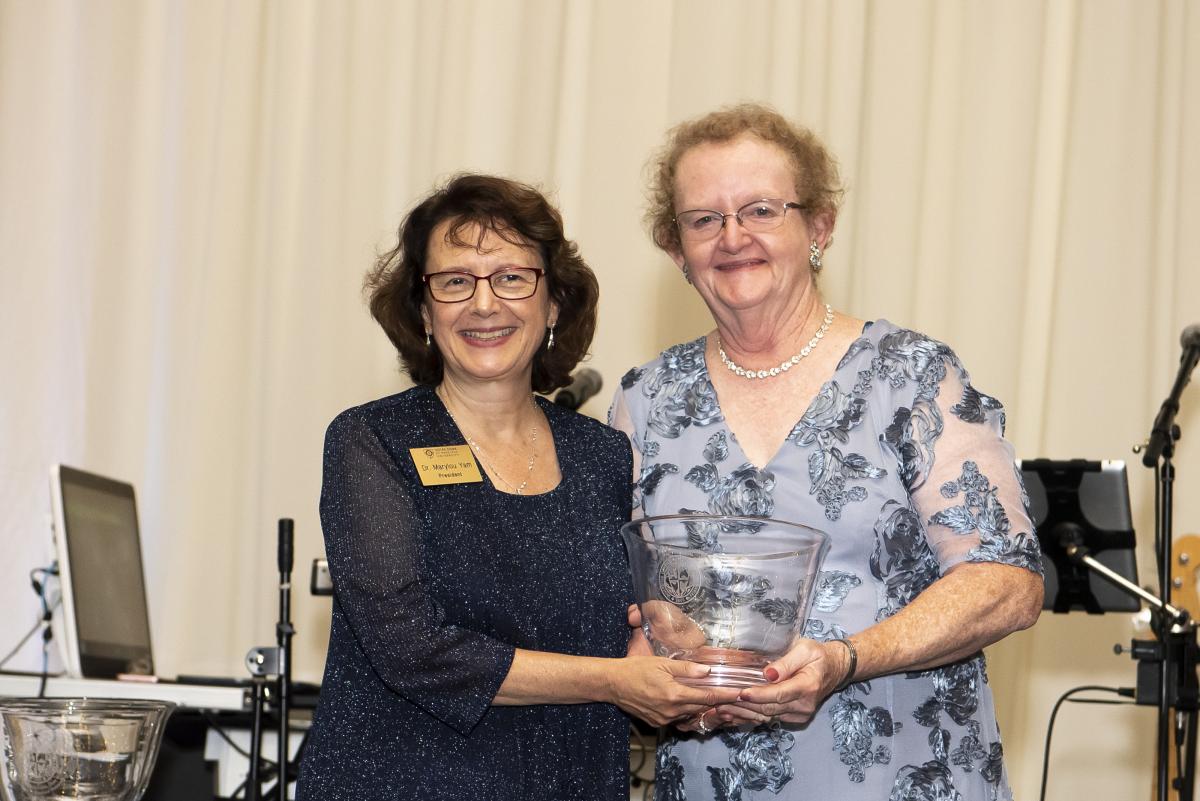 Andrea R. Bowden, Ph.D.
Andrea was born to teach others her love of science. In her 50 years with Baltimore City Public Schools, Andrea taught science in five high schools and she was supervisor of Science, Health and Mathematics as well as the assistant principal at Digital Harbor High School. In addition, Andrea taught graduate courses in the sciences and education at four colleges and universities.
Early in her career, Andrea revitalized the Maryland Association of Science Teachers (MAST) and served as president of both MAST and the Maryland Association of Biology Teachers. In 1984, she received the first Maryland Presidential Award for Excellence in science teaching at the White House. From 1984-1996 she was director of a National Science Foundation funded summer program, SANDALS, at Notre Dame of Maryland University to prepare minorities and females for college and careers in science and mathematics. For her outreach and service, Andrea received the Service to Society Award in 2014 from Notre Dame.
Andrea earned a B.A. from Notre Dame in biology and education, a M.S. in urban education from Johns Hopkins University, a M.A. in environmental science from Hood College, and Ph.D. in educational policy and leadership from the University of Maryland College Park.
Always a leader and team player, she says, "Teamwork to me means focusing on the same goal and contributing one's talents to achieve the goal in cooperation with others. Leadership is action—not position."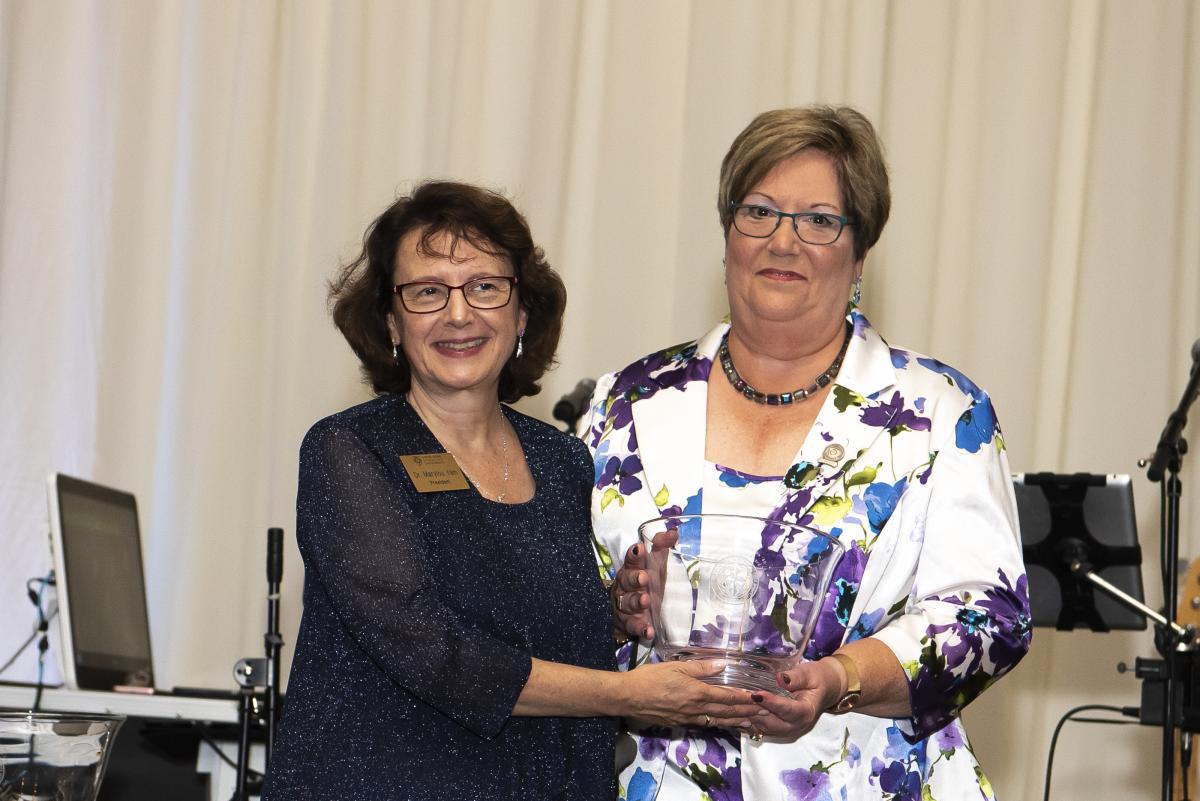 Cathryn Archibald Curia, CPCU
When Cathryn graduated from The College of Notre Dame of Maryland she joined the Atlantic Mutual Insurance Company as their first woman executive trainee. During her fourteen years there she was assigned increasing responsibilities, primarily in the area of purchasing reinsurance to protect the company's assets. As a reinsurance buyer for Atlantic Mutual, she was responsible for reinsurance purchases and implementation for Property, Casualty and Marine programs. At the time of her departure from The Atlantic she was Reinsurance Secretary with the responsibility for a $40,000,000 purchasing operation.
Cathryn then moved on to become an Assistant Vice-President at St Paul Re with the responsibility for underwriting reinsurance. As she evolved into management positions at St Paul, in addition to her underwriting responsibilities, she had leadership roles in reengineering and implementation of new practices crossing all organizational functions. In the IPO for the Platinum Re spinoff from The St. Paul Companies, she was integrally involved in the due diligence process as well as the transition of business into the successor company. She progressed to become Executive Vice-President North American Property Reinsurance.
At St Paul Re and its successor company Platinum Re, Cathryn always took a great interest in developing staff, whether through "on the job" training or through coordinating and encouraging the educational endeavors for all of the company's employees. She regards continuing education and professional development as critical to individuals' appreciation of their own strengths as well as improving their knowledge.
In 2005, in the aftermath of several natural catastrophes, a new Property underwriting operation was being formed in Bermuda, and Cathryn was approached to become part of the team establishing the North American Property business for Max Re. For the last 10 years of her business career, Cathryn had the pleasure of working in a beautiful environment with wonderful people doing the work she loved. When she retired in 2016, she was Managing Director North American Property Reinsurance for Max Re's ultimate successor company Markel Global Re.
Cathryn holds her CPCU, Associate in Risk Management and Associate in Reinsurance professional designations. She is a member of the Society of CPCU, and is a member and past president of the Association of Professional Insurance Women. She was named by Intelligent Insurer as one of their 100 Influential Women in Reinsurance and by Bermuda: Re +ILS as one their Influential Women of Bermuda.
Outside of the business world, Cathryn has been active in her parish as a Lector (began at Notre Dame) and as a Eucharistic Minister. Since she retired, Cathryn is very active in needlework organizations as a board member and as an instructor. And working on the reunion committee during the past year has brought her back closer to Notre Dame on a regular basis again.
Cathryn places a tremendous value on the education provided to her at Notre Dame. The morals and ethics ingrained by the SSND's and the honor code at Notre Dame have been a strong foundation for her in her career and in her life. She states that Notre Dame provided her with the skills to work with people, the ability to deliver ideas and results, and the confidence to handle issues in a male dominated business.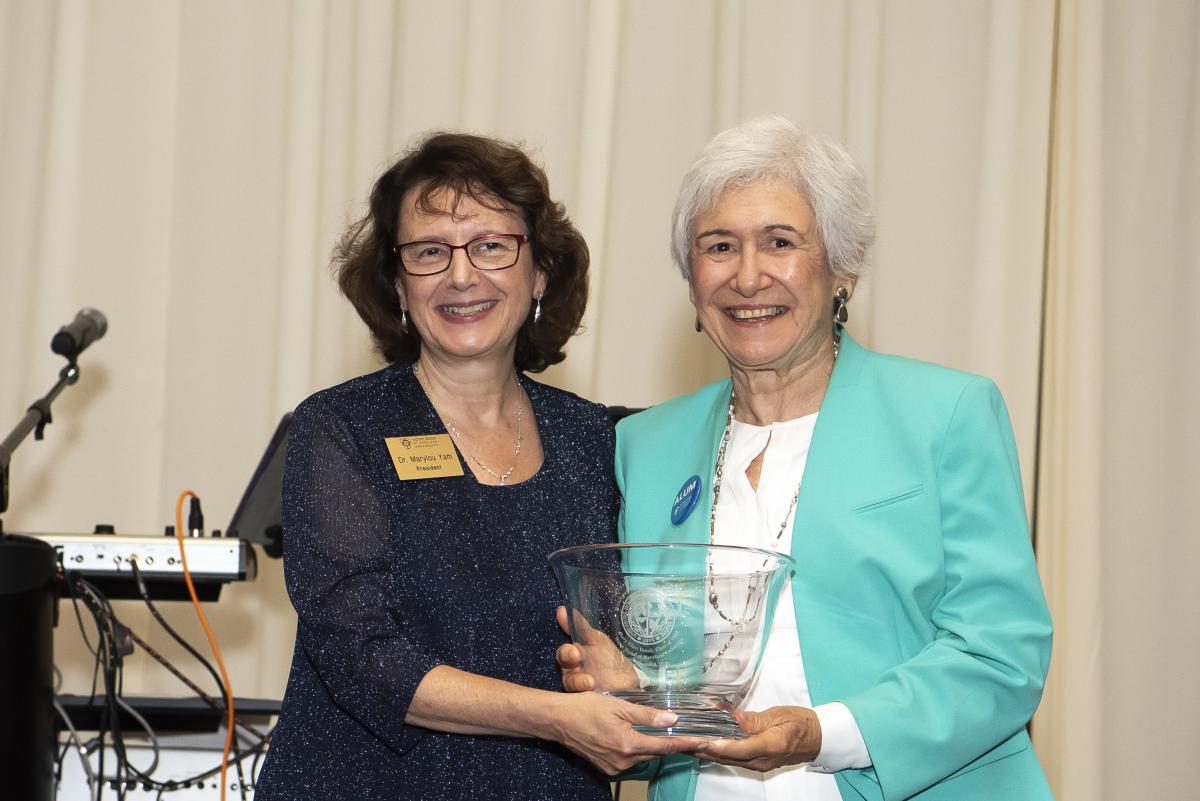 Mary Ellen Vanni
Mary Ellen graduated with a degree in math. After graduation, she taught in Baltimore and then Uganda, Africa. Upon her return, Mary Ellen worked at Catholic Charities as director of My Sister's Place and assistant director of Social Concerns and Parish Relations. She then became Executive Director of the Fuel Fund of Maryland, Inc., and more recently, program director at Gibbons Commons at Caroline Freiss Center. In all these roles, Mary Ellen has helped serve the neediest in the community.
Mary Ellen's service to the community was recognized in 2007 when she received the Service to Society Award at Notre Dame and in 2015 when she received the inaugural Ed Sommerfeldt Award, honoring those who enable others to recognize God working amid everyday life.
Mary Ellen has always been a team player and a team leader. She says "Team work has been so important this year. I respect how generously everyone listens and offers suggestions. The team is always greater than the sum of its individual members' contributions. Experiencing that phenomenon in real time is very satisfying."
Mary Ellen shares her commitment to Notre Dame with her family including her aunt Frances V. Carroll '41, her sister Judith V. McLaughlin, MD '68 and her two cousins, Mary O'Hara '72 and Kathleen Pond '71.
Past Winners
Year
Winner
1991
Patricia Ann Denny Bathon '49
1992
Veronica Walker Hackett '67
1993
Mildred Buzek Otenasek '36, Ph.D.
1994
Margaret Dempsey McManus '41
1995
School Sisters of Notre Dame
1996
Margaret Dougherty '41
1997
Dorothy Brown, Ph.D. '54
1998
Donna Ringger Easton '70
1999
Suzanne Janes Peck '64
2000
Alice El Koury '39
2001
Margaret J. Steinhagen'54, Ph.D.
2002
Anne Bruggy Deming '61, Ph.D.
2003
Mary Lu Schroeder McNeal '50
2004
Regina McKeowne Hubbard '43
2005
Candee Morici Swenson '69, Ph.D.
2006
Dr. Doris Ann Trauner '66, M.D.
2007
Kathleen Carney Buetow '50, Ph.D.
2008
Dolores Warwick Frese '58, Ph.D.
2009
Jo Trueschler '49
2010
Edith McParland Donohue '60
2011
Patricia Knott Smyth '51
2012
Kathleen O'Ferrall Friedman '62
2013
Margaret Haskell Farnham '92
2014
Mary Kay Shartle Galotto '64, Ph.D.
2015
Frances Hanna Flanigan '65
The Hon. Irene Murphy Keeley '65
2016
The Hon. Audrey J.S. Carrion '81
2017
Christina Bolmarcich, Esq. '97
2018
Joan B. Davidson '93