The Elizabeth P. Hoisington '40 Distinguished Alumna Award is presented to a graduate who, through achievements in career and/or community service, embodies the principles of Notre Dame.
Winners, who have graduated no fewer than five years ago, have demonstrated loyalty to the University and achievements in career and or community.
History
After her death in 2007, the award was dedicated to Brig. Gen. Elizabeth P. Hoisington '40, who served our nation with leadership and vision—particularly as one of the first women to attain the rank of U.S. Army general. The 2008 award was the first given under the new name.
2018 Award Winner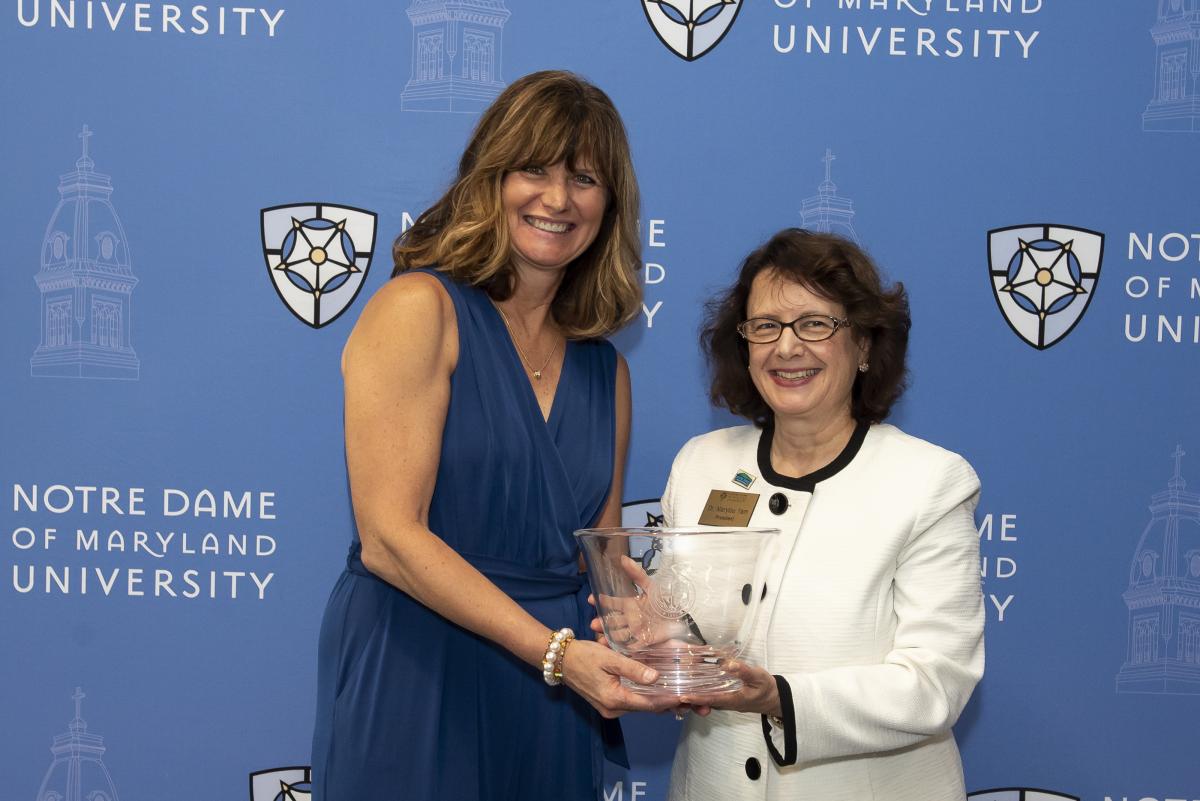 Joan B. Davidson '93
Busta Lecture Steering Committee, National Association of Printing Leadership
Joan is an outstanding supporter of both Notre Dame and her local community. Joan went to work straight out of high school and began her journey at Notre Dame as a weekend college student, majoring in business. Her experience in the Business and Economics department helped her advance into leadership roles in her career and in volunteer roles here at home.
Joan shows her commitment to NDMU in numerous ways: as a First Impressions program volunteer, chair of the Busta Lecture Steering Committee, a trustee, and chair of the trustee's institutional advancement committee.
One of Joan's nominators wrote:
"Joan's attention to detail, analytical questions, and ever-present faith in NDMU's ability to succeed has made her an invaluable asset to our continued growth and success.
Her generosity goes even further: she has endowed the Joan B. Davidson Lifetime Learning Scholarship, which supports adult students returning to pursue their bachelor's degree. This past spring at the Scholarship Luncheon, Joan served as the keynote speaker, offering remarks on why funding a scholarship is important to her: 'I know a deserving person is continuing their journey of learning – and I am inspired by them because I know the difference that it made in my life . . . and that they too will achieve great things."
Joan's career began immediately after high school—in a role at Proctor & Gamble. As she rose through the ranks, she found a mentor in Charles J. Busta—a former Notre Dame trustee, spouse, and fervent friend to the university. After CB's death in 1999, the Busta Lecture in Business was established to bring outstanding leaders to campus to serve as role models for our students.
Outside of our family, Joan has been named a Maryland Top 100 Woman by The Daily Record, has been a member of the Nonpareil Society, served as a board member and chair of the National Association of Printing Leadership, and has been involved on the boards of the Graphic Arts Show Company and Print and Graphics Scholarship Foundation. For her, though, her favorite volunteer position may be with Camp Sunrise. Just ask her about the kids at camp and she lights up. Camp Sunrise is a camp dedicated to children who have been diagnosed with or survived cancer. Joan is an active presence at camp, volunteering during the season to lead campers and this year, co-chairing the camp's fundraising gala.
One of her nominators said it best, "Joan Davidson's commitment to Notre Dame and our students has been nothing short of remarkable." That certainly extends to her community and profession. Joan's perseverance, selflessness, and call to service are exactly the values espoused by Elizabeth Hoisington.
Past Winners
Year
Winner
1991
Patricia Ann Denny Bathon '49
1992
Veronica Walker Hackett '67
1993
Mildred Buzek Otenasek '36, Ph.D.
1994
Margaret Dempsey McManus '41
1995
School Sisters of Notre Dame
1996
Margaret Dougherty '41
1997
Dorothy Brown, Ph.D. '54
1998
Donna Ringger Easton '70
1999
Suzanne Janes Peck '64
2000
Alice El Koury '39
2001
Margaret J. Steinhagen'54, Ph.D.
2002
Anne Bruggy Deming '61, Ph.D.
2003
Mary Lu Schroeder McNeal '50
2004
Regina McKeowne Hubbard '43
2005
Candee Morici Swenson '69, Ph.D.
2006
Dr. Doris Ann Trauner '66, M.D.
2007
Kathleen Carney Buetow '50, Ph.D.
2008
Dolores Warwick Frese '58, Ph.D.
2009
Jo Trueschler '49
2010
Edith McParland Donohue '60
2011
Patricia Knott Smyth '51
2012
Kathleen O'Ferrall Friedman '62
2013
Margaret Haskell Farnham '92
2014
Mary Kay Shartle Galotto '64, Ph.D.
2015
Frances Hanna Flanigan '65
The Hon. Irene Murphy Keeley '65
2016
The Hon. Audrey J.S. Carrion '81
2017
Christina Bolmarcich, Esq. '97
2018
Joan B. Davidson '93