The Regina Russo Hammel '41 Recent Graduate Award honors a recent graduate, not more than 10 years ago, who has exhibited professional achievement and/or contributions to community life and who had demonstrated loyalty to the University.
In 1999, The Regina Hammel '41 Outstanding Recent Graduate Award was created by Gary and Laura Hammel Dicovitsky in honor of Mrs. Dicovitsky's mother.
2018 Award Winner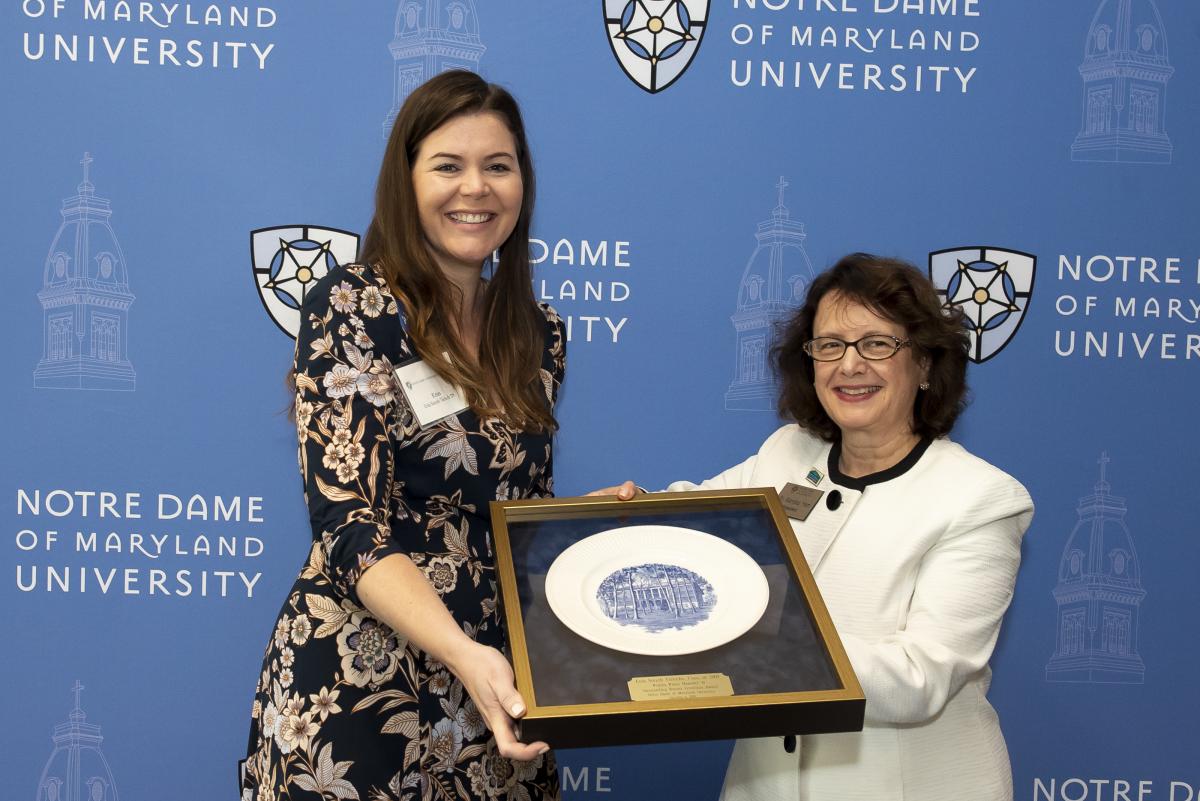 Erin Smyth Tielsch '09
Erin is a 2009 graduate of the Women's College. Majoring in liberal studies and elementary education, she began her career as a teacher—right away putting her Notre Dame education to use as a special educator at The Strawbridge School, then transitioning to Celebree Learning Center and Cradlerock Children's Center. Currently, she works with Calvert Mechanical Solutions in administration. We all share a deep appreciation for those with educational backgrounds—the patience you learn, joy you share, and minds you influence are central to our alma mater. One of your nominators mentioned Erin "consistently has a positive attitude and a smile, no matter the challenge put before her."
One of the challenges we all face is the integration of work, life, and how we put our education into action once we leave campus. Erin, recalls discussions with our own SSNDs fondly. As she says, their stories of serving others affected her in a profound way that has led her to see the bigger picture. Others see this too. Erin is a woman of high integrity and strong faith; reflected in her work within the larger community.
Erin is an active volunteer with Young Professionals of Catholic Charities. As a volunteer leader of the group, she has helped engage professionals aged 21-40 in a variety of networking, philanthropic, and professional development initiatives. One of Erin's primary charges is chairing an event called Toys and Trivia that contributes to Catholic Charities' Head Start Program, making a positive impact in the lives of local children around the holidays. Additionally, she is a trustee-in-training at the Knott Foundation.
Past Winners
| Year | Winner |
| --- | --- |
| 1999 | Milda Motekaitis DeVoe '90 |
| 2000 | Theresa Giardina Wiseman '90 |
| 2001 | Theresa O'Keefe Armiger '90, M'98 |
| 2002 | Wendy Tribaldos – DePuy '92 |
| 2003 | Marianna Russell C'94 |
| 2004 | Elizabeth Higgins Frost '97 |
| 2005 | Colleen Manley Sisolak '96 |
| 2006 | Roxanne Gladden Miller W'99 |
| 2007 | Michelle Lizardo Kuntz '97 |
| 2008 | Veronique Gugliucciello '98 |
| 2009 | Julie Kline Rybczynski '99 |
| 2010 | Christina Hood Gray '00, M'01 |
| 2011 | Pamela Walters '01, M'03 |
| 2012 | La Vida Cooper '03 |
| 2013 | Lorna K. Hanley M'06 |
| 2014 | Lauren Ackerman '08 |
| 2015 | Nicole Kotulak '09 Ph.D. |
| 2016 | Monique L. Turner '03, PharmD. '15 |
| 2017 | Lori Anderson Pollack '08 |