The Regina Russo Hammel '41 Recent Graduate Award honors a recent graduate, not more than 10 years ago, who has exhibited professional achievement and/or contributions to community life and who had demonstrated loyalty to the University.
In 1999, The Regina Hammel '41 Outstanding Recent Graduate Award was created by Gary and Laura Hammel Dicovitsky in honor of Mrs. Dicovitsky's mother.
2019 Award Winner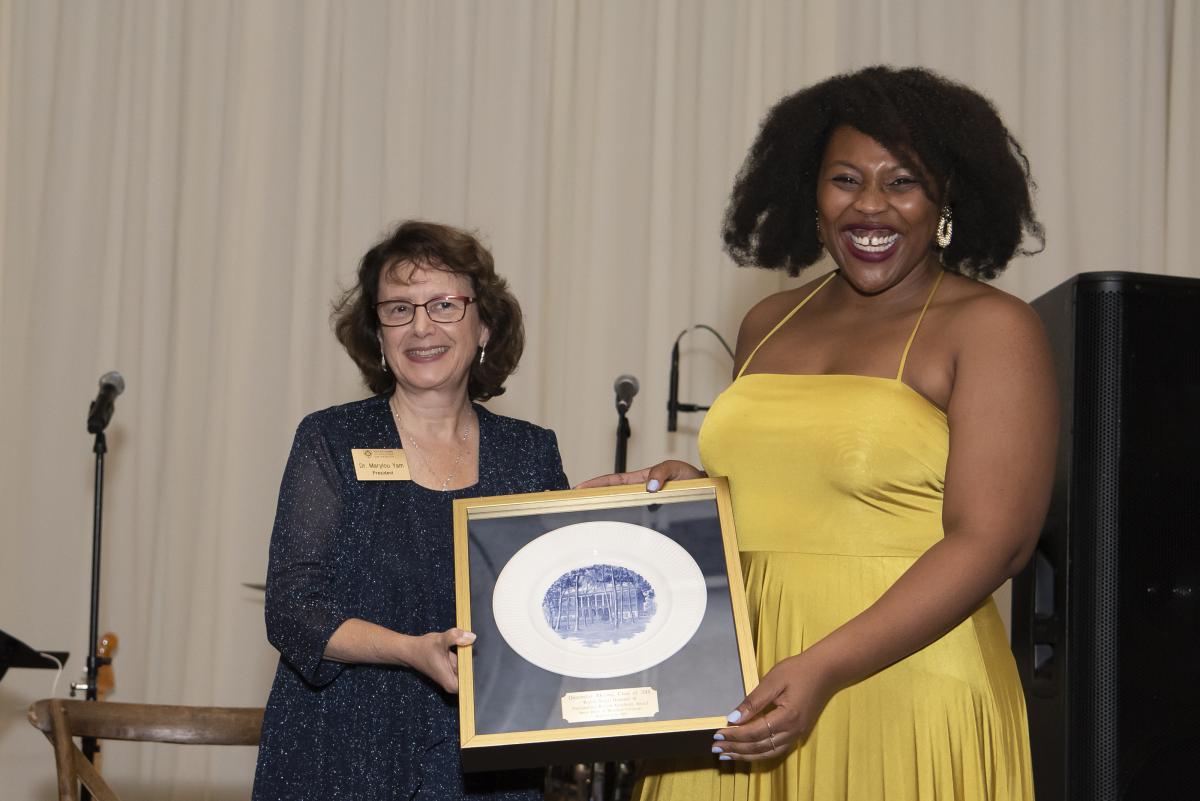 Queenstar Akrong graduated from the Women's College with a degree in political science. Throughout her four years, Queenstar was a highly active student leader. She tutored at My Sister's Academy, received the student government association outstanding student leader award, was the student ambassador keynote speaker, vice president, Phi Sigma Tau Honor Society and student ambassador to the United Nations Commission on the status of women, as well as student representative to the Board of Trustees.
After graduation Queenstar continued in her leadership roles with a passion for education and the empowerment of women and girls. She started in Washington, D.C. working with Running Start to bring young women to politics. Then worked with the United States House of Representatives preparing materials for office staff which led her to the Congressional Black Caucus Foundation.
Since 2015, Queenstar has worked at The College Board. She currently serves as Associate Director of Partner Mobilization where she connects low-income students to scholarship offerings with the goal of increasing access to college affordability for all students.
Throughout Queenstar's student years and in five years since graduation, she has exhibited both professional achievement and contributions to community life. While advancing in her career, Queenstar has continued to volunteer for the National Community Church and Upward Bound.
In Queenstar's words, "The best thing about Notre Dame is the close-knit community and the common thread of service that holds us together. Stay involved and know that being an active member of this community means you will always have a supportive community propelling you forward."
Past Winners
| Year | Winner |
| --- | --- |
| 1999 | Milda Motekaitis DeVoe '90 |
| 2000 | Theresa Giardina Wiseman '90 |
| 2001 | Theresa O'Keefe Armiger '90, M'98 |
| 2002 | Wendy Tribaldos – DePuy '92 |
| 2003 | Marianna Russell C'94 |
| 2004 | Elizabeth Higgins Frost '97 |
| 2005 | Colleen Manley Sisolak '96 |
| 2006 | Roxanne Gladden Miller W'99 |
| 2007 | Michelle Lizardo Kuntz '97 |
| 2008 | Veronique Gugliucciello '98 |
| 2009 | Julie Kline Rybczynski '99 |
| 2010 | Christina Hood Gray '00, M'01 |
| 2011 | Pamela Walters '01, M'03 |
| 2012 | La Vida Cooper '03 |
| 2013 | Lorna K. Hanley M'06 |
| 2014 | Lauren Ackerman '08 |
| 2015 | Nicole Kotulak '09 Ph.D. |
| 2016 | Monique L. Turner '03, PharmD. '15 |
| 2017 | Lori Anderson Pollack '08 |
| 2018 | Erin Smyth Tielsch '09 |