Featured Stories
Reunion 2017 Committee
Farewell to Emilia Porter Success
Upcoming Events & Meetings
Alumnae and Alumni News
#NDMUALUM
Giving Back/Volunteer Opportunities
First Impressions
The Notre Dame Fund
Montrose Society
University News
SSND News
In Memoriam
In the News
Featured Stories
Reunion 2017 Committee Search

Planning for Reunion 2017 –graduation years ending in 2's and 7's - is already in full swing. We are excited to announce Reunion weekend will be September 15-17, 2017. I'm writing to invite you to be one of the representatives from your class on the Reunion Committee! A large, active committee makes reunion planning easier-and it promotes high class attendance. The Reunion 2016 committee had over 25 members and they inspired a very large attendance! With your help, Reunion 2017 will be the best yet!

The class rep position mainly entails reaching out to your classmates to invite them to attend Reunion and contribute to the class gift. There are five planning meetings scheduled for next year, including the Reunion wrap-up meeting in September, and we ask that at least one member of each class be present in person or by conference call at each meeting.

The meeting dates are:
• Saturday, January 21, 2017
• Saturday, March 18, 2017
• Saturday, April 29, 2017
• Saturday, August 19, 2017
• Saturday, September 30, 2017 (wrap-up meeting)

If you would be interested in joining the 2017 Reunion Committee, please contact Lauren Rohrs lrohrs1@ndm.edu. Please see below for a complete list of the current 2017 Reunion Committee.

Chrissy Bolmarcich- Chair, 1997
Judy Dobson, 1962
Mary Helen Lee Norris, 1967
Mary Ellen McFadden, 1967
Kathy Wood, PhD, 1972
Linda Casey, 1977
Kathy Donohue Wilder, 1982
Peggy Markovic , 1982
Beth Borkenheim, 1987
Amy Ciarlo, 1992
Dawn Timmons, 1997
Barbara Makowiecki , 1997
Amanda Isdtein, 1997
Anne Wozniak , 1997
Mary Lee Saarbach, 2002
Steffani (McQuerrey) Oberdalhoff, 2007
Megan Sheppard, 2012
Annie Caporellie, 2012
Saying "Farewell" to Emilia Poiter
Dear Notre Dame alumnae and friends,

It has been my honor to serve as alumnae and alumni director for the past 6 years, so it is with mixed emotions that I will be leaving my role at Notre Dame to accept a position closer to my home in Anne Arundel County.

I am exceedingly grateful to the many alums who have volunteered and offered their support in countless ways. There has been a lot of transition during these 6 years as we became a university and welcomed new leadership. I have been blessed to work with many wonderful women including the Alumnae Executive Board and its many committees (Reunion, Networking, First Impressions, CE Chapter, Young Alums). Notre Dame alums are truly fearless and faithful and I will cherish the friendships I have made for life.

I wish you well this holiday season and into the future.

Fondly,
Emilia Poiter
---
Upcoming Events and Meetings
Young Alum Committee Meeting
Monday, December 12
5:30 to 7 p.m.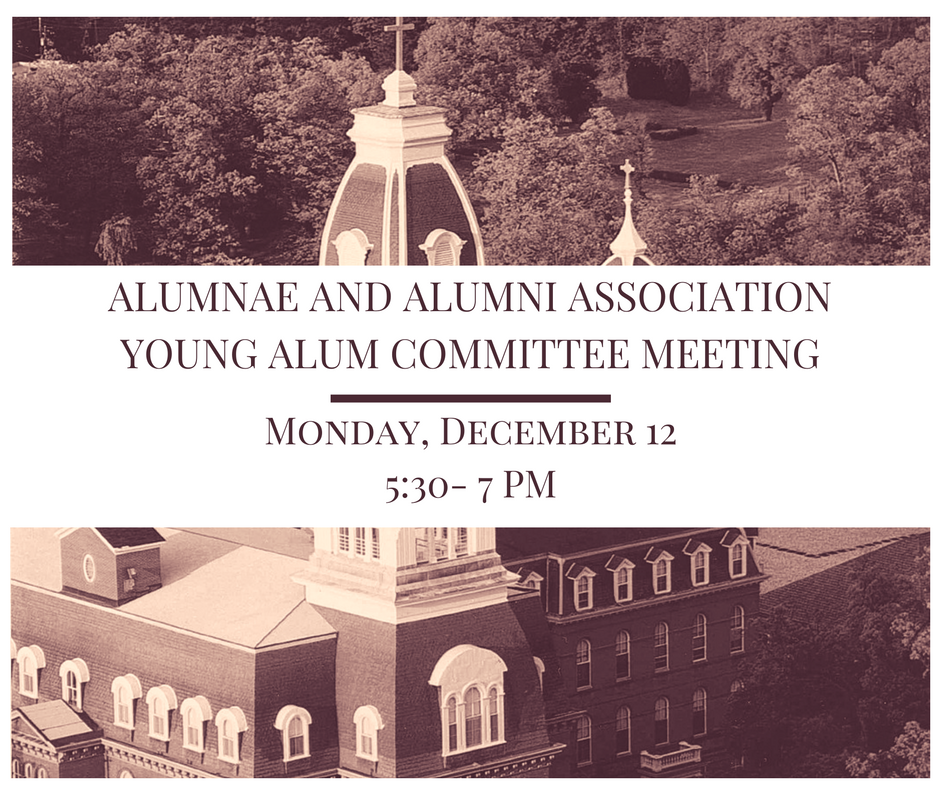 The Young Alum Committee will be meeting Monday, December 12th to discuss upcoming events in the new year! Food and wine will be served.
The Young Alum Committee is open to graduates 10 years out or less. For more information, or to RSVP for the December meeting, please contact Lauren Rohrs (lrohrs1@ndm.edu) and/or visit our Facebook Page!
---
Alumnae and Alumni News
Class Notes
Notable Alums
Notre Dame has a rich history of exciting, successful alums! Check out our "Notable Alums" page to see some of the incredible leaders who have come from Notre Dame of Maryland!
Do you know someone who you think should be included on this page? Email ndmalum@ndm.edu with your suggestions!
---
#NDMUALUM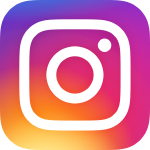 Instagram: #NDMUalums



With two ways to follow us on Facebook, you will never miss a post! "Like" our page "Notre Dame of Maryland University Alumnae and Alumni Association" for updates on upcoming events, opportunities, and photos. Are you a member of the new Young Alum Network Committee? Be sure to "like" our "NDM Young Alum" page for information specific to our young alums.

Are you looking for "pinspiration"? Follow NDMUAlums on Pinterest.

Prefer to get your updates in a snap? Add NDMUALUMS to your Snapchat friends list to keep in touch with the latest happenings at NDMU.

Follow NDMUAlums on Twitter for NDMU news, alum updates, and the latest info on upcoming events

Are you on LinkedIn, the largest professional networking site? Be sure to include Notre Dame of Maryland in your educational background, and follow our page for job opportunities, networking opportunities, and updates on professional events at NDMU.
---
Giving Back/Volunteer Opportunities
First Impressions Program
The First Impressions program is well under way, and will be continuing in the Spring 2017 semester.
Every year, the First Impressions program pairs NDMU students with alumnae working in their field of choice in order to practice interviewing for that field. If you would be interested in serving in this important role, please contact Lauren Rohrs (lrohrs1@ndm.edu).

Thank you to the generous donors who supported Notre Dame of Maryland University on November 29, 2016 for #GivingTuesday! We are honored to have participated in this national day of giving, alongside our fellow community members, as we work together to build inclusive communities, engage in service to others, and promote social responsibility.
There is still time to support in case you missed out!
Each gift matters, just like every student matters. Together we have the power to make a big impact! A high level of participation visibly demonstrates the dedication of our community to Notre Dame of Maryland University. We'll transform the world, one gift at a time.
Notre Dame recently received a 1:1 matching gift challenge from a faithful and dedicated alumna. This means that every dollar of new or increased giving received from Notre Dame alums during this academic year will be matched 100% by this anonymous alumna, up to $20,000!
Make your gift online now: www.ndm.edu/giving
Questions? Or would you like to make your gift over the phone?
Please contact:
Victoria Azera, Annual Giving Coordinator
(410) 532-3197
vazera2@ndm.edu
Have you considered becoming a Montrose Society member?
Why not join the 200+ loyal graduates, friends, faculty and staff by remembering Notre Dame of Maryland University in your estate plans.
Your intention can help to pass on the University's legacy to future generations. For information call Kelley Kilduff at 410-532-3185 or read more at www.ndm.edu/giving/create-a-legacy.
---
University News
Archaeological Tour of Greece June 30-July 13, 2017
Please think about joining Sister Therese Marie Dougherty and Sister Theresa Lamy for a summer experience in Greece. Enjoy modern Greece as you explore its early history. Climb the acropolis in Athens for a close-up view of the Parthenon. Consult the oracle of Apollo at Delphi, Run a race in the stadium at Olympia, birthplace of the Olympic Games. Experience the perfect acoustics of the Theatre at Epidaurus. Be overwhelmed by the awe-inspiring monasteries at Meteora. Complete your visit by sailing to Crete to visit the Palace of Minos, home of the mythical Minotaur. Deposit of $600 is due with your registration form. For further information contact Sister Therese at tdougherty@ndm.edu or 410-532-5559.
#NDMUserves
The office of Campus Ministry and Service has been doing some great things this year! Dr. Lindsay Radice, the new director, and the Campus Ministry team has provided students with unique community service events and opportunities for a better understanding of the world around them. Students come to Notre Dame with a wide variety of faith and service backgrounds. Through daily Catholic Mass, inter-religious activities, and cooperation with a variety of student organizations, we aspire to offer experiences that will meet students where they are and challenge them to develop meaningful and lasting relationships. Here are some of the awesome things our Fearless Notre Dame women achieved this semester: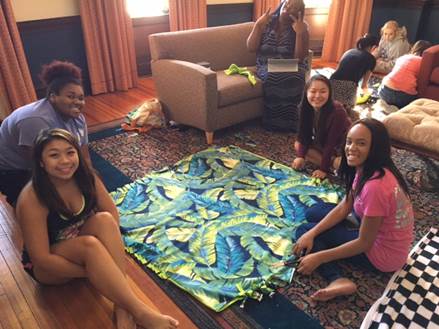 In the beginning of the year, students came out in large numbers to make fleece blankets. These blankets were donated to families in need.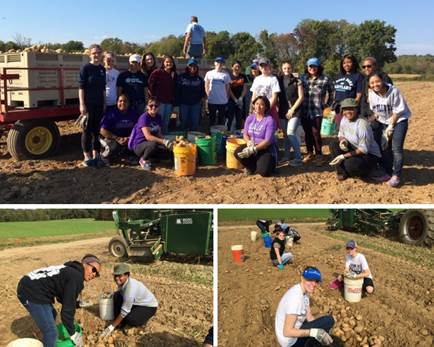 In collaboration with The United Way of Central Maryland, students picked produce that provided meals to impoverished families.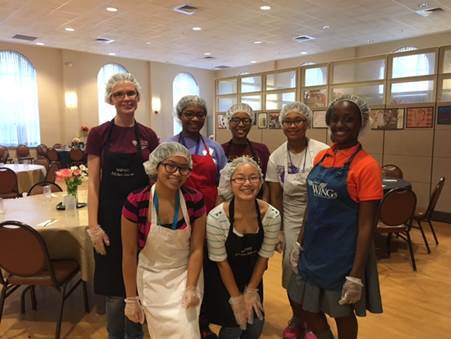 Serving dinner at My Sister's Place Women's Center of Catholic Charities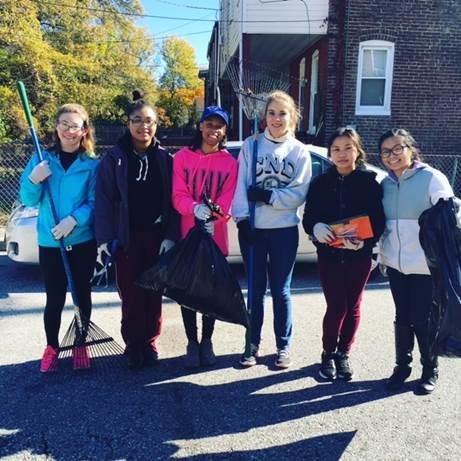 Students worked with Loyola University and community members to clean up the York Road Corridor.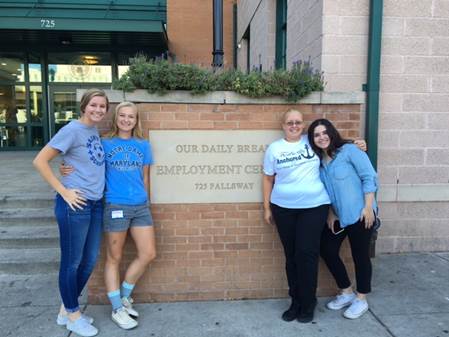 Serving breakfast at Our Daily Bread Employment Center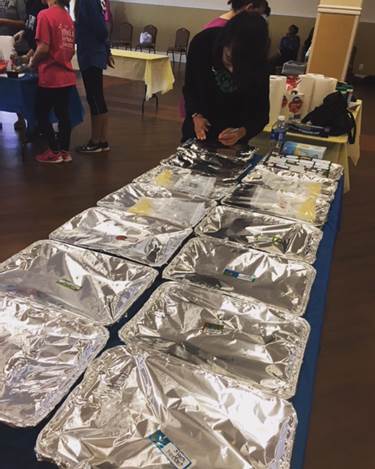 More than 30 students volunteered on campus to make 20 delicious casseroles that were donated to Sarah's House of Hope and Our Daily Bread.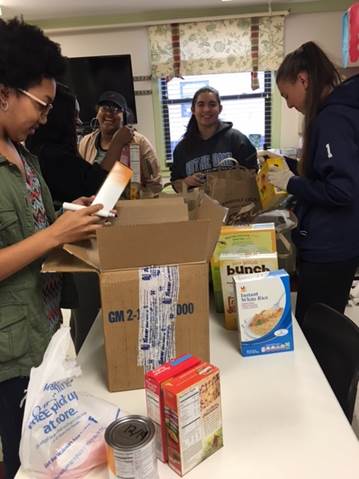 In Fort Meade, Maryland, six students volunteered to serve lunch at Sarah's House of Hope. They organized around 100 items that were donated by students and staff during Notre Dame's Thanksgiving canned food drive.
A Child's Place Preschool for the Youngest Shining Stars at NDMU - 10% discount for Alums!
Spaces available for Fall 2017 classes and Summer Camp 2017!!
At A Child's Place, we promote each child's emotional, social, cognitive and physical development through a holistic approach. Preschool programs for 3, 4, and 5 year olds, including a State-approved kindergarten program and early kindergarten for children with fall birthdays, offer small classes in a nurturing environment where young children play, learn, and grow.

Preschool: September to June
Summer Camp: June through mid-August
Ask about our 10% discount for alums!
Check us out on NDMU's website or call us at 410-532-5399.
---
SSND News
Do you struggle to let go?
So much of life is spent letting go! A child may need to let go of a comforting blanket, a favorite toy, a sick pet. A teenager may need to let go of familiar classmates when entering a new school. A young adult may need to let go of a home state when entering college or the work force. Adults of all ages may need to let go of lifetime goals due to health issues.
There are plenty of times when we are asked to let go of our ideas, concepts, beliefs. After an entire night of fishing and catching nothing, the apostles let go of their expert veteran fishing habits and followed Jesus' morning suggestion about throwing their net on the right side of the boat. Subsequently, they were unable to haul the net in "because of the large number of fish" (John 21:6). Letting go of their former ways of thinking proved quite beneficial for these apostolic fishermen.
It is more difficult to let go of people—changing friendships and life-long relationships, accompanying someone through illness that fractures a former self, attending to a loved one's death.
Jesus sent the Apostles out to teach and to heal with this command: "Take nothing for the journey" (Luke: 9:3). That's a lot of letting go of things in my book! Jesus did not rest on his laurels, even though His miracles were many. He healed a man with dropsy on the Sabbath and then "let Him go" (Luke 14:9).
When a good thing happens, we may find it hard to let go. Mary Magdalene wanted to hold on to Jesus in His Resurrected state (John 20:17). Jesus told her to let go—not for the sake of letting go, but for the sake of going to share the Good News with others. The next time I am called to let go, I will remember that Jesus is near me whispering that command in my ear!
From your trying-to-let-go Soul Sister,
Mary Roy Weiss, SSND
---
In Memoriam
Kitty Cromwell '77
Arthur Kretzschmar M'00
Dolores Lawson' 55
Roberta Bleinberger '40
Eleanor John CE'78
Ave Maria Bareham '52
---
In the News
Gibbons Hall Renovations
Betty Ann Carpenter Obituary
WOW in the News
WBALTV11 - Debbie Phelps Previews Women of the World Festival
MSN - Debbie Phelps Previews Women of the World Festival
CBS Baltimore - People Are Talking: Notre Dame of Maryland University Women of the World (WOW!) Festival
MSN - People Are Talking: Notre Dame of Maryland University Women of the World (WOW!) Festival
WBAL - Debbie Phelps Headlines Women's Festival In Baltimore
The Baltimore Sun - Two-day WOW festival aims to celebrate, inspire women
The Baltimore Sun - The Week's 10 Best
The Daily Record - Women of the World festival in Baltimore this weekend
Baltimore Magazine - Weekend Lineup: Oct. 7-9