Psychologist CE Seminar: Dialectical Behavior Therapy for Substance Use Disorders
Friday, October 13, 2017
NDMU, Knott Auditorium
4701 North Charles Street, Baltimore, MD 21210
$89.00
The APA approved continuing education seminars are relevant for all mental health disciplines including psychology, professional counseling, social work, and psychiatry.
Dialectical Behavior Therapy (DBT) is a specialized behavior therapy that treats patients who suffer from disorders related to emotional dysregulation. Emotional dysregulation is a component of substance use disorders. DBT is based on a dialectical worldview and balancing acceptance and change.
As a treatment, DBT focuses on restructuring cognitions to be more in alignment with a dialectical worldview and treats motivational and skill deficits which interfere with patients' effective living. This continuing education seminar is designed to provide clinicians with the theoretical framework of DBT with a specific view of substance use disorders through the lens of DBT. Participants will learn how to use DBT approaches in the treatment of substance use disorders. Since DBT is an ancillary treatment, approaches for integrating DBT into a comprehensive treatment plan will be discussed.
APA Approved
Notre Dame of Maryland University is approved by the American Psychological Association to sponsor continuing education for psychologists. Notre Dame of Maryland University maintains responsibility for this program and its content.
Contact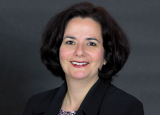 Maria Mouratidis
Professor/Chair