Table of Contents
Summer Programs and Events
Spotlight
Alumnae and Alumni News
Class Notes
From Our Archives
The Notre Dame Fund
University News
In Memoriam
SSND News
Stay Connected to NDMU
---
Summer Programs and Events
One of Maryland's Biggest Career Fairs is Open to You
NDMU is a member of the Maryland Career Consortium (MCC) and it is holding its annual MCC Career Fair on June 1, 2018, 11:30 a.m. – 3:30 p.m. at UMBC's Retriver Activities Center. The career fair is one of Maryland's largest and is open to NDMU alumnae and alumni as well as enrolled students. Meet over 100 employers from a variety of industries who are eager to fill positions. Prepare your resume, dress professionally, and be ready to talk about your skills and qualifications!
Information for job seekers, along with the recommended RSVP form and a map to the event, is available on the MCC website. FREE campus parking will be available for all candidates on site. Questions may be directed to Susan V. Plitt, MBA by phone at 410-455-2216 or plitt@umbc.edu.
NDMU in the Community: Volunteer for Adelante Latina!
Adelante Latina! is the first after-school, college-bound program for Latina girls in Baltimore. We are in need of volunteer tutors.
Where: Esperanza Center at 430 S. Broadway (corner of Eastern Ave).
When: Once a week on Tuesdays or Thursdays from 4:15-6:15 p.m. Starting in mid-September and continuing until early June 2018, with City Public School vacation breaks and snow days.
Goal: To improve English composition, reading comprehension and writing skills of high performing, low income Baltimore City high school sophomores, juniors and seniors. Adelante Latina! is a 3-year, college prep program. Tutoring is one-on-one, preferably with the same student throughout the year and, hopefully, for all three years.
Tutor Qualifications: Excellent English language skills, tutoring skills, ability to get along with teenage girls. No knowledge of Spanish is required, as English is their primary language. Tutoring sessions are one-on-one or, at most, two students per tutor. Three of our 28 students have only been in this country for 2-3 years and would require a tutor with ESL teaching experience.
Time Commitments: Once a week, on either Tuesday or Thursday, from 4:15 p.m. to 6:15 p.m.
Visit the website to learn more, or contact Leonor Blum, Professor Emerita, Notre Dame of Maryland University, at 410-591-0547, blumle@aol.com or lblum@ndm.edu.
NDMU's English Learning Institute
The English Learning Institute provides intensive English language training to non-native speakers. Students who complete this program enrich their careers and are better prepared to study in colleges and universities in the United States. The program's next 5-week session begins on August 20, 2018. The deadlines to register are July 16th for visa applicants and July 30th for local applicants. Learn more.
Summer alumnae and alumni gatherings are in the works! Message the Office of Alumnae and Alumni Relations with your ideas and watch this space for updates.
Reunion 2018: October 5-7
Reunion 2018 is just a few months away and registration is now open! Reunion is for everyone and this year especially highlights alums in class years ending in 3 and 8. We hope you will join your classmates for traditional events like the Reunion Luncheon and new gatherings like Classy Connections, a President's Town Hall, and a workshop with the Women's Leadership Institute of Baltimore.
Reunion is affordable but don't wait to register! Early-bird pricing ends Thursday, September 27.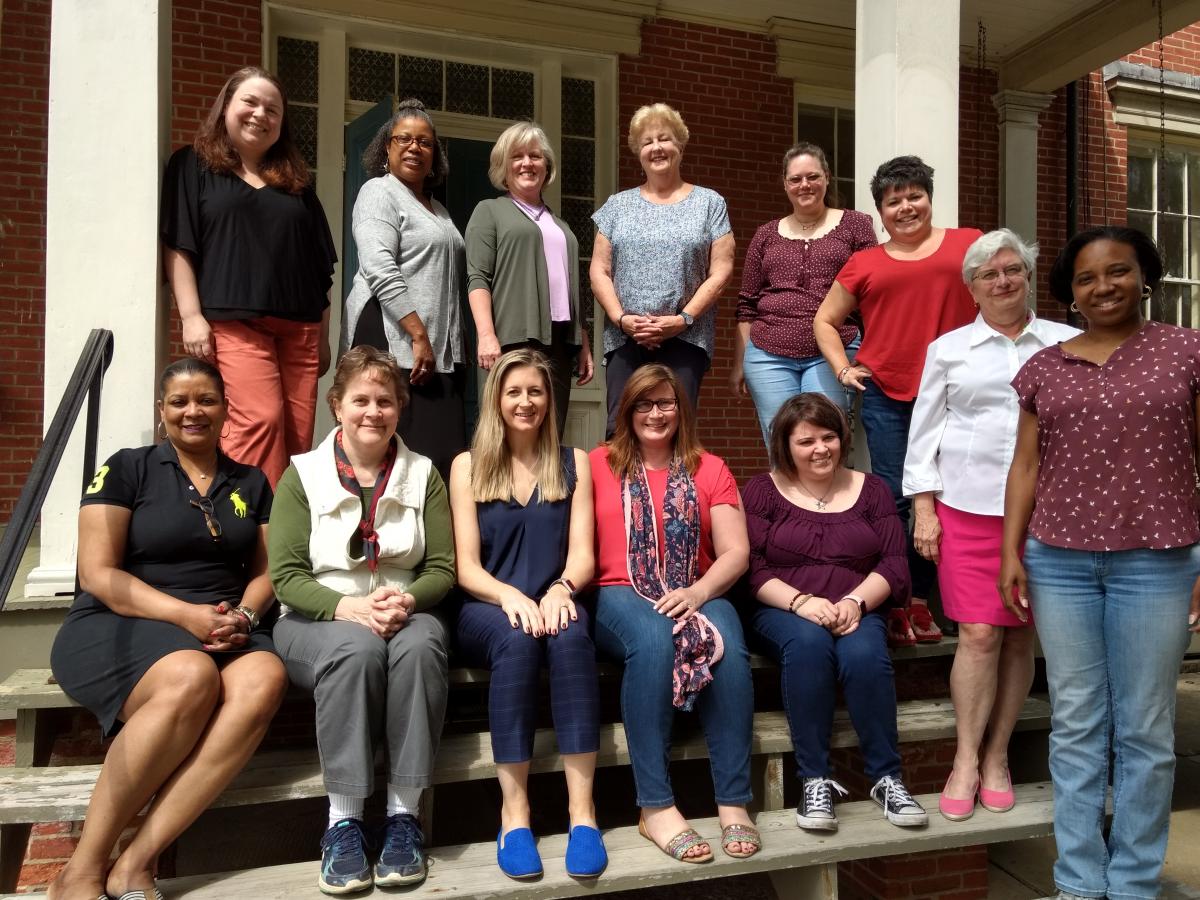 ---
Spotlight
Through this section we aim to connect you to recent additions or familiar campus faces in a new way! In this issue we are pleased to highlight Dr. Sabita Persaud, Associate Professor and Associate Dean of the School of Nursing.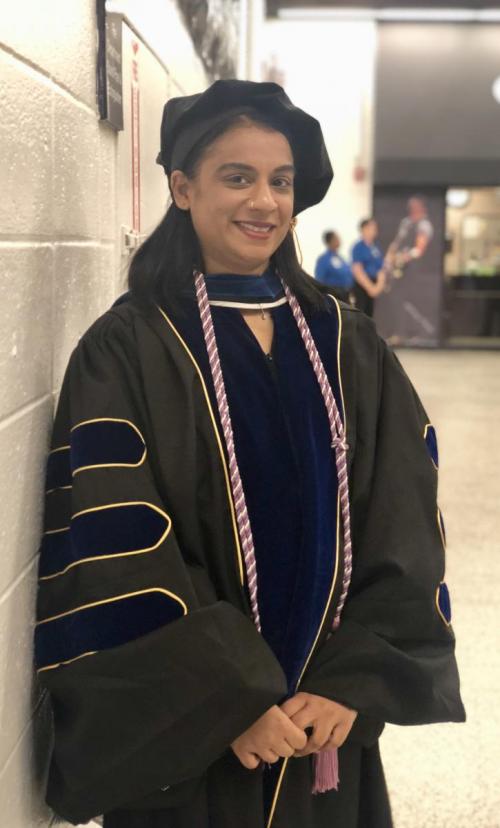 Sabita, congratulations on being named to The Daily Record's 2018 Top 100 Women list!
How long have you been at NDMU? What first drew you to this community?
I have been at Notre Dame for six years but NDMU and the SSND's have been a part of my life for over 25 years. I grew up in Baltimore City, not too far from campus, and am a product of Baltimore City Public Schools. I attended St. Pius X for middle school and have very fond memories of the SSND's. I recall Sr. Alvita being the first person to let me know it was okay to be ahead of the pack and for girls to own their intelligence. Through diagramming sentence after sentence with Sr. Eugene for hours on end, I learned the importance of detail and depth in everything that I do. Sr. Valeria taught me the importance of laughing and how far a simple smile or hug can go. It has only been recently that I realized the foundation that all of the SSND's laid at such a young age.
As a Junior at the Baltimore Polytechnic Institute, I was accepted into an NIH sponsored summer program for minority high school girls interested in STEM at Notre Dame. That summer I lived in Meletia Hall and participated in all sorts of STEM related activities. As a result, I developed a connection to NDMU and my passion for ensuring young women of color are exposed to possibilities as early as possible.
The mission of NDMU and the SSND's is what drives everything that I do in my personal and professional worlds. I am so thankful to be a part of this community!
How do you spend your free time?
I have three very busy children that consume much of my time. Nirvana is a rising Senior at York College of Pennsylvania majoring in Environmental Science and Public Policy; Dhiren will be starting Plebe Summer at the United States Naval Academy at the end of June; and Kiran will begin high school in the fall. All three are active in sports and activities, so I spend quite a bit of time on the road traveling to see them in action.
When I am not with them, I am probably binge watching something on television. I love reality television - I know, I know. In my defense, I think that reality television gives so us much insight in to popular culture and gender roles in society.
I also try to exercise regularly to compensate for all of that TV time! Last year, I began hiking on a regular basis and am working on my goal to hike 150 miles in 2018. In between hikes, I make sure to do some sort of physical activity at least four days a week.
You care about many important social issues and take on roles to help make a difference. What are some of those causes? How do you balance volunteering, work, family, and time for yourself?
Currently, I am really involved in Krish Vignarajah's campaign for Governor. This is the first time I've been directly involved in a campaign and am having a great time! For me, win or lose, it is important to not only support the only female candidate but also join her.
I volunteer with the Girl Scouts of Central Maryland, St. Vincent de Paul Head Start, and Prince Georges County foster care services. I enjoy being grassroots and working directly with clients and community members. As a nurse, those personal connections are the foundation of my practice. However, I also serve on advisory boards in the community so that I can share my insight on program planning and evaluation. I am the current President of the Maryland Board of Nursing.
I have come to the realization that life isn't about balance but more about harmony. When I was pursuing balance, I always felt that I was shortchanging something or someone - family, work, service, or self. As I began to pursue harmony, everything began to fall into place. To me, harmony means being totally present with whatever has or needs my attention at the time. I also try to integrate as many of my activities as I can. For example, I take my children to volunteer with me or invite them to join me on a hike. It is a definite shift in how many of us approach life, but it has made the world of difference.
What advice can you share with alumnae/alumni and current students?
SAY YES! So often, opportunities present themselves and we find a million reasons why we shouldn't purse them. I was guilty of this for many years. I found myself declining opportunities or not pursuing them because I had myself convinced I couldn't and shouldn't. The day that I decided to SAY YES to everything, the world opened up. I haven't been able to participate in every opportunity that has come my way, but that is okay. I have been able to choose those that are right for me at the moment. If the opportunity is meant to be, things just seem to fall into place. Pursue every opportunity and then decide if you can make it work, instead of automatically ruling them out.
---
Alumnae and Alumni News
Alumnae and Alumni Award Nominations: Due Friday, June 15
We all know alumnae and alumni who are doing excellent work in their fields, their communitities, and on campus while demonstrating the University's mission. Now is the time to recognize their accomplishments. Nominations are being accepted for any of the following awards:

Nominations are welcome from any member of the NDMU community: alumnae, alumni, faculty, staff, and students. However, no self-nominations will be accepted. All nominations remain active for 5 years. Nominations are highly confidential and nominees are only notified if they have been selected as a recipient. Nominators and recipients are notified of the selection in early August.
Alumnae and Alumni Awards Nomination Form
---
Class Notes
Anna Marlis Burgard '86 has written a new book titled "The Beachcomber's Companion: An Illustrated Guide to Collecting and Identifying Beach Treasures" (Chronicle Books) that is now released! The book was drawn from her visits to more than 100 of the 17,000 U.S. islands, which are documented in the multimedia site Islands of America: A River, Lake and Sea Odyssey.
Helen Contreras, rising senior and Business major, will be the second NDMU student in the past 10 years to attend Ewha Woman's University International Summer College through an exchange program between NDMU and Ewha. The program runs from June 24, 2018 - July 25, 2018.
Missy Evans-Moreland '84 received the President's Medal from Notre Dame in 2017. This medal represents "outstanding personal qualities and/or professional accomplishments which exemplify the ideals and values expressed in the mission of Notre Dame of Maryland University." Read more about Evans-Moreland and her work with Notre Dame!
Have a life-update to share? Want to announce a promotion or job change? Write a class note! Class notes are brief, 1-3 sentence updates shared with the larger NDMU community. Send your note to ndmalum@ndm.edu.
---
From Our Archives
We have been sifting through archives recently and came across a College of Notre Dame cookbook. Delicacies from Dame, published in 1986, is a compilation of recipes from alumnae across the decades and across the country. The book includes appetizers, main dishes, sides, desserts, and more. We were intriguied enough to try one of the recipies. With summer quickly approaching, it seemed fitting to sample the recipe for Frozen Raspberry Pie, contributed by Marty McGorry Algermissen '46 and Charlotte Bodenlos Seth '64.
Elissa Robinson, Alumnae and Alumni Relations program coordinator, recreated this recipe with a gluten-free crust. The ingredients perfectly blend together to create a tangy, sweet, rich combination.
Frozen Raspberry Pie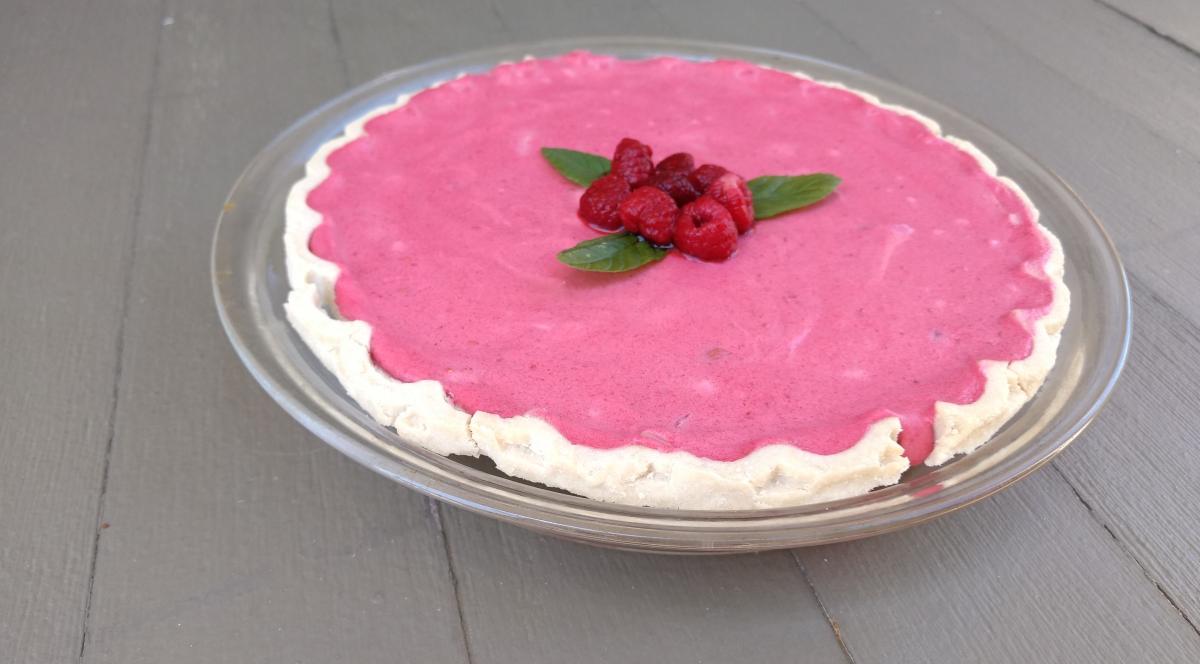 Ingredients
10 oz. pkg. frozen raspberries
1 c. sugar
2 egg whites (at room temperature)
1 Tbsp. lemon juice
Dash of salt
1 c. whipping cream, whipped (may subsitute with dairy-free whipping cream)
¼ c. chopped roasted almonds
Baked 9 inch almond pie shell (added ½ tsp. almond extract to pastry)
Mint leaves, for garnish
Directions
Thaw raspberries and reserve a handful for garnish. Combine the majority with sugar, egg whites, lemon juice, and salt. Beat for 15 minutes, or until stiff. Fold in whipped cream and almonds. Mound in a baked pie shell and freeze until firm. Garnish with reserved raspberries and mint.
If you try this recipe, we would love to hear about your experience! Message us at ndmalum@ndm.edu.
---
Notre Dame Fund
Notre Dame's fiscal year ends on June 30, 2018. As we approach the end of another great year, we hope you'll consider supporting NDMU with a gift to the Notre Dame Fund.
The Notre Dame Fund helps make extraordinary experiences possible at NDMU. Every gift matters and makes a difference. Gifts to the Notre Dame Fund strengthen Notre Dame's standard of excellence in teaching and student achievement by funding vital programs and services not afforded by tuition payments.
The entire Notre Dame community benefits greatly when more alumnae and alumni participate in giving to Notre Dame each year, because:
High rates of participation reflect our alumnae and alumni's support of the university's mission and your desire to remain connected to Notre Dame.
Publications like U.S. News and World Report consider undergraduate alumnae and alumni participation when determining Notre Dame's national college ranking each year. These rankings heavily influence how third parties view Notre Dame and affect the university's ability to secure grants from corporations and other organizations.
We hope that you will support NDMU by making a gift today!
---
University News
Commencement
Our Alumnae and Alumni Community just got bigger! NDMU is proud to send the class of 2018 into the world to accomplish great things: to transform the world. We were inspired by our keynote speaker, Dr. Susan Love, who said there are three r's that are critical to staying relevant as you go through life: resiliency, reinvention, and relationships. We are looking forward to hearing the life lessons that our new graduates uncover. Please welcome them when you see them at Reunion, through alumnae and alumni events, and connect with them in your area!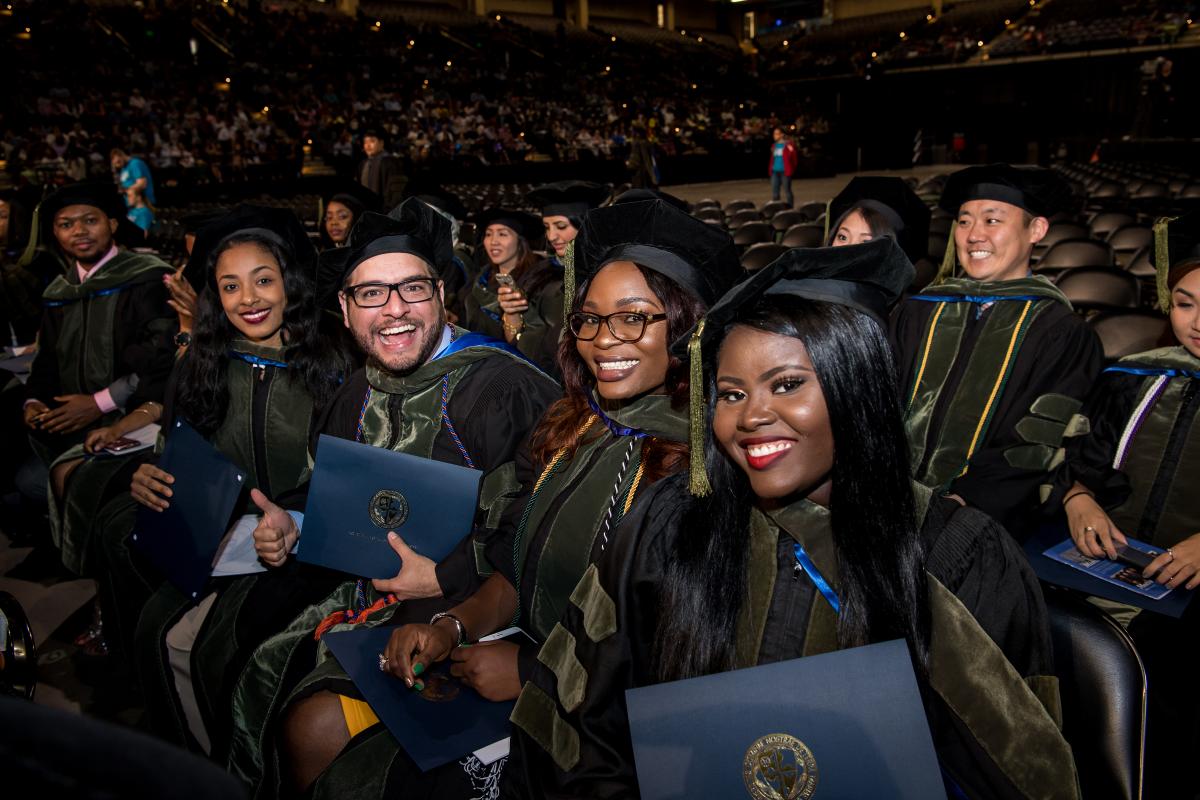 MyNDM
Attention MyNDM users: We have upgraded to a new database and no longer use MyNDM. Over the years, MyNDM has been primarily used to update contact information. And in recent years, more and more updates have been coming to us through email and phone. If you would like to update your information or know someone who should, please contact the Office of Alumnae and Alumni Relations directly at 410-532-5201 or ndmalum@ndm.edu. If you wish to be in touch with a fellow alum, please contact our office and we can help connect you.
Visiting Ambassador Program
On April 10, 2018 Notre Dame held the 4th Annual Joan Develin Coley Visiting Ambassador Program featuring Ambassador Extraordinary and Plenipotentiary of the Hashemite Kingdom of Jordan to the United States of America, Dina Kawar.
Ambassador Kawar spoke candidly about her career as a woman in international politics and how hard work and commitment helped her achieve her goals. As does NDMU's mission, Ambassador Kawar encouraged our audience to continue to support women and understand that the engagement of multiple perspectives creates a holistic approach that better informs decision making. She went on to say that diplomacy still plays an important role in improving our world.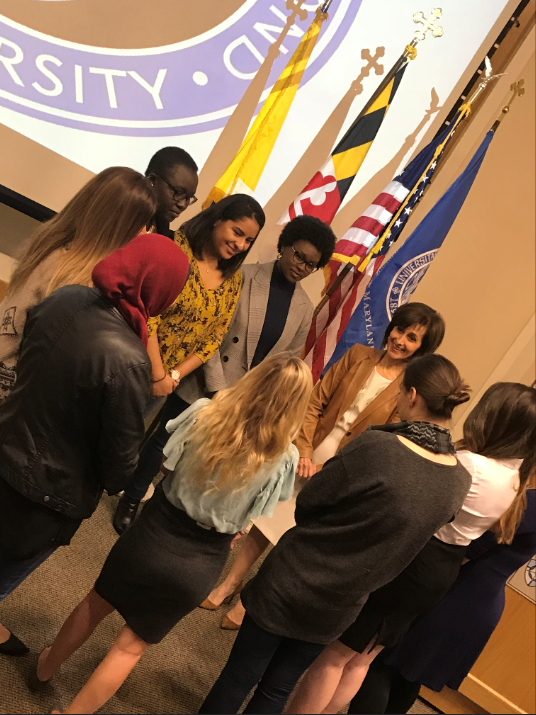 Nancy Kreiter Student Research Day
On April 20, 2018, NDMU held the Nancy Kreiter Student Research Day, named after the late Dr. Nancy Kreiter. Students from every NDMU school presented their outstanding projects from photo spreads to literature reviews to physics experiments. Research Day offers guests a unique opportunity to view an array of studies at a glance...and an opportunity to say "I'm #NDMUproud!" Awards were announced at the end of Research Day.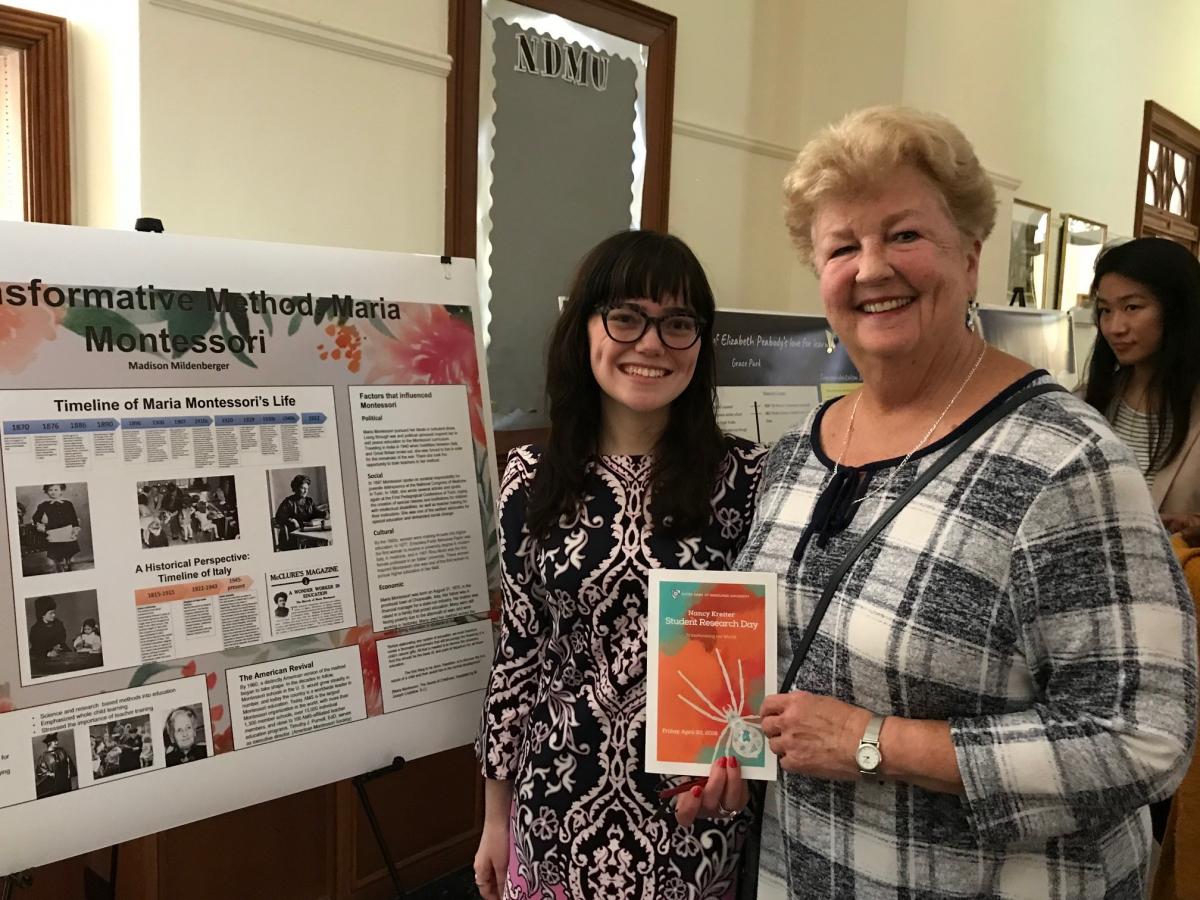 WOW Baltimore 2018
On April 28, 2018 NDMU hosted the Women of the World (WOW) Festival Baltimore. WOW is a festival that brings together the greater Baltimore community to celebrate women and girls as forces of positive change. This is a momentum-spurning festival and on campus we are still feeling the buzz! From local to national speakers, the festival embodied a spirit of inclusivity, strength, fun, and growth. Relive the day with photos found on NDMU's flickr page.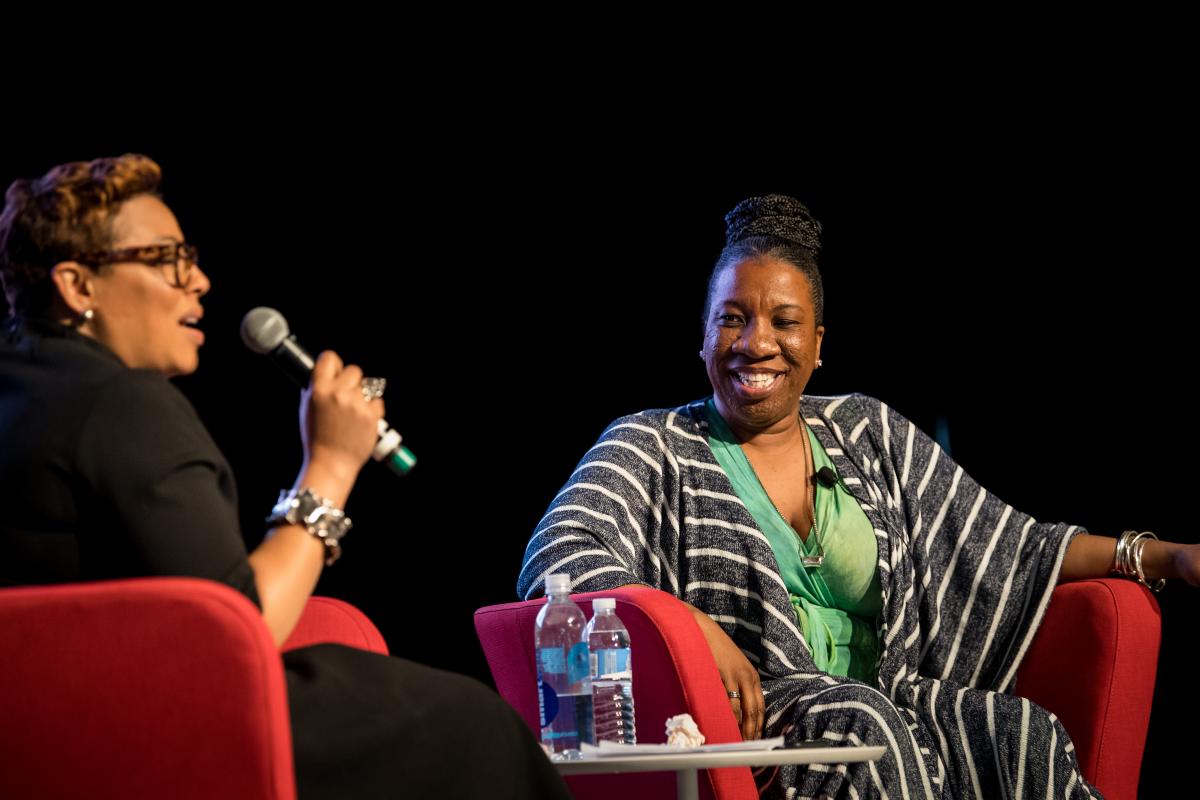 Common Read
The University Common Read Program fosters a shared intellectual experience for the entire NDMU community. The 2018-2019 book will be Girls Like Us by Rachel Lloyd. Ms. Lloyd will be on campus November 6, 2018 to discuss her work with our community. All are welcome to attend and more details will be available in the fall.
---
In Memoriam
Ladonna Baginski '66
Marie Dombrowski '49
Mary Stevenson Fitzgerald '58
Cathleen Gill '65
Carolyn Gessler Kornick '49
Barbara Ann Morris '83
Margaret Rohe '64
Carolyn Thuman '54
---
SSND News
Sister Mary Fitzgerald presented "Developing Faith and Spirituality as Catholic School Leaders" at the Convention of the National Catholic Educational Association in Cincinnati on April 3, 2018.
Notre Dame of Maryland University's "Academy of Catholic Educators" (ACES) was awarded the Dr. Karen M. Ristau Innovations Award at the Convention of the National Catholic Educational Association in Cincinnati. The award was presented to Gail Donohue, Program Director, on April 2, 2018 at the President's Dinner. Sisters Sharon Slear, Provost, and Sister Mary Fitzgerald were in attendance.
Sister Helen Amos, RSM recieved the 2018 CBNB Catholic Business Leadership Award from the Catholic Business Network of Baltimore.
Please hold the date of Sunday, October 7, 2018 for the annual SSND Family Chapter Breakfast, during Reunion Weekend.
---
How to stay connected to NDMU
Did you move? Change your email address? Just want to check to see if we have accurate information? We periodically send email and/or print mailings your way and the best way to make sure they land is to verify an address. We have updated to a new system and no longer use MyNDM. To share an update, please contact the Office of Alumnae and Alumni Relations at 410-532-5201 or ndmalum@ndm.edu.
NDMU also has an active presence on Facebook and Twitter. It's a way to share information instantly and connect with fellow alumnae and alumni. Like and follow the pages for the most immediate updates!
Facebook
Twitter
---
Tower Talk 2017-2018
This publication has moved to a bimonthly schedule. This issue covers news for May and June. The next issue will cover July and August and will be available close to the start of August 2018.