Table of Contents
Reunion Weekend
125th Anniversary
University News
Giving
In Memoriam
Volunteer Opportunities
SSND News
Stay Connected to NDMU
Reunion Weekend: September 6-8, 2019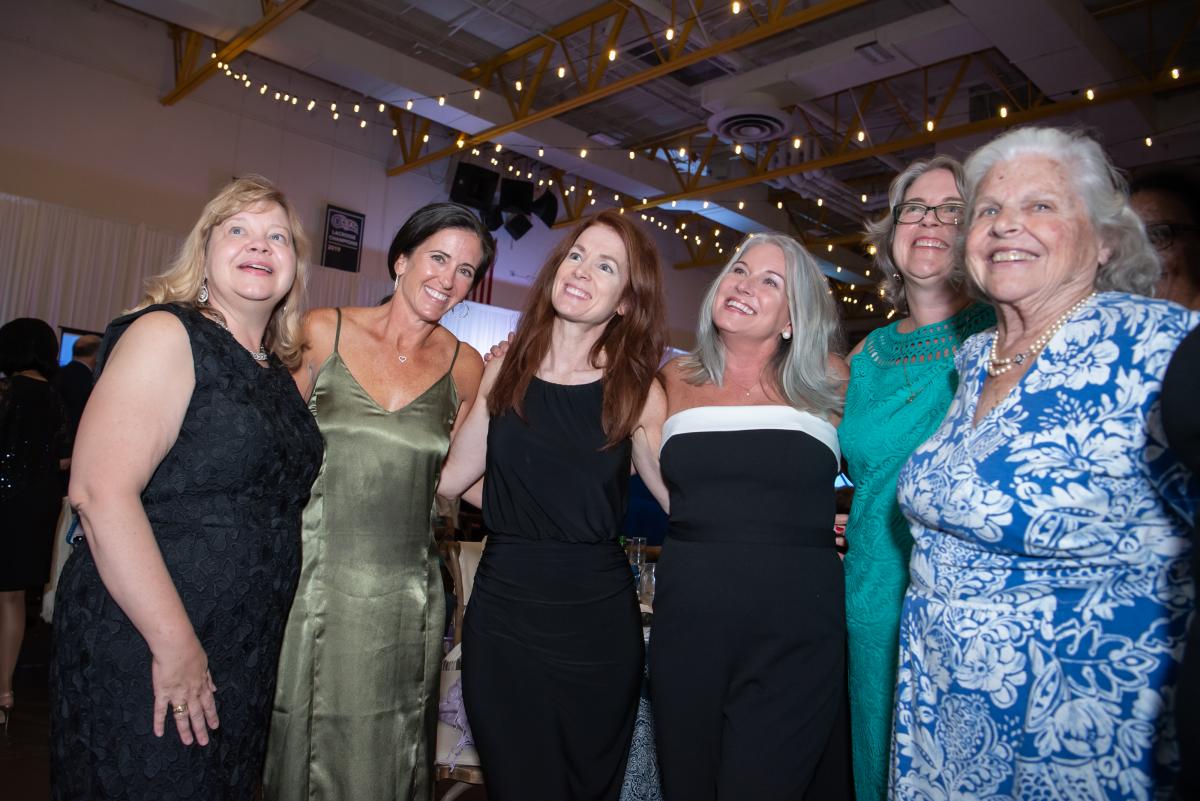 What a way to kick off the 125th anniversary! Notre Dame welcomed over 375 alumnae, alumni, and their families back to campus for Reunion on September 6-8, 2019. It was a memorable weekend filled with excitement and learning. Friday night's 125th Celebration was a special moment to reflect and celebrate Notre Dame's rich history. We are pleased to honor alums during this weekend. Congratulations to this year's alumnae and alumni awardees and Athletics Hall of Fame inductees:
The Elizabeth P. Hoisington '40 Distinguished Alumna Award:
Group Award:

Victoria M. Genco Bell '69
Julie Courtney Ben-Susan '69
Andrea R. Bowden '69
Cathryn Archibald Curia '69
Mary Ellen Vanni '69
Service to Society Award:
Sara Martinelli de la Guardia '69
Regina Russo Hammel '41 Outstanding Recent Graduate Award:
Queenstar Akrong '14
Alumnae and Alumni Engagement Award:
Mary Ellen Steiner Gunther '54
On Saturday, Alums had the opportunity to learn more about current students in the reverse mentoring sessions and listened to experts present on their field of study during the TEN Talks presentations, both new events at Reunion. Alums ended the evening by socializing at the Beer and Wine Tasting on Knott Lawn before gathering for the Taste of Maryland dinner in MBK.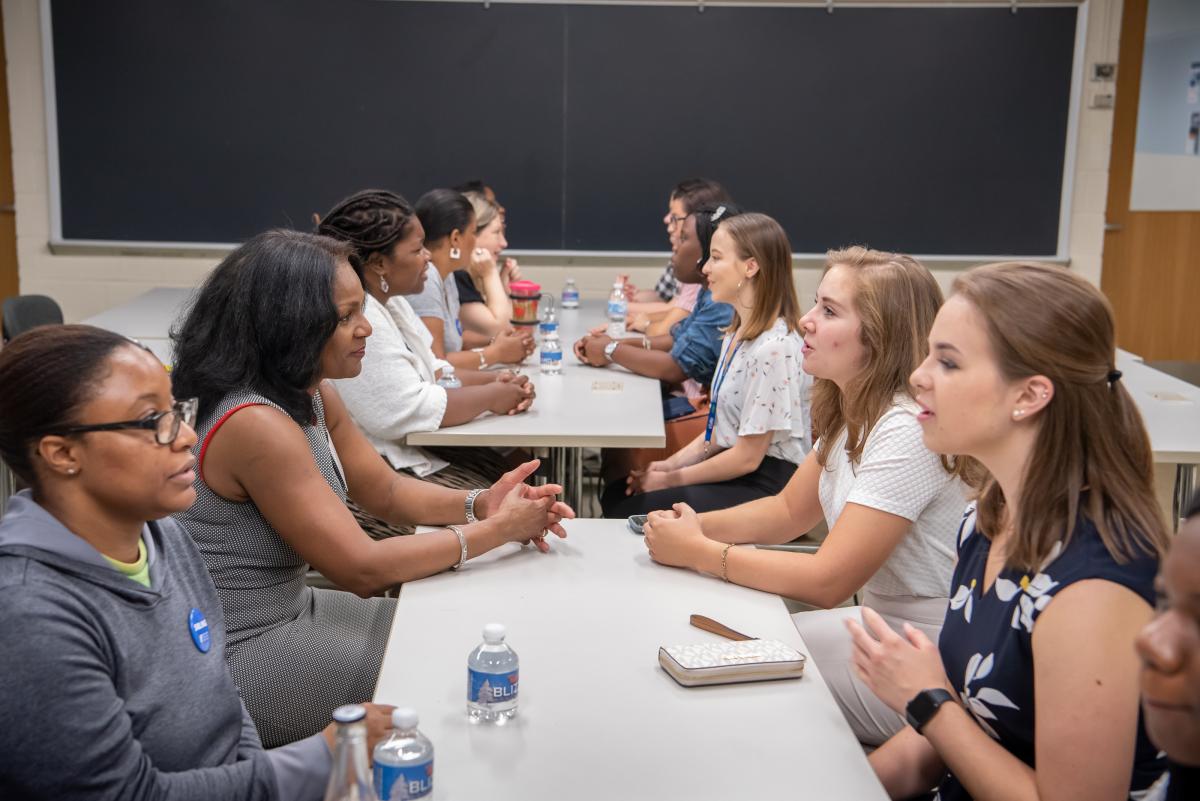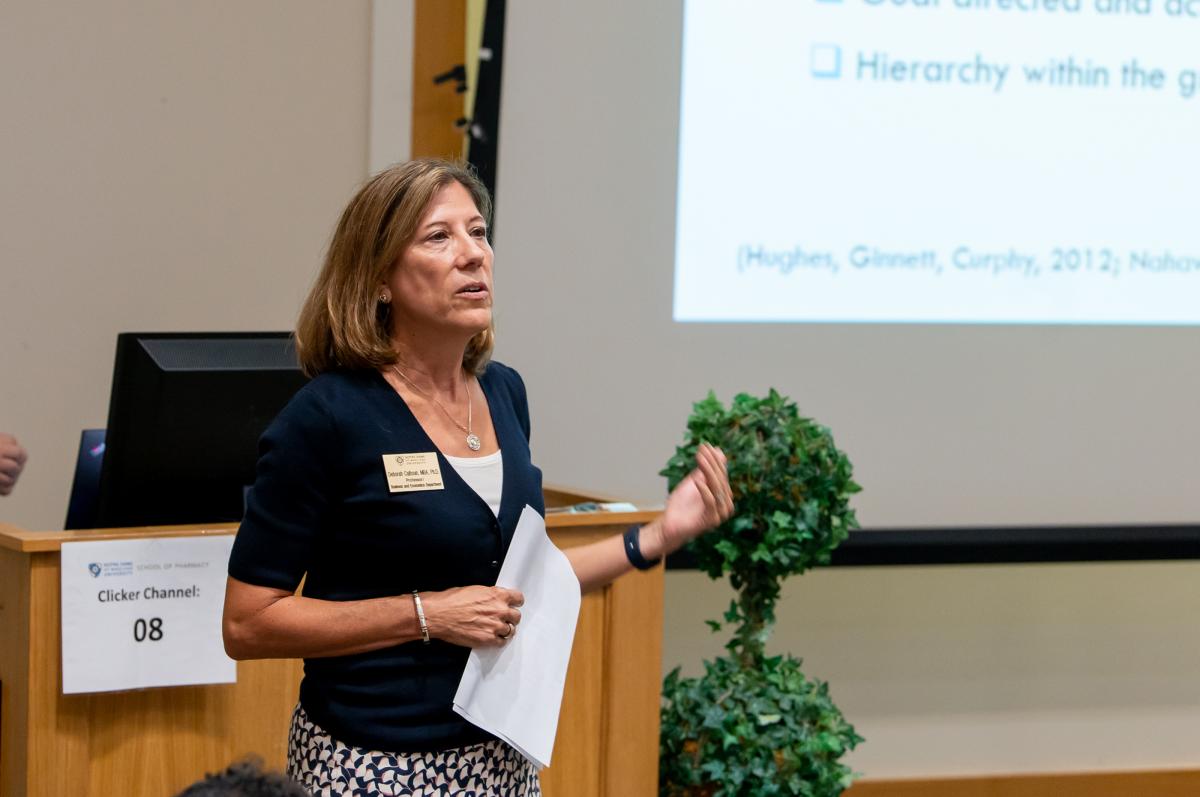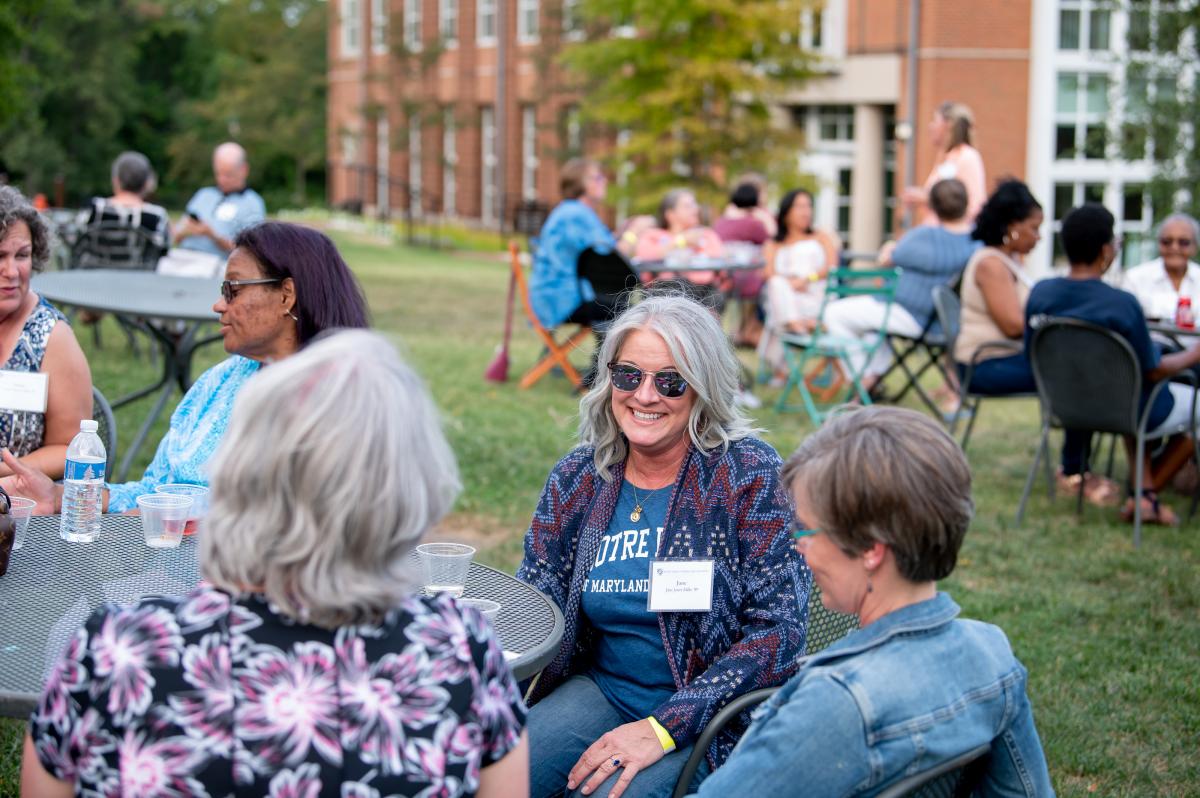 The weekend concluded with a very special 125th Anniversary Mass, with a welcome by Charmaine Krohe, SSND, a provincial leader, and celebrated by Most Rev. William E. Lori delivered an inspiring liturgy. You can find Sr. Charmaine and Most Rev. Lori's remarks here.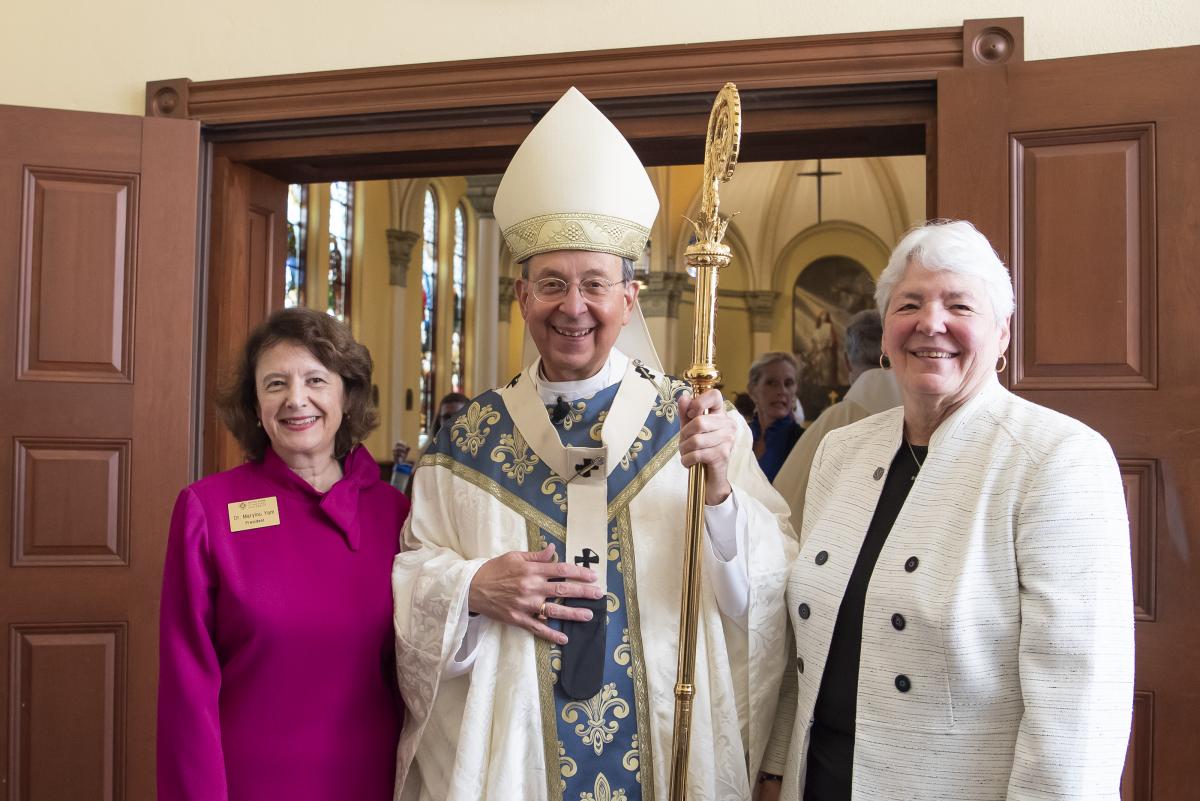 A big thank you to the student leaders who made Reunion so spectacular. You may have spoken with them at the registration tent or at some of the events. They really enjoyed seeing you and getting a glimpse into alumnae and alumni life.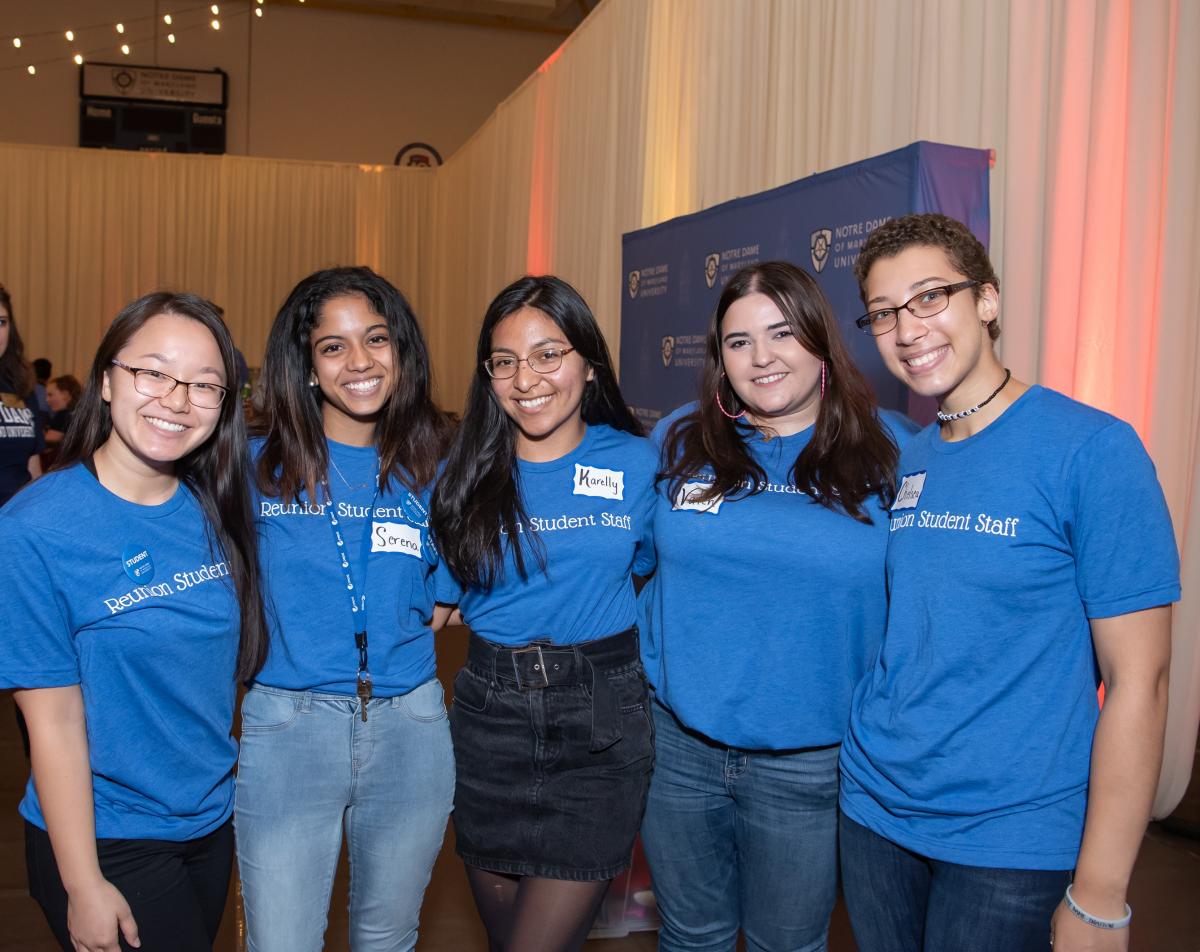 "As a senior graduating soon, it is so amazing to see how close the bonds still are after 50 years of friendship. I can only hope that my memories here at Notre Dame and the friends I have made along the way will be just as strong!" – Keira Mull '20
"My experience during the Reunion Weekend was great. It was nice seeing alumnae and alumni catch up with their friends. I also liked the fact that our [alums] give back to the NDMU community, participate in events, and keep up with changes. Speaking with an alumna, she was so impressed by changes and diversity in the NDMU community. I was glad she said that because that means that the NDMU community is improving."
– Johnitta Amihere '21
"As a child, I saw my own cousin attend her reunion and I watched in awe of the various people she knew and also was greeted by many of the kind people she knew. Working at the Reunion was such an amazing experience for me. It helped me with communication skills, but it also helped me connect with people I knew. I am so glad I was able to be a part of such an amazing event." – Serena Paul '23
Photos from the weekend are now available.
Save the dates for future reunions!
2020
September 25-27
2021
September 24-26
---
125th Anniversary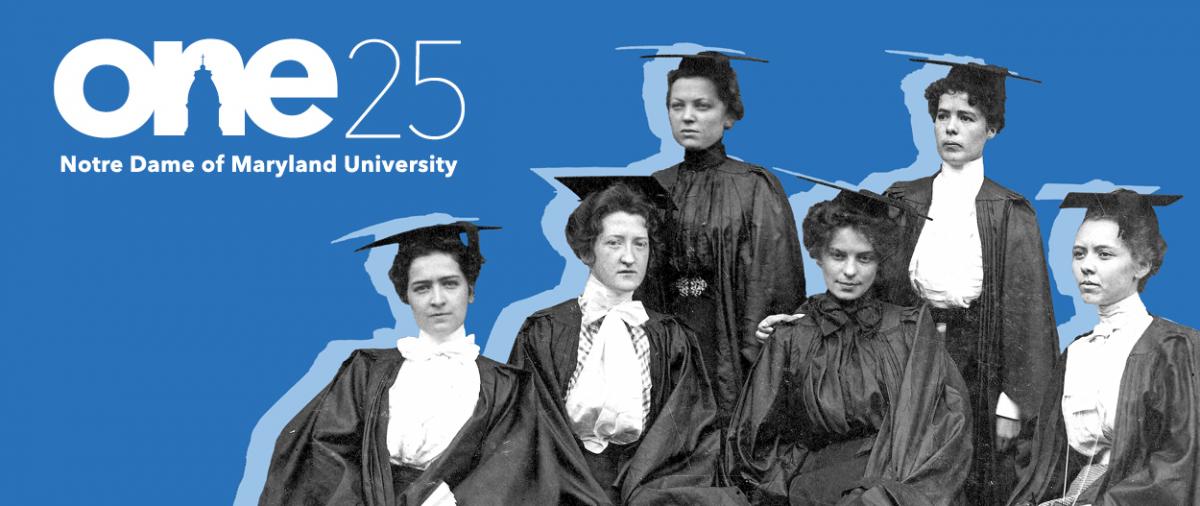 The 125th anniversary website is live! Thank you for being a part of Notre Dame's rich history, supporting the mission of the founding School Sisters of Notre Dame. During the next 18 months, you'll have the opportunity to:
Host a 125th anniversary party in your region. We'll provide the supplies! Let us know if you'd like to Volunteer webpage.
Travel through the University's history of unity and strength at the Alumnae Exhibition in Gormley Gallery. The exhibit showcases the incredible work of more than 40 alumnae artists now through October 11.
Visit the Loyola Notre Dame Library to view their special collection of scrapbooks from Classes 1908-1951 to commemorate the 125th anniversary. The Pages from the Past exhibition will be held in the Gallery space on the first floor of LNDL now through October 20.
President Marylou Yam and local NDMU alumnae, alumni, and friends will gather in several cities across the country to celebrate our anniversary!
125th Anniversary Party: New York City
Join President Marylou Yam and local NDMU alumnae, alumni, and friends to celebrate our anniversary! Hosted by Susan Gardiner Larkin '65 and Judy Murphy Norton '65.
Wednesday, October 23, 2019
6:00 pm to 7:30 pm
Penn Club
30 West 44th Street, New York, NY 10036

RSVP by Tuesday, October 15 via the form online or contact Shannon Austin at saustin@ndm.edu or 410-532-3163. Registered guests will receive an email with additional event details on or about Monday, October 21.
125th Anniversary Party: Washington, DC
Wednesday, December 11, 2019
6:00 pm to 7:30 pm
Council for Advancement and Support of Education (CASE) Headquarters
1307 New York Avenue, Washington, DC 20005
RSVP by Wednesday, December 4 via the form online or contact Shannon Austin at saustin@ndm.edu or 410-532-3163. Registered guests will receive an email with additional event details on or about Monday, December 9.
Visit the events calendar to find more information on upcoming events.

---
University News
Common Reading Program
Join the NDMU community by taking part in the annual Common Reading Program. This year the University has selected Tell Me How It Ends by Dr. Valeria Luiselli who was recently awarded a prestigious MacArthur Genius Fellowship. In the novel, Dr. Luiselli shares her experiences as an interpreter for Central American child migrants. Tell Me How It Ends was selected as this year's Common Read because the book's themes of identity, community, and what it means to belong closely align with University's mission. We hope all will join our first-year Women's College students' in our tradition.

Notre Dame will host Dr. Luiselli on Thursday, October 3 at 6:00 p.m. in LeClerc Auditorium. The event is free and open to the public.
Networking Committee Event
The Networking Committee is hosting a Bingo Night Happy Hour on October 16, 2019, at Michael's Café in Lutherville-Timonium. What a great opportunity to reconnect with classmates and have fun. The first round is on NDMU!
This event is open to all alumnae and alumni!
Women Writers Series
The S. Maura Eichner Endowed Professorship of English is hosting their second Women Writers Series, in honor of Sister Maura Eichner '41. Please join the NDMU community in welcoming author Sandra Cisneros for a reading and discussion. Cisneros is best known for her book, The House on Mango Street.

The reading and discussion will take place on October 17 at 7:00 p.m. in LeClerc Auditorium.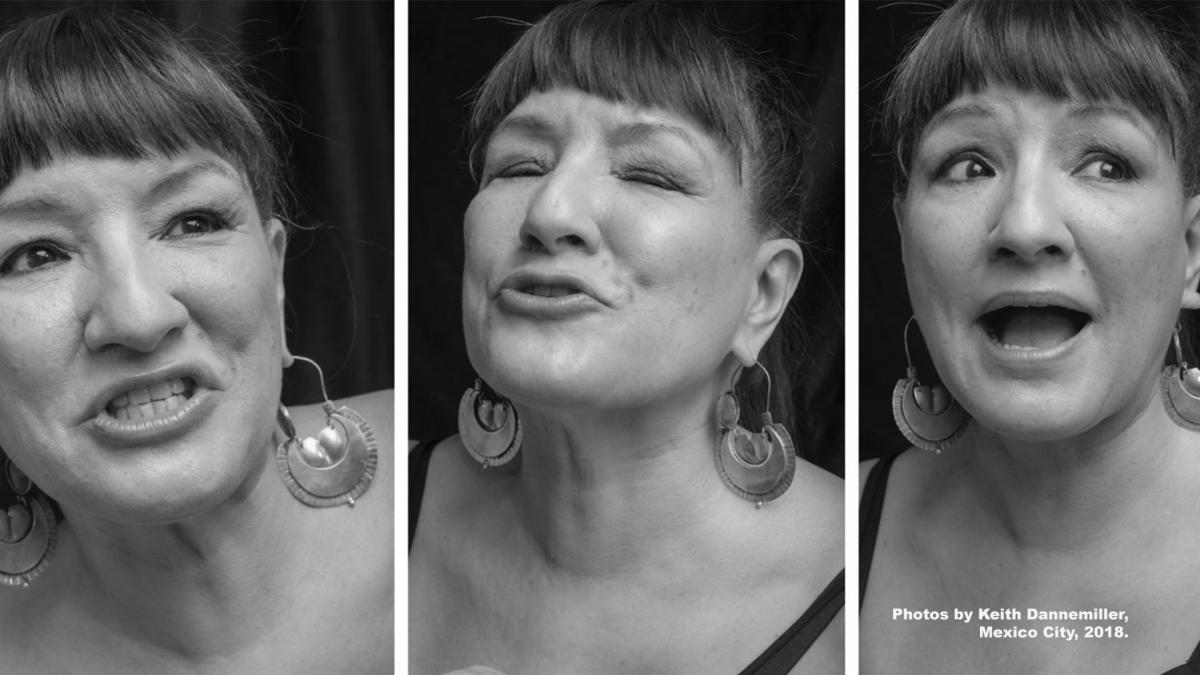 WOW Thinkins
WOW, Baltimore is part of a global movement of festivals that celebrate the achievements of women and girls and also look at the remaining gender equality obstacles women face across the world. Come to a Thinkin to plan the festival with us! The next Thinkin will be held on Saturday, November 16, from 10:00 a.m. – 12:00 p.m. Location TBA!

If you're interested in attending or have any questions, please email Maricka Oglesby for more information at moglesby@ndm.edu

Thinkins are inclusive planning sessions open to women and men throughout the area so that WOW Baltimore is developed BY Baltimore, FOR Baltimore.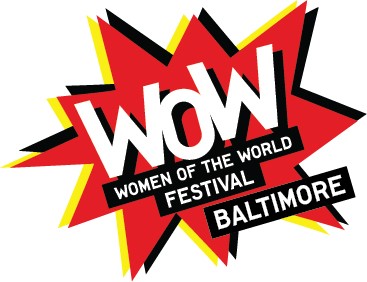 ---
Giving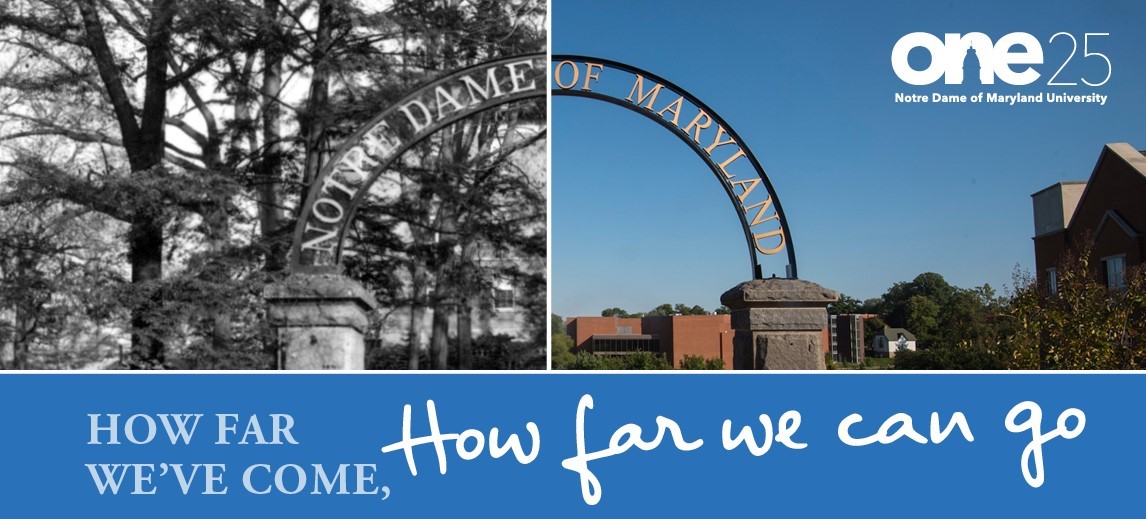 As we commemorate 125 years of Notre Dame, we celebrate how much we have grown and the bright future we have ahead of us. With your contribution, we can build on the existing network of outstanding faculty, uphold the legacy of the SSNDs, and maintain our innovative programs that keep Notre Dame of Maryland University at the forefront of academic excellence. Together, we can do all this and more on behalf of NDMU students who will transform the world. Make your gift today!
---
In Memoriam
Our alumnae and alumni community mourns the passing of the following graduates:
Betty Bryan Ball '49
Patricia Ann Cahill '72
Agnes Evans Gish '49
Catherine Goodell, SSND '58
Joan Maier, SSND '64
Mary Tantalo, SSND '57
Phyllis Valenziano '44
---
Volunteer Opportunities
NDMU in the Community
Adelante Latina!
Adelante Latina! is the first after-school, college-bound program for Latina girls in Baltimore, and it needs volunteer tutors.
Where: Knott Science Center, Rooms 315 and 317, 4710 N. Charles St, Baltimore, MD 21210

When: Once a week on Tuesdays or Thursdays, from 4:15 pm-6:15 pm. Starting in mid-September and continuing until late May, with Baltimore City Public School vacation breaks and snow days.

Goal: To help improve the English composition, reading comprehension, and writing skills of high-performing, low-income Baltimore City high school sophomores, juniors, and seniors. Adelante Latina! is a three-year, college-prep program. Tutoring is one-on-one, with the hope that each student will work with the same tutor for all three years.

This non-profit program was created by Leonor Blum, Professor Emerita of History/Political Science at NDMU.

Tutor Qualifications: Excellent English language skills, tutoring skills, and ability to get along with teenage girls. No knowledge of Spanish is required as English is the primary language. Prior teaching experience is helpful, but not required. Substitutes are available if notified ahead of time.
Visit the website to learn more or contact Leonor Blum, Professor Emerita, at 410-591-0547 or blumele@aol.com.
---
SSND News
The SSNDs are celebrating their 185th anniversary this year! To mark the occasion, the SSNDs of the Atlantic-Midwest Province have initiated a 185th anniversary/185 stories effort. All NDMU alums are invited to contribute stories about their favorite professor or provide a reflection on their NDMU/SSND education. Stories, reflections, and questions may be directed to Sheila Welton at swelton@amssnd.org or 410-377-7774.
---
Stay Connected to NDMU
Did you move? Change your email address? The alumnae and alumni office periodically distributes communications. Verify your information and send your mailing/email address to the Office of Alumnae and Alumni Relations or call 410-532-5201.
NDMU also has an active presence on Facebook and LinkedIn! It's a way to share information and connect instantly with fellow alumnae and alumni. Like and follow the pages for the most immediate updates!
---
This publication follows a bimonthly schedule. This issue covers news for September and October 2019. The next issue will cover November and December and will be available close to the start of December 2019.