Transfer Tuesday
Tuesday, August 11, 2020
Phone Call
If you are a transfer student interested in the Undergraduate Women's College, sign up for Transfer Tuesday!
You will have the opportunity to have a one-on-one phone call with the Transfer Admissions Counselor about your plans, and you can email your unofficial transcripts to talk in even more detail about if NDMU is the right fit for you! We're here to answer all of your questions and help make you feel confident in NDMU.
If you haven't applied yet: You will learn more about the application process & what it is like to be a student at NDMU.
If you have been accepted: You will learn about the next steps you will take to become a student here at NDMU.
*Fall classes are beginning on August 24, so make sure you are asking about fall enrollment now!
After registering for the event, you will be contacted to set up a specific time for your personal phone call with the transfer admission counselor. We encourage you to email Danielle Piontkowski copies of your unofficial transcript(s) ahead of time to guide the conversation.
Transfer Tuesday is only being held via phone call at this time due to the COVID-19 pandemic.
Make sure to RSVP for Transfer Tuesday!
Questions? Please contact Danielle Piontkowski at dpiontkowski@ndm.edu
Contact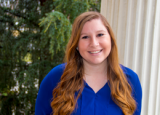 Anna Gibney
Assistant Director Admission Visits & Events