Montrose, meaning "mountain of roses", is the symbol of giving at Notre Dame of Maryland.
In June 1873 the School Sisters of Notre Dame purchased the Montrose home located on a 19-acre tract to provide housing for School Sisters before Gibbons Hall existed and later was a home for young candidates of the order. In the 1960s and early 1970s students of the college boarded at Montrose. In 1984, Montrose was completely refurbished and renamed Noyes Alumnae House to recognize the generosity of the three Noyes sisters who graduated in the 1920s.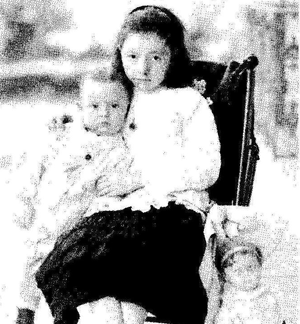 In 1882 two little girls, Mary Doyle, age eight, and her sister Martha, age six months, were brought to the Sisters by their father, Martin Doyle, at the death of their mother. The young girls made their home at Montrose for approximately three years. The Sisters lovingly cared for them until their father remarried and was able to provide a home for them and their two brothers. A love of Notre Dame was born in their hearts that was to be a legacy for Notre Dame until the present day.
Mary Doyle became a School Sister of Notre Dame, known as Mother Mary Philemon. Mother Philemon became president of the College and superior of the Convent at Notre Dame and later was elected provincial of the Baltimore province of the School Sisters of Notre Dame.
Martha Doyle married Henry A. Knott and brought their six sons to Notre Dame to visit their aunt and to serve as altar boys. In 1927, the Knott sons helped their father in the construction of LeClerc Hall. Doyle Hall, generously supported by the six Knott sons, honors the memory of Mary Kane Doyle and Martin Doyle (Henry J. Knott's maternal grandparents) and their two daughters, Mary (Henry's aunt) and Martha Doyle Knott (Henry's mother.) Knott Science Center is named for the nine daughters of Henry J. Knott, while the Marion Burk Knott Sports Complex honors Henry's wife.
The official seal of Notre Dame of Maryland, with an artistic rose in the center of the shield and cross, reflects the rich tradition of the rose as a symbol of Mary, Notre Dame.