NDMU students are leaders. They are compassionate, bold, and committed to social justice. When they achieve, they serve. Whatever their paths, they leave their mark on the world.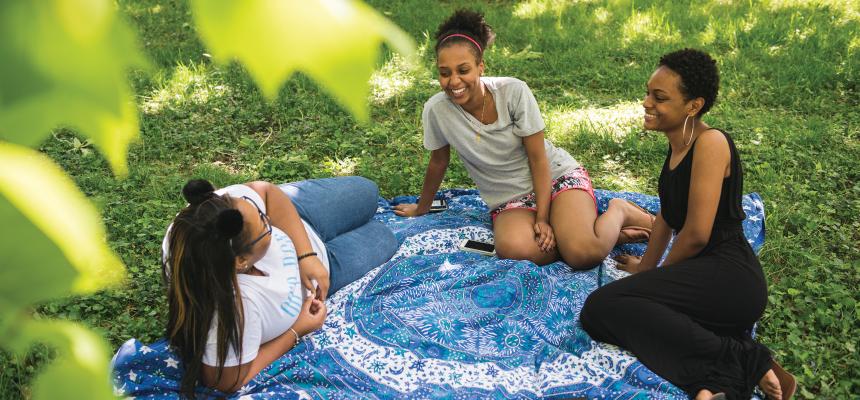 A Strong Foundation for Success
A women's college education has unique advantages. Surrounded by models of leadership you can identify with, you'll gain confidence in your skills, talents, and career dreams. In Notre Dame's vibrant and diverse learning environment, you'll have a voice wherever you speak.

Tired of being the only young woman you know considering a STEM field? Imagine four years of science and engineering classes with the support and community of like-minded students. It will become a lifelong asset.
The Statistics Prove It
At women-only institutions:
First-year students perceive greater support for success;
Close student-faculty interaction and small classes create a positive educational difference;
Classroom conditions encourage active participation in class and collaboration with peers;
Students develop quantitative skills and learn to better negotiate differences among people and situations;
The environment fosters understanding of self and others, and working with others—skills associated with career success and leadership.
Graduates of women-only institutions:
Achieve higher career levels and more positions of major leadership than women who attend co-ed institutions;
Earn larger salaries;
Are more likely to choose and succeed in male-dominated fields such as medicine, engineering and law;
Are more than twice as likely to receive doctoral degrees.
Source: National Survey of Student Engagement, 2011
Academics and a Social Life—Really
Some prospective students worry that at women's college will make their lives more narrow, cutting them off from half the population. On the contrary, you'll have access to the whole world outside the classroom. Baltimore offers a teeming cultural, social, and recreational life, with over 120,000 other college students in the immediate area.
At Notre Dame, we have clubs from choir to psychology; sports from basketball to volleyball; local and international service opportunities; and study abroad programs. When you're not in class, you'll have plenty of ways to have fun.
Making Their Mark
Through leadership, service and social responsibility; academic, professional and personal achievement ... here are just a few NDMU graduates who have made their unique mark on the world.