Women's Studies
Minor
History and Political Science Department
The Women's Studies minor is an interdisciplinary program examining women's lives, perspectives and experiences. Through scholarship by and/or about women and the study of feminist theories and research methodologies, our curriculum explores gender as a social, cultural and historical construct. It also looks at how gender interacts with other socially constructed categories such as race, class, nationality, sexual orientation as well as with other dimensions of identity (including religion, ethnicity, and age) that have often been used as the basis for discrimination.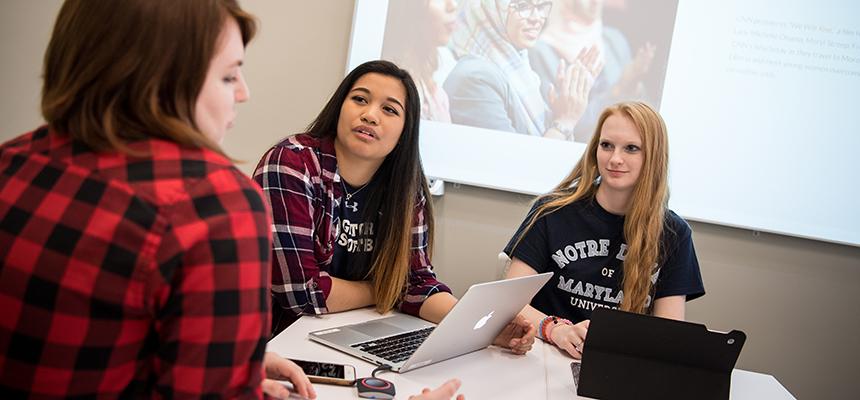 Program Locations
Curriculum
Required Courses
IDS 150 - Introduction to Women's Studies
IDS 440 - Seminar in Women's Studies
Select Five of the Following Courses
Note: At least three must be at the 300/400 level.
ART 315 - Explorations of Women in Art
BUS 451 - Women in Leadership
COM 330 - Women in Film
COM 382 - Gender and Communication
ENG 243 - Literature by Women
ENG 275 - American Women Writers
HIS 261 - Winning the Vote: The History of Women's Suffrage in America
HIS 290/POL 290 - Women in Islamic Societies
HIS 309 - Women in American History
HIS 323 - Black Women in American History
HIS 352 - Honors: Educating Women in the U.S.
HIS 355 - Women and Work: The American Experience
HIS 402 - Honors: Women, War and Peace
HIS 303/LCL 303 - Women in the Ancient World
MUS 320 - Women in Music
PED 301 - American Women in Sports History
PHL 323 - Feminist Philosophy
POL 324 - Women, Politics and the Law
PSY 209 - Social Psychology
PSY 375 - Sex and Gender
RST 305 - Marriage and the Family
RST 345 - Justice and Peace
RST 355 - Women in the Present and in the Judeo-Christian Tradition
SOC 202 - Sociology of the Family
SOC 271 - Honors: Sociology of Gender Roles
What to Expect Studying at Notre Dame of Maryland University
Small classes, lectures and seminars provide a climate for individualized learning while diverse course topics offer an opportunity to customize the minor to your interests and goals.
Toggle between the photo and the story
A Library for Change
Alum, NDMU Class of 2018
English, Communication Arts, Women's Studies
Read story
Women's Studies Careers
The minor helps prepare for careers in multiple fields including:
Art
Business
Communication
Counseling
Education
Health
Journalism
Law
Music
Politics
Psychology
Public Policy
Religion
Social Services
Sports