Political Science
Major/Minor
History and Political Science Department
Political Science is a preparatory program for those with aspirations of assuming leadership positions in the legal profession, politics, or community activism. The curriculum offers unique perspectives on problems of political violence, terrorism, genocide, and human rights abuses, and provides experiential learning opportunities to grapple with these problems in real-world contexts.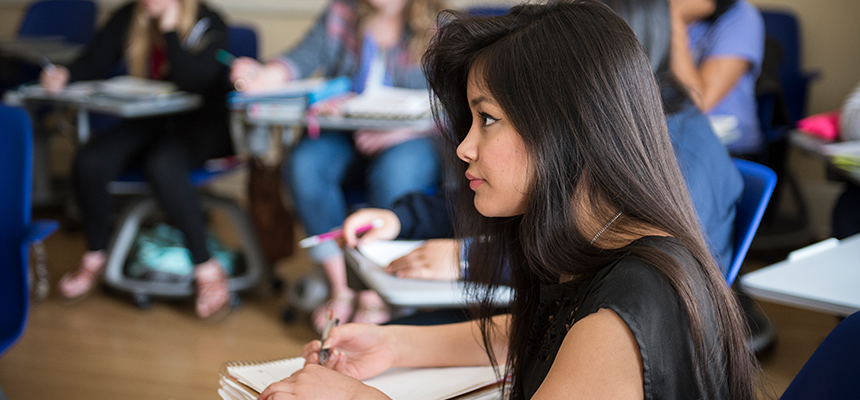 Program Locations
Available Majors
Available Minors
Additional Study Options
What Makes Our Program Unique
Our program also explores the special relationships of women to law and government—as lawmakers, leaders, and policymakers.
Four-Year Plan
Sample program of study for the political science major. Students should select courses with the assistance of a faculty advisor.
Fall
Spring

First Year

NDMU-100 Perspectives in Education
4
POL-202 American Government in Comparative Perspective
3
POL-101 Introduction to Politics
3
Natural Science
4
Foreign Language
3
Philosophy or Religious Studies (200)
3
ENG-101 College Writing
3
General Education/Electives
6
History
3
[16 credits]
[15 credits]

Second Year

POL-103 Introduction to International Affairs
3
Philosophy or Religious Studies (300)
3
ECO-211 Macroeconomics
3
COM-106 Fundamentals of Oral Comm
3
Philosophy or Religious Studies (200)
3
Fine Arts
3
MAT-215 Basic Statistics
3
General Education/Electives
6
English Literature
3
[15 credits]
[15 credits]

Third Year

POL-361 Methods in Research
3
POL-312 Legal Reasoning
3
POL-430 International Organizations
3
HIS-330 European Foreign Relations
3
Philosophy or Religious Studies Values
3
POL-319 or 412
3
Physical Education
1
General Education/Electives
6
General Education/Electives
6
[15 credits]
[16 credits]

Fourth Year

HIS-404 U.S. Foreign Relations
3
POL-401 Political & Economic Globalization
3
General Education/Electives
12
POL-217 Civic Participation & Leadership
3
[15 credits]
POL-456 Senior Seminar
3
General Education/Electives
6
[15 credits]
What to Expect Studying at Notre Dame of Maryland University
Small class sizes and personal attention provide a climate for individualized learning while custom electives, internships, and study abroad opportunities allow you to focus the major to your own interests and goals.
Toggle between the photo and the story
Crucial Advice & Support
Alum, NDMU Class of 2019
Political Science
Read story
Research Opportunities
One of the hallmarks of our rich educational environment is the opportunity to participate in research in your field of interest.
Nancy Kreiter Student Research Day provides the perfect forum to showcase your hard work with a formal research presentation to the Notre Dame community.
Additional Opportunities
Our students have conducted research at a variety of institutions, including:
Local and State Government Agencies
Local, National, and International Non-Governmental Organizations
United Nations
Police and Law Enforcement Agencies
Supreme Court
National Security Agency
State Department
Political Science Careers
Law
Public Service
International Affairs

Global Advocacy
Humanitarian Assistance
National Security
Diplomacy

Non-Profit Sector

Foundations
Think Tanks
Non-Governmental Organizations

Journalism
Academic Research
Teaching
Internships & Employment
Gaining experience through an internship is highly encouraged. Our faculty will work with you to find an appropriate placement.
Our graduates are employed at organizations such as:
Study Abroad
Notre Dame offers extensive opportunities to enrich your education and gain a global perspective through a study abroad experience.