Physics
Major/Minor
Math, Computer Studies, and Physics Department
The bachelor's degree in Physics at NDMU explores events and interactions that occur in nature in order to understand the laws that govern the physical world. Core courses introduce concepts of mechanics, thermodynamics, special relativity, quantum mechanics, and cosmology. Our physics majors are challenged to be active learners—lab courses, original research projects, and internships develop professional skills that prepare for graduate school in advanced fields of science and engineering.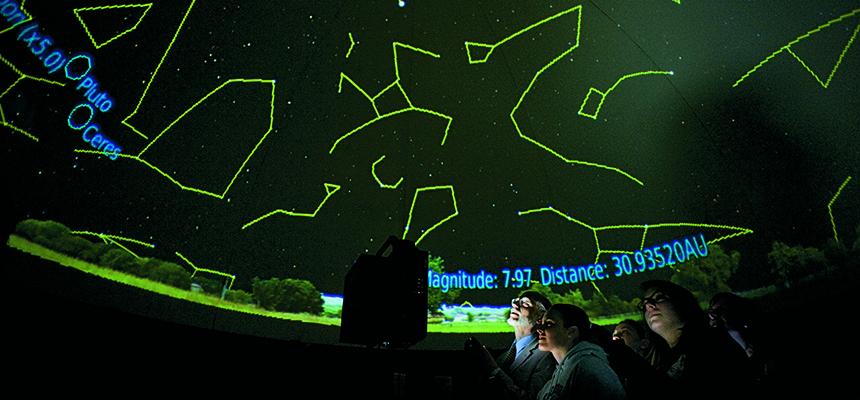 Program Locations
Features of the Physics Program
Problem Solving – tackling challenging problems and delivering solutions develop transferrable skills for in-demand careers (engineering, software development, financial analysis, etc.)
Quantitative Skills – emphasis on both physics and math provide a strong foundation for a variety of fields
Career Options – pathways designed for your goals (graduate school, dual degree in physics and engineering, teaching certification, etc.)
Professional Development – opportunities to build your resume through internships, research, and teaching assistant positions
Customize Your Education
At NDMU, our strength is our ability to weave your unique interests into your individual education. Faculty and advisors will help you craft an experience based on your aspirations through course electives or minors.
Double Major or Add a Minor
Many physics majors choose to double major or add a minor in chemistry, mathematics, or computer information systems to prepare for graduate programs in advanced fields of science and engineering.
Dual Degree Engineering Program
Through articulation agreements with premier engineering programs, NDMU offers a pathway to earn a BA in Physics from NDMU in 3-4 years followed by a BS in Engineering in 2-3 years from one of the following universities:
Engineering programs that can pair with our Physics program include:
Biomedical Engineering (Columbia and Washington University in St. Louis only)
Mechanical, Civil, Electrical, or Environmental Engineering
The Dual Degree Engineering Program includes opportunities for chemistry, computer information systems, mathematics, and physics majors. Contact the program coordinator to discuss your interests and goals to determine the most appropriate program for you.
Note: Admission to engineering schools is competitive and is not guaranteed.
Pursue a Teaching Career
If your dream is to ultimately become a teacher, the BA/MAT program at NDMU provides a pathway to earn both a BA in Physics and a MA in Teaching in 4-5 years so that you can become certified to teach physics in secondary schools (grades 7-12).
Physics Minor
The Minor in Physics provides an introductory foundation in the laws of the natural world. As a fundamental science, the physics minor adds depth when paired with a major in the sciences.
Majors that often add a physics minor include chemistry, mathematics, and computer information systems.
Faculty
Four-Year Plan
Fall
Spring

First Year

PHY-101 General Physics I
4
PHY-102 General Physics II
4
MAT-211 Calculus I
4
MAT-212 Calculus II
4
ENG-101 College Writing
3
MAT-243 Linear Algebra or
CST-171 Program Concepts
3
NDMU-100 Perspectives in Education
4
Foreign Language
3
[15 credits]
[14 credits]

Second Year

PHY-201 Modern Physics
3
PHY-316L Classical Mechanics*
3
MAT-213 Calculus III
3
CHM-111 General Chemistry II
4
CHM-110 General Chem I
4
CST-171 Program Concepts or
MAT-243 Linear Algebra
3
General Education/Electives
6
General Education
3
MAT-214 Calculus of Vector Fields
1
[16 credits]
[14 credits]

Third Year

PH 314 Quantum Mechanics* or
PH 315 Electricity & Magnetism I*
3
Program Electives
6
Gen Education/Electives
12
MAT 315 Differential Equations
3
Physical Education
1
PHYS 330+
3
[15 credits]
[16 credits]

Fourth Year

PH 314 or PH 315
3
Program Electives
3
Gen Education/Electives
12
Gen Education/Electives
9
PHYS 463
1-4
[15 credits]
[13-17 credits]
Notes:
# offered alternative years
+ need to take at least two physics courses at level 300 or higher
*Courses with a designation of "L" are taught at Loyola. Notre Dame students take the courses through the cooperative program. For more information, contact the program chair
Minor in Physics
MAT 211 - Calculus I (4)
MAT 212 - Calculus II (4)
PHY 101 - General Physics I (4)
PHY 102 - General Physics II (4)
PHY 201 - Modern Physics (3)
One other course in mathematics, physics or computer science at the 200-level or higher (3)
Total Credits = 22
Research
One of the hallmarks of the rich educational environment at NDMU is the opportunity to participate in research in your field of interest. Our annual Nancy Kreiter Student Research Day provides the perfect forum to showcase your hard work with a formal research presentation to the NDMU community.
Capstone Experience
In the third or fourth year, physics majors take everything learned and apply it through a teaching assistantship, research assistantship, or internship. The capstone experience integrates theory, science, and practice. It is an opportunity to explore your area of interest and apply classroom learning to a real-world experience.
Examples of Capstone Experiences
International Research in England and China through NANOGrav
National Student Leadership Conference, Engineering Program Team Advisor
Summer Research in Nuclear Physics at University of Indiana-Bloomington
UMD GRAD-MAP Summer Research Program at University of Maryland-College Park
Research Collaboration with NDMU Faculty
Toggle between the photo and the story
Future Engineer
Student, NDMU Class of 2015
Mathematics, Physics
Read story
Physics Careers
Understanding the principles of physics can lead to a wide range of careers including opportunities in renewable energy, climate and weather, technology, and space.
Graduates of the NDMU physics program have secured positions at organizations such as:
Graduate Programs
NDMU graduates have also gone on to pursue graduate programs in a variety of fields including applied optics, electrical engineering, and nuclear fusion.