Behavioral Neuroscience
Major
The interdisciplinary Behavioral Neuroscience program explores the complex and intriguing relationship between the brain and behavior leading to a wide range of career paths. The curriculum covers neurobiology and the neural correlates of behavior, sensation and perception, cognition, animal behavior, genetics, and development grounded in the disciplines of psychology and biology. Emphasis is placed on biological and psychological research techniques.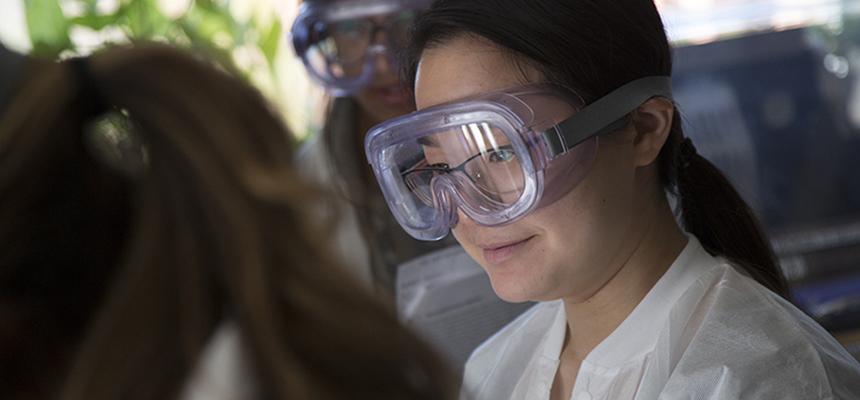 Program Locations
Available Majors
Available Minors
Additional Study Options
Specialized advising can help prepare you for competitive admissions to graduate and professional programs:
Four-Year Plan
The behavioral neuroscience program provides a core of biology, chemistry, psychology and neuroscience courses.
Below is a sample program of study for the behavioral neuroscience major. Students should select courses with the assistance of a faculty advisor. Careful attention to course sequencing is required since courses are offered on rotating years and to ensure that prerequisites are taken.
Fall
Spring

First Year

NDMU-100 Perspectives in Education

4

General Education/Electives

6

PSY-101 Introduction to Psychology

4

BIO-239 Genetics

4

BIO-111 Fund of Biology

4

CHM-111 General Chemistry II

4

CHM-110 General Chemistry I

4

MAT-215 Basic Statistics

3

[15 credits]

[17 credits]

Second Year

PSY-210 Research Methods

4

PSY-340 Quantitative Methods

4

BIO-230 Unity & Diversity of Life

4

PSY-325 Learning & Motivation

4

CHM-210 Organic Chemistry I

4

PSY-223 Biopsychology

3

PHL-201 Introduction to Philosophy

3

PHY-101 General Physics

3

PSY-212 Cognition

3

[18 credits]

[14 credits]

Third Year

BIO-341 Vertebrate Anatomy

4

MAT-110 Discrete Mathematics

4

PSY-220 Introduction to Neuroscience

3

PSY-323 Sensaation & Perception

4

BIO-413 Neurobiology

4

PSY-461 Practicum or PSY-463

Independent Research

4

General Education/Electives

3

General Education/Electives

3

[18 credits]

[15 credits]

Fourth Year

PSY-420 History & Systems of Psychology

3

MAT-243 Linear Algebra

3

General Education/Electives

12

General Education/Electives

12

[15 credits]

[15 credits]
Note: Students interested in medical school should take Organic Chemistry II, Physics 102, and Calculus I and II.
What to Expect Studying at Notre Dame of Maryland University
Rigorous interdisciplinary coursework provides a strong foundation in core concepts while laboratory courses, original research projects, service-learning, and a practicum offer extensive opportunities for applied learning.
Program Goals
The APA psychology curriculum goals are to:
Develop a strong knowledge base in the discipline.
Develop discipline specific professional skills including writing, oral presentation, critical thinking, research design and statistics.
Know and apply a professional ethical code by articulating and applying the relevant ethical principles.
Prepare for entry-level career placement or graduate school.
Contribute to the well-being of self and others (generativity).
Research & Internship Opportunities
One of the hallmarks of our rich educational environment is the opportunity to participate in research.
Nancy Kreiter Student Research Day provides the perfect forum to showcase your hard work with a formal research presentation to the Notre Dame community.
Field Experience
In your junior or senior year, you will integrate the two areas in your practicum, a field experience designed to fit your specific interest.
Examples of Internships
Behavioral Neuroscience Careers
The behavioral neuroscience major prepares the student for masters or doctoral graduate work in the growing field of neuroscience or immediate entry into a career as a research technician.
Potential Graduate Programs
Neuroscience
Psychology
Medicine
Pharmacy
Biology
Chemistry
Cognitive Science
Examples of Job Titles
Researcher
Research Lab Head
Physician (MD or DO)
Professor
Neurologist
Clinical Psychologist
High School Science Teacher
Dean
Occupational Therapist
Pharmacist
MRI Technician