Notre Dame's STEM summer camp is designed to help children entering grades K-8 expand their budding interests in science, technology, engineering and math.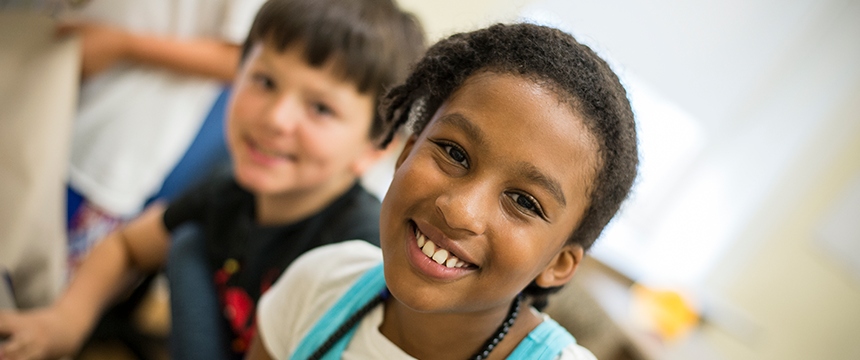 Explorations through Space: July 20-24, 2020
Space exploration is an exciting and fascinating topic for students of all ages. The many resources and business partners available to us in Maryland make this topic very accessible! Campers will experience space exploration through five full days of STEM activities focused on science, engineering, technology, mathematics and sustainability. Each day will focus on science and will tie into the overall theme of "Explorations though Space."
Each day, campers will be introduced to a new STEM concept and will participate in hands-on learning with instructors from the NDMU STEM Leadership program. But it's not all science—there is also time for swimming, team building, crafts and lunch!
How to Register
Registration opens Feb. 3, 2020
The forms found in the 'Forms & Authorizations' section must be completed and emailed to lpallett@ndm.edu for your camper(s)' registration to be complete. You can also can also mail the forms to the University.
Hours
STEM camp is open from 8:30 a.m. to 5:30 p.m. Camp activities end at 3 p.m. to allow time for swimming, crafts and other activities.
A typical day in the life of our campers might look like this:
8:30 to 9:30 - Team Building
9:30 to 10:30 - Engineering Activity
10:30 to 10:45 - Snack
10:45 to 11:45 - Engineering Activity
12:00 to 1:00 - Lunch
1:00 to 3:00 - Conclusion of Engineering Activity
3:00 to 3:30 - Outreach with Community Partner
3:30 to 4:00 - Arts and Crafts/Outdoor Activity with Afternoon Snack
4:00 to 5:00 - Swimming
Camp Fees
Save $50 by registering before April 1 with coupon code "STEMEARLY".
| Registration | Tuition | Non-Refundable Deposit | Balance |
| --- | --- | --- | --- |
| Before April 1 | $450 | $50 due by April 1 | $450 due by July 5 |
| After April 1 | $500 | $100 due by June 21 | $400 due by July 5 |
Registration & Payment Instructions
Instructions on How to Register
Click on the "Registration" button
Fill in each field; if you are registering two campers you have the option to register both on the same registration form. If you are registering more than two, you will have to submit more than one registration form.
Read & sign off on waivers at the end of the registration
Submit registration form (You will be redirected to payment upon finishing the registration form)
Download required PDF forms from the camp home page and email or mail in completed forms
Instructions on Payment
Click on the "Payment" button
Select which sessions of camp you are enrolling your camper for
If you are enrolling more than one camper for those same sessions, simply change the quantity
Discount codes can be found in the waiver section of the registration form.

Please Note:

You cannot apply a discount code to deposits. They can only be used if you are paying in full up front or if you are paying the remaining balance.
The discount will be applied to each session.
One discount code per family – discount codes cannot be combined
The sibling discount can only be applied to one of your campers session fees.

You can pay by e-check/ACH or credit card.
You can also mail a check made out to Notre Dame of Maryland University ATTN: camp name
Camper Information
Food
Snacks and lunch will be provided for campers throughout the week. Please send a reusable water bottle with your camper each day.
Clothing
Campers should wear comfortable clothing and footwear suitable for walking, running and playing games. A bathing suit and towel are necessary if campers wish to participate in water activities. Certified lifeguards and staff will be on duty at the pool.
Medical
Parent(s)/Guardian(s) are responsible for all medical expenses. Notre Dame of Maryland does not provide medical insurance.
Instructors
Grades 6-8 Instructor
Ann Coughlin has worked as a middle school math teacher at St. John Regional Catholic School in Frederick, MD for the last seven years. She has a Bachelor of Science in Mathematics from Mount St. Mary's University and a Master of Arts in Leadership in Teaching STEM from Notre Dame of Maryland University. She has experience as a counselor and educator for the NDMU STEM Camp since it began in 2014.
K-2 Instructors
Ashley Demski is a Baltimore City Schools teacher and has taught PreK for 9 years. She is certified in elementary education, early childhood education and STEM. Ashley has helped develop science and STEM curriculum and professional development for Baltimore City Schools. Ashley is a 100Kin10 Teacher Forum member, and is working with a project team to help bring STEM resources to the mid-Atlantic region.
Alexandra Riedl has taught Kindergarten in Baltimore City Schools for five years. She has a Bachelor of Arts degree in Global Studies from Carnegie Mellon University, a Masters in Teaching from Notre Dame of Maryland University, and a Masters of Arts in Leadership in Teaching STEM, also from Notre Dame. She is certified in early childhood education, STEM, elementary education, special education, ESOL and Spanish.
Grades 3-5 Instructors
Scott Hartman is a Baltimore City Schools teacher and has taught 5 grade science for 12 years. Scott has helped develop science and STEM curriculum for Baltimore City Schools. Additionally, he has helped to create outdoor learning spaces at Hamilton Elementary/Middle School, Mt. Royal Elementary/Middle School, and Fort Worthington Elementary School.
Emily Langton is an elementary school teacher at Owings Mills Elementary School in Owings Mills, MD. She has a Bachelor of Arts and a Master of Arts in Leadership in Teaching STEM from Notre Dame of Maryland University. She has experience as a counselor and educator for the NDMU STEM Camp in previous summers.
Dr. Juliann Dupuis is Associate Dean and Associate Professor of Science Education at NDMU's School of Education. She has over 15 years of experience working with and teaching at the elementary, secondary and university levels and over 10 years in content development and teacher enhancement programs in science education. Currently, she works as a facilitator for the Maryland Department of Natural Resources to teach environmental education curricula and as a facilitator of the Engineering is Elementary curriculum from the Boston Museum of Science. Previously Juliann has been an instructor for the Museum of Science in Boston, Massachusetts as well as a formal science educator in the middle school classroom, educating hundreds of children. Dr. Dupuis will be overseeing the camp and organizing the curriculum and instructors.
Dr. Lisa Pallett is an Assistant Professor in the NDMU School of Education, who specializes in elementary mathematics instruction. She will be present each day and will help to ensure that the camp runs smoothly by helping to coordinate various activities and supervisor the daily camp counselors.
Information for Tax Purposes: Camp Notre Dame Federal Tax ID #: 52-059-1641