Dedicated to meeting the educational needs of the community and the Church, Notre Dame of Maryland is pleased to offer a Spanish Language & Culture program through the Modern Foreign Languages department.
Program Features
Topics covered in the course include:
Culture and history of the diverse Latino population
Conversational Spanish and language skills appropriate for healthcare industries, social services and pastoral care
Complexities of serving Hispanic communities
Why it Matters
Latinos are the largest ethnic group in the United States.
Baltimore City has more than 26,000 and Baltimore County has nearly 33,700 residents of Latino origin (2010 Census).
Recent sources estimate that 40 percent of U.S. Catholics are Latino, and this number is expected to increase significantly in the next 20 years (U.S. Conference of Catholic Bishops).
Fall 2016 Classes
Spanish Language and Culture (Part 1)
This course is designed for professionals or volunteers who currently work with or will work with Hispanic communities in schools, hospitals, parishes, community-based organizations or other nonprofits, or other settings where you are interacting with Latinos.
There is a language and a cultural component to the course. The language component enables one to learn basic conversational skills and elemental phrases to better communicate with Spanish-speaking persons. Good pronunciation, listening and speaking skills are emphasized. The cultural component emphasizes the spirituality, customs and traditions of Hispanics.
Note: No prior experience in Spanish is necessary.
Afternoon Class
September 20 – November 29, 2016
Tuesdays, 3–5 p.m.
Evening Class
September 20 – November 29, 2016
Tuesdays, 6–8 p.m.
Spanish Language and Culture (Part 2)
This follow-up course to Spanish Language and Culture (Part 1) continues to emphasize good pronunciation and speaking skills. It provides greater emphasis on grammar, especially the past tense, in order to increase conversational skills. There will be a continued cultural component to deepen understanding of the Hispanic community.
Prerequisite: Part 1 of the course, LSP 101, 102 or equivalent
Afternoon Class
September 19 – November 21, 2016
Mondays, 4–6 p.m.
Spanish Language and Culture (Part 3)
In Part 3, the emphasis is on listening and speaking skills. It stresses using the language in practical, conversational ways, drawing on the needs and experiences of the participants. There will be a continued grammar and cultural component.
Prerequisite: Part 2 of the course or equivalent.
Afternoon Class
September 21 – November 30, 2016
Wednesdays, 3-5 p.m.
Meet Our Students
Anna Manalad
Senior Nursing Major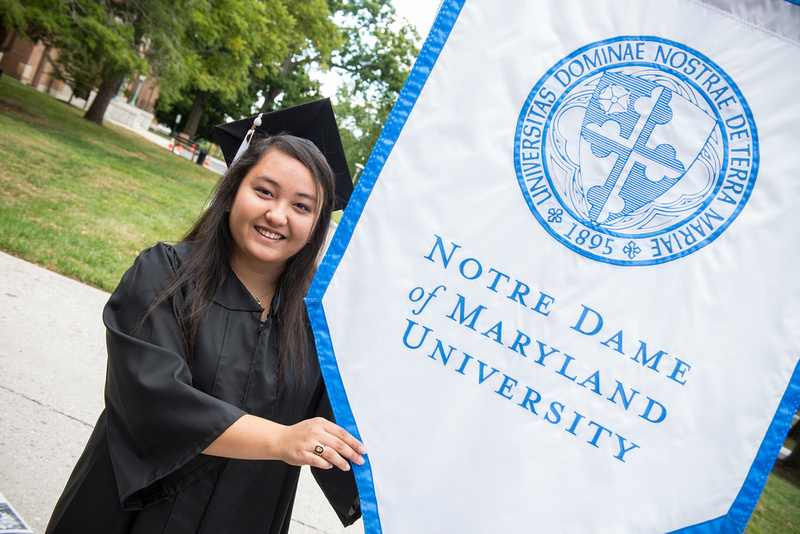 I am a Nursing student at Notre Dame of Maryland University and every Monday I race back to campus from my clinical placement for Spanish Language and Culture class. I can see how class is helping me become a better advocate for the needs of my Hispanic patients and helping me to communicate with them and put them at ease.
Some patients seem to be marked off as anxious, erratic, maybe a little confused simply because there is a lack of time and meaningful conversation with them. A little Hola or something like Soy una estudiante de enfermería, and even ¿Está bien? makes a world of a difference.
Improving my Spanish is giving me access to a part of our community that I find fascinating. The Latina woman conveniently right next to you at the grocery store, the Hispanic toddler speaking at 100 words a minute in a language you don't understand, and that graying gentleman laying in the hospital bed hold a world of culture waiting to be shared. All you need, as I have learned in Sister Linda's class, is to "ride the bus" along with them. "Ride the bus" is her way of encouraging us to take a risk, and use our Spanish! No matter how little you speak, you really can and do make a difference.
---
Rev. Amy Richter
Episcopal priest and missioner for lifelong Christian formation for the Diocese of Maryland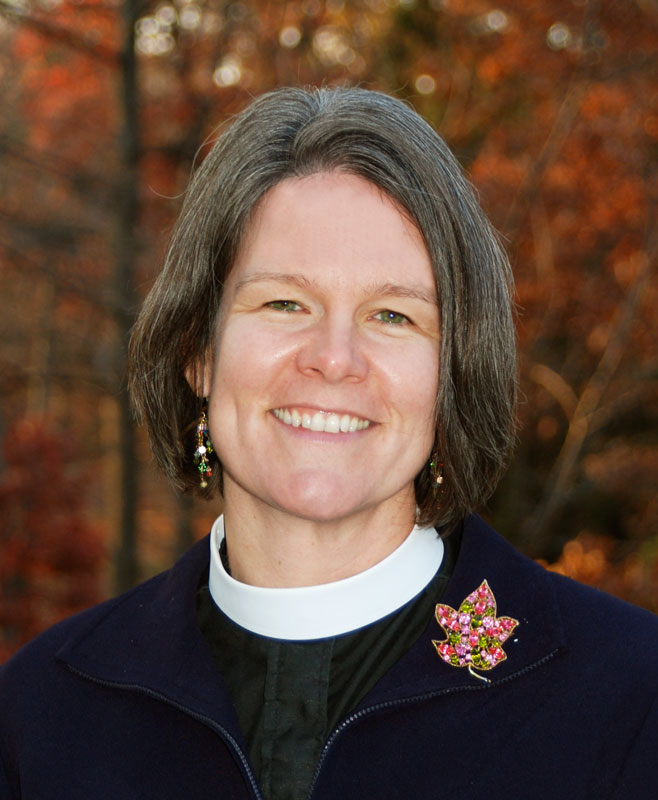 In her work serving alongside Latino priests and lay leaders, Rev. Amy Richter has realized how helpful it is to speak Spanish. "I am actually embarrassed that I don't already know Spanish," she says. "As a clergy leader in the church, I think it is very important that I learn how to communicate with this growing part of our church and our country."
Rev. Richter registered for the first part of Notre Dame of Maryland University's Spanish Language and Culture program because its location and timing were convenient for her. "I enrolled for the second part because I loved the first part so much!" she says. Rev. Richter enjoys the program's language practice, along with the clear teaching of grammar, worship, and information about culture, which is, she says, "all wrapped up in an awareness of pastoral needs and opportunities."
"What appeals to me is the chance to cover the basics of the language and to get to focus on some aspects that fit with pastoral situations. I unfortunately do not have a lot of time for a more intensive class experience, so the once-a-week class time is helpful," she says. "Also, being treated as a responsible adult learner is important to me. Hermana Linda Stilling is an amazing teacher—I learn a lot in a short period of time and I am inspired to embrace new learning situations."
Rev. Richter has already had opportunities to use what she has learned. "I have been able to assist with worship a couple of times and help to welcome the Spanish-speaking priests who have come to help serve in our diocese. When I went to Honduras, I could actually communicate with some of the people we worked with!"
---
Mary Gunning
Director of St. Jerome's Head Start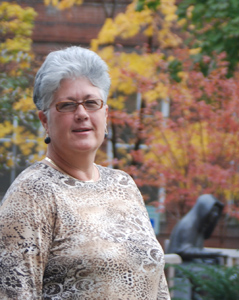 When a Spanish-speaking child enrolled in the Head Start program near her office, Mary Gunning found herself translating simple phrases for Ashley, such as "Please don't hit" and "Your mother will come back after the nap."
Now, when the Head Start director visits Ashley's playground, Ms. Gunning and the preschooler discuss everything from playground games to the weather. "She's teaching me Spanish words, and I'm teaching her English words," Ms. Gunning says. "One day she grabbed my glasses and said, 'lentes,' and I learned a new word."
After 26 years with Head Start, Ms. Gunning recognized the recent increase in the number of children from Latino families who are participating. "We used to have one or two a year, but this year we are up to 10," she says. "That may not sound significant, but it's significant enough for us."
Head Start prepares children from low-income families for elementary school, focusing on school readiness, social skills, physical and mental health, and family development. St. Jerome's serves 258 children in nine sites in South and Southwest Baltimore.
When Ms. Gunning enrolled in Notre Dame of Maryland University's Spanish Language & Culture program, St. Jerome's had no Spanish-speaking staff members. "I could have gone to a community college and taken Spanish, but I liked the emphasis on learning about the culture," she says. "We really try to be multicultural and very sensitive to the uniqueness and individuality of our families."
In the Spanish Language & Culture program, Ms. Gunning has learned about issues facing families and religious customs—such as the Day of the Dead. "When we celebrated Halloween, some of our Latino children were scared to death," she says. Ms. Gunning was able to speak with the children about both holidays. "They were very happy that I knew about the Day of the Dead."
Ms. Gunning's understanding of the Spanish language has developed as well. "It's practical everyday Spanish. It's not 'See Dick and Jane run up a hill.' It's 'This is how you register a family for baptism. This is how you give directions.'"
Some days Ms. Gunning has trouble getting away from her desk to go to class, taught by Sister Linda Stilling, "but I'm always glad when I come," she says. "She's a really phenomenal teacher. She has a passion for the community, and a passion for what she's doing."
---
Mary Ann Hartnett, SSND
Director of Food for Thought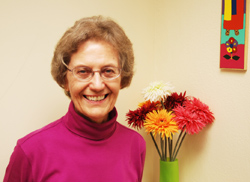 When Sister Mary Ann Hartnett told parents that the Food for Thought program would be closed on Wednesdays this semester, she could hear the disappointment in their voices as they said, "Oh, Sister."
"Then I said, 'I'll be in a Spanish class,' and they said, 'Oh, Sister!'"
During her 17 years as director of Food for Thought, a tutoring program for elementary school children in Baltimore City, Sister Mary Ann had seen the cultural make-up of the student population change from African American to Hispanic.
"Our Hispanic community has almost quadrupled in numbers," she says. "Almost all of the children who come are Hispanic, with the exception of one or two."
The students who attend Food for Thought are primarily from the Dominican Republic, Mexico, Guatemala, Honduras, Ecuador, El Salvador and Peru. They are all bilingual, and their parents are studying English. Sister Mary Ann wanted to meet them partway. "When you are working with a particular ethnic group, it means so much that you're willing to study their own native language," she says. "It just levels the playing field."
As a student in Notre Dame of Maryland University's Spanish Language & Culture program, taught by Sister Linda Stilling, Sister Mary Ann is learning more about Hispanic culture as she improves her conversational Spanish.
"I just love the way the class is presented. It's certainly academic, but it's also very practical," she says. "The class itself is a diverse group of people, and Linda's enthusiasm is contagious. She is such a fabulous teacher. You're just so engaged and energized."
Sister Mary Ann's Spanish-speaking skills are improving through her work with students like 7-year-old Gracie, who couldn't speak any English when she started at Food for Thought last year. This year Gracie is fluent in English—and trying to teach Sister Mary Ann more Spanish.
"The Spanish word for bookbag is mochila," Sister Mary Ann says. "Sometimes I'll purposely say it incorrectly, and little Gracie will say, "No, Sister, mo-chi-la," and she'll make me pronounce it back to her."
---
Matt Janeczko
Youth and young adult minister at Resurrection of Our Lord Roman Catholic Church in Laurel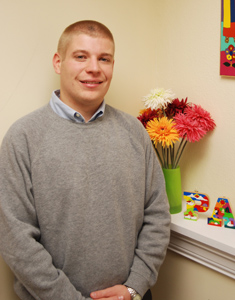 In Spanish, the "h" is silent. Matt Janeczko learned that the hard way, after trying to introduce himself in Spanish to the congregation at a Spanish Mass.
"Everyone started laughing," he says. When Mr. Janeczko saw the number of young people attending the Spanish language Mass, he decided to enroll in Notre Dame of Maryland University's Spanish Language & Culture program.
"To me it was really important that if they were making the effort to talk to me in English, I should make the effort to speak to them in Spanish," he says. "I can see that it means a lot to them. We kind of go back and forth, them in English and me in Spanish, trying to find some common ground."
Mr. Janeckzo, who graduated from Catholic University in May, hadn't taken Spanish since his elementary school days in his native New Jersey. Two staff members at the parish recommended Notre Dame's Spanish Language & Culture program, taught by Sister (translated as Hermana) Linda Stilling.
"It's been absolutely extraordinary," he says. "It's a class that's always moving. I'm used to professors who just plod through things. With Hermana Linda, nothing ever gets stale. She knows her stuff inside and out. She is able to draw on so many of her experiences. We're not only learning Spanish language, but we're also learning the Hispanic culture."
Mr. Janeckzo wants to improve his knowledge of Spanish. "The Church is definitely going in that direction, and I intend to be working for the Church in one capacity or another, for a long time."
Even as a student in the first course of the program, Mr. Janeckzo feels his studies are paying off. He recently greeted the parishioner who translates the weekly bulletin by saying in Spanish, "Hi, how are you doing?"
"She said to me, 'Wow, your accent is getting very good.'"
---
Most Rev. Mitchell T. Rozanski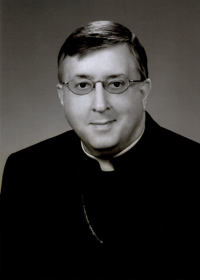 When Mitchell Rozanski was named auxiliary bishop of Baltimore in 2004, he was also designated as the archdiocese's vicar for Hispanic ministries. In his new role, Bishop Rozanski was eager to increase his understanding of Spanish and of the Hispanic culture.
"It was very limited," he says. "I knew that I needed much of an update, and I needed to learn the language as best I can." After the archdiocese's office of Hispanic ministry and clergy personnel office recommended Notre Dame of Maryland University's Spanish Language & Culture program, Bishop Rozanski enrolled. He is currently a student in the advanced pastoral course—the final course in the program.
Since beginning the program, Bishop Rozanski has celebrated Masses in Spanish and delivered written homilies in Spanish. "I'm still not perfect, but I feel well on my way and I have a good grounding," he says. "It has been a very good experience because it's the right balance of language skills plus the learning of culture."
In teaching the courses, Linda Stilling, SSND, blends instruction of the language and the culture. "Sister Linda keeps them integrated, because it is just as important to know the culture as it is to know the language," Bishop Rozanski says. "She is able to bring to the course a great understanding of Hispanic culture, so that has kept me very interested in the course."
Bishop Rozanski, who is studying alongside other priests and religious, deacons and lay people involved in Hispanic ministries throughout the archdiocese, has already referred others to the program.
"We have a growing Hispanic population who wish to remain very active in the Church," he says. "They are very enthused in their faith and need places where they can gather and feel welcome in expressing their faith."
How to Apply
Fee for All Courses
Registration Before September 6, 2016: $400 per person or $1,050 for three participants
Registration After September 6, 2016: $425 per person or $1,125 for three participants
Note: Senior discount available!
Contact Us
Linda Stilling, SSND
Spanish Language & Culture Program Coordinator
410-532-5306
lstilling@ndm.edu