March 23, 2018
Service, Skill-building and Career Formation: The Study Abroad Experience
Notre Dame provides opportunities that can change lives. These moments can influence career paths in unexpected ways. For Victoria Cox '18, that opportunity was part of a study abroad program that gave her the chance to immerse herself in another culture, and create experiences that she hopes will enhance her studies and future career.
College is about learning through experiences. Notre Dame provides opportunities that can change lives. Students frequently take advantage of these moments and as a result influence their career path in unexpected ways.
One opportunity includes the study abroad program where students get the chance to immerse themselves in another culture. Studying abroad creates experiences that shape and enhance your studies. That's what happened for Victoria Cox '18. She recently returned from a six-week trip to Peru as part of a study abroad program. The goal was to embark on a new journey and be welcomed into a new community.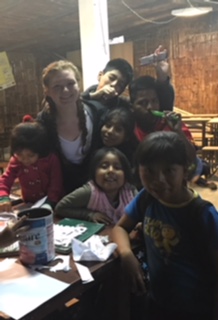 While in Peru she spent her time teaching English to children. The trip increased her fluidity in Spanish and made her even more confident in her bilingual ability. Cox was able to transition easily because the people in "Canto Grande, were so welcoming. It was extremely heartwarming how much not only the Sisters that we lived with, but the members of the church were willing to give in order to ensure our comfort during our stay."
The hospitality of area residents further enhanced the immersion of the experience. In addition to teaching English, as part of the service abroad trip she participated in community service six days a week, helping children with homework and English.
For Cox, applying the experiences to schoolwork was important, but the trip was about more than teaching and community service; it was about exploring the environment and the culture, and being immersed in another country. "Peru has very diverse terrain, filled with beaches, mountains, and rainforests. As a group, we traveled to the cities of Tarma, Cusco, and the center of Lima. [It was a once in a lifetime opportunity.]"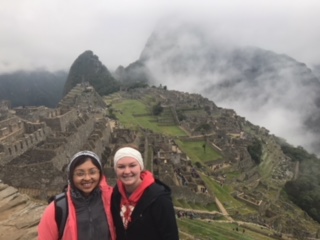 Cox is a Criminology major with a double minor in Spanish and Forensic Psychology. Her major focuses on the studying of crimes and crime related topics. She is looking forward to using the experience in Peru as part of her career path. Though teaching English may not seem related to criminology, Cox is looking to adapt those lessons and apply them to what she hopes is a future career with the government. As she enters the workforce, she has an advantage being bilingual. According to a recent report by New American Economy, job postings targeting bilingual workers more than doubled in the United States between 2010 and 2015, rising 162 percent.
This Study Abroad Program trip was a life changing experience for Cox, both educationally and emotionally. She was able to grow ties to the community and another culture and language. Regarding the trip, Cox said, "all in all, this was the most amazing experience of my life." Cox is hopeful that she will return to Peru one day and share the experience with her family while remembering her first trip to Peru.
Learn more about Notre Dame's study abroad opportunities.