February 6, 2020
School of Pharmacy Establishes Partnership with Universidad del Sagrado Corazón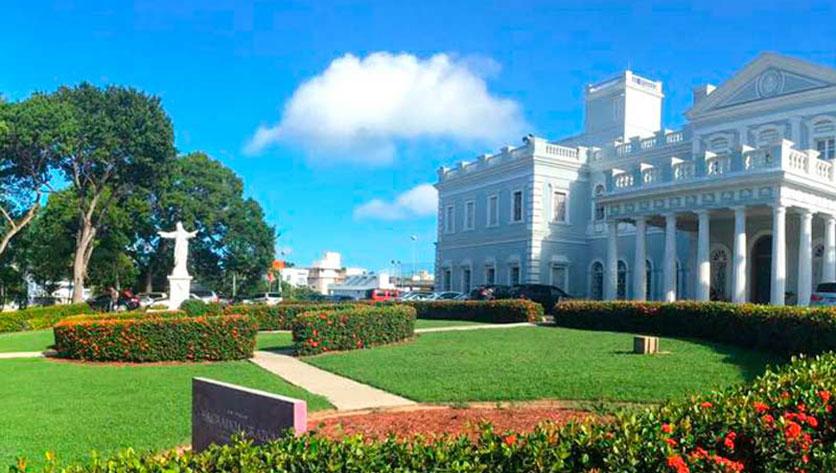 Notre Dame of Maryland University (NDMU) has created a path for Hispanic students to strengthen the talent pipeline and narrow the gap in representation of Hispanics in health careers, through a new partnership between its School of Pharmacy and Universidad del Sagrado Corazón in Puerto Rico. This affiliation provides high school-aged Latinos interested in a career in pharmacy to participate in an accelerated program that results in earning two degrees – BS and PharmD – in seven years instead of eight, saving money and jump-starting their careers.
A diverse workforce is important to ensure research in health issues that affect different races, ethnicities and cultures; and to provide people of all backgrounds with healthcare providers they can trust.
"Latinos are one of the ethnic groups under-represented in health-related careers. By building alliances like the one we have forged with Universidad del Sagrado Corazón, we are fortifying the path to increase the number of Hispanic professionals to reduce the representation gap," said Dr. Anne Lin, Dean of Notre Dame of Maryland University's School of Pharmacy.
According to the Pew Research Center, Hispanics comprise just 7% of all STEM workers in the US. And among employed adults with a bachelor's degree or higher, Hispanics represent just 6% of the STEM workforce. In the pharmacy industry, research has found the gap even wider with just 5.4% of the pharmacy workforce comprising of Hispanics.
NDMU's School of Pharmacy was founded in 2009 – it is the first and only women's college in the country to have a School of Pharmacy. It is one of only two universities in Maryland to offer the PharmD, the Doctor of Pharmacy degree.
The NDMU pharmacy curriculum prepares students for the rigors of the field, concentrating on the human elements of patient care, along with the science, technology and practical elements of pharmacy management. Dynamic coursework coupled with community outreach projects result in professionals well-prepared to care for individual patients and to help insure the health of the public.
Through this visionary new partnership, students will complete three years of pre-requisites in Puerto Rico before transferring to NDMU to complete the final four years. Upon completion of year one at NDMU, students will earn their BS degree, then transition to work in the doctoral program that will result in earning the PharmD at the completion of year four.
NDMU has a proud history of providing its students with opportunities to learn and explore beyond the borders of its Baltimore campus, and in turn extending opportunities for those outside the United States to expand and enrich their education at NDMU.
In 1983, NDMU created the English-Language Institute, which provides international students with English language instruction in a student-centered environment. In 1989, an international exchange program began with NDMU's sister school, Kyoto Notre Dame University in Japan. Notre Dame launched its Visiting Ambassadors program in 2015, and in 2016 NDMU became the first Maryland university to receive non-governmental organization (NGO) status from the United Nations.