Oh the Places You'll Go with STEM: From Aeronautics to Technology & Beyond
Thursday, February 28, 2019
LeClerc Auditorium
FREE
This year we welcome Danielle Feinberg, Director of Photography for Lighting at Pixar Animation Studios, and Emily Calandrelli, producer and an Emmy nominated host of FOX's "Xploration Outer Space".
Danielle Feinberg
Danielle Feinberg began her career at Pixar Animation Studios in February 1997. As she worked her way from an entry level, technical job to one of the top creative positions, she crewed many of Pixar's feature films including Toy Story 2, Monsters, Inc., Finding Nemo and The Incredibles.
Emily Calandrelli
Emily Calandrelli is also a chief correspondent on Netflix's show "Bill Nye Saves The World." Emily is a contributing writer at TechCrunch and has written and spoken on the topics of space exploration, scientific literacy and equality.
About the Annual School of Education Speaker Series
Each spring, NDMU brings high-profile educators and researchers to campus to challenge and inspire students, teachers and administrators. Our renowned speakers, who have included Ian Jukes and H. Samy Alim, share their expertise, discuss the latest educational trends and pedagogies, and spark discussions that continue in classrooms across the state. This popular, critically acclaimed program draws more than 600 attendees annually.
Contact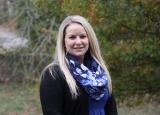 Juliann Dupuis
Associate Professor & Associate Dean