Instant Decision Day (Undergraduate)
Tuesday, November 21, 2017
Admissions, Theresa Hall
4701 North Charles Street, Baltimore, MD 21210
Ready to finish earning your bachelor's degree? Come to an Instant Decision Day to get enrolled, find out which credits transfer, and register for classes all at once!
Whether you are interested in our Women's College or our part-time co-ed Adult Undergraduate programs, all transfer students are welcome!
Dates
November 2 through December 14
Times
Tuesdays: 4:30 to 6:30 p.m.
Thursdays: 8:30 a.m. to 3:30 p.m.
What to Bring
Application
All transcripts from high school and previously attended institutions
Supplemental application materials
Contact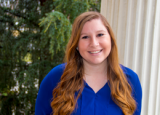 Anna Gibney
Admissions Visit & Event Coordinator