Future Gator Day + Overnight
Saturday, April 18, 2020
4701 N Charles St, Baltimore, MD 21210
*THIS EVENT HAS BEEN POSTPONED DUE TO COVID-19. If you are an accepted student you will receive an email with updates. This event will be updated when the new date(s) have been announced.
Have you been accepted to NDMU's Women's College and are thinking about attending in the fall?
Future Gator Day + Overnight is an Accepted Student Day with an optional overnight! You will come to campus and meet NDMU faculty, staff, and students to get to know our campus community a little better.
This will be a fun celebration where you can chat and mingle informally with many different departments and students. If you choose to spend the night on campus, you will be paired up with a current student and get to sleep in our residence hall Saturday night!
Log onto your Personal URL page to RSVP!
Can't remember your Personal URL? Find it at discover.ndm.edu/FirstnameLastname
Contact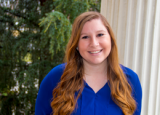 Anna Gibney
Assistant Director Admission Visits & Events