March 18, 2019
New Tool Unveiled to Help Students Find Internships and Job Placement
Welcome to Handshake! NDMU's new tool for students that will help connect them to internships and jobs. The innovative career development platform can help students discover employers and opportunities, submit applications, and learn when career fairs and other events will occur.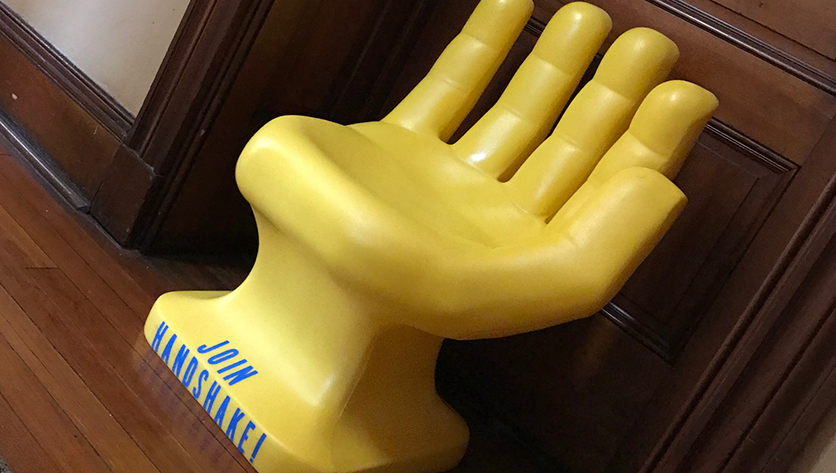 Notre Dame of Maryland University (NDMU) students have a new tool to help connect them to internships and jobs. It's called Handshake, and it is launching this semester.
Handshake is an innovative career development platform that can help students discover employers and opportunities, submit applications, and attend career fairs and other events. Alan Jones, Director of Career Services at NDMU says it is similar to LinkedIn, saying it's much more than a jobs database.
"Handshake benefits NDMU students by being able to see the career paths of students before them. It provides a peer-to-peer social environment that will help students help each other. Handshake brings students and employers together, faster."
The new system, which replaces GatorWorks is more targeted and will increase the number of relevant job opportunities and provide a more tailored search of students' interests.
"Having a place where students can easily find these jobs is a transformational opportunity," says Suzan Harkness, Associate Vice President for Academic Affairs. "Handshake is changing the way students find and connect with employers. It will directly match them with potential opportunities that are based upon criteria each student sets up. In turn, the jobs posted and quickly visible to students are ones that are relevant to their discrete education and experience. We are entering a new paradigm of career services and job-skill matching."
Finding a job isn't always easy, but there is good news for graduates. According to a 2017 study by the National Center for Education Statistics, the employment rate for young adults, meaning recent graduates between the ages of 25-34, with a bachelor's or higher degree was 86%. Overall the unemployment rate across the country is down, which bodes well for new graduates, and those using Handshake profiles are five times more likely to be messaged by employers.
So, if you are wondering what could be a great major for job placement. Numerous job search websites say accounting, business management, chemistry, computer science, nursing and pharmaceutical science are some of the top fields where there are always positions available.
Right now, more than 20 colleges and universities in Maryland and Washington DC are using Handshake, making it one of the largest marketplaces for jobs, internships and volunteer opportunities. Students will begin receiving their invitation to create a Handshake profile in the next week or so. If you have any questions, contact the Career Center for more information.