November 2, 2018
NDMU Doctoral Student Brings Makerspace Learning to Life
From digital learning to the physical form, makerspace areas allow for hands-on creativity, giving students another way to learn and implement lessons from the classroom. A new pop-up class being taught by an NDMU graduate and current Ph.D. student is helping students embrace this way of learning while bringing creations to life.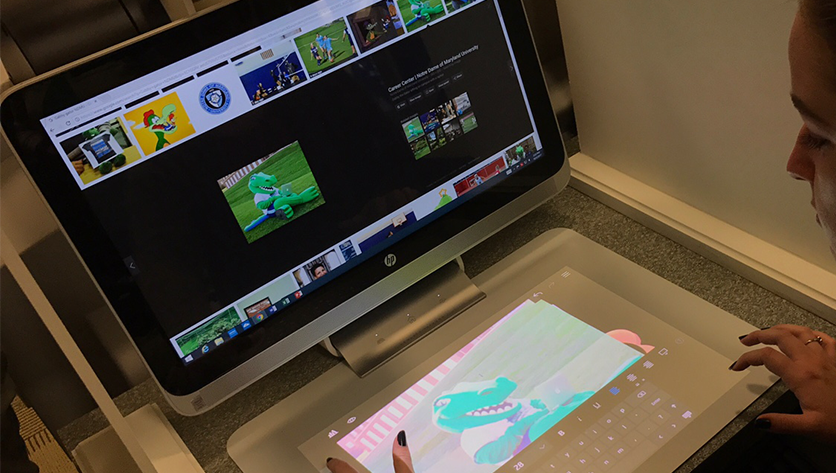 From digital learning to the physical form, makerspace areas allow for hands-on creativity, giving students another way to learn and implement what they are being taught in the classroom.
At Notre Dame of Maryland University (NDMU), the Innovation Station Makerspacecan be found in the library and in an effort to broaden its use, the library is offering a Pop-Up class to help students bring their creations to life.
The class, in the LNDL Ideaspace is being taught by Peggy Koenig '98, who is currently working on her Ph.D. in Instructional Leadership for Changing Populations at NDMU. Koenig, who has taught at Hillcrest Elementary in Catonsville, Baltimore County for more than 20 years has embraced this type of learning and has become a makerspace expert and trailblazer. "I established a makerspace at Hillcrest and led a team of innovative teachers to create a culture of making in the building. Pretty soon we were welcoming teachers from around [the region] to come and observe our students in the makerspace and to notice how kids are natural makers. That has evolved into my presenting at conferences around [Maryland and the U.S.]."
Technology librarian, Matthew Treskon says, "the makerspace enables students to explore interests that may be outside their area of study in a low stress environment that encourages creativity."
The idea behind the class is to get more students involved, and for them to realize that makerspaces aren't just about the sciences. Koenig hopes to get participants from the education, business, and even philosophy departments involved. "This pop-up is meant to get the community's feet wet in the world of making…participants [will get] a quick taste of what the maker movement is and they'll get some fun, quick and engaging hands-on design challenges."
As students become more accustom to this type of learning, it is important to have teachers that understand and can help students bring this method to life, "The tools of a makerspace and, more importantly, the act of making something that you've designed, give individuals a deeper understanding of their world. Tinkering with materials, even just taking something apart, opens up a whole new realm. That interaction with objects builds the curiosity and confidence to problem solve and especially to persist."
The transition into makerspace learning was a natural progression for Koenig who says science has always been her favorite subject to teach and learn. With the upswing in STEM education in recent years, the idea of learning across various disciplines and expanding her teaching style was exciting. She credits NDMU with her passion for continued creative learning, "My foundations as a teacher came from my time at Notre Dame. I had an amazing science methods teacher and she shared so many great insights into best practices for teaching elementary science, and she brought in hands-on activities for us to try. There are some investigations that 21 years into my career, I still use with my students."
As makers, Koenig believes this way of learning helps students become empowered and that it promotes both independence and problem solving. She hopes to eventually work at the university level, teaching pre-service teachers in education programs, and is looking forward to continuing to move and evolve the maker movement.
Koenig earned her Bachelor of Arts in Elementary Education, from NDMU in 1998; earned her Master of Education in Reading, in 2002 from Loyola University Maryland; a Master of Science in Earth/Space Science Education and Multimedia Tools for Instruction, from Johns Hopkins University in 2007; and is currently working on her Ph.D. from NDMU and anticipates graduating in 2020.
For more information and to register for the November 6 Pop-Up class, Enter the Maker: Unleash Your Creativity and Rule the World (Or at Least Your Classroom)!, check out the library's website.